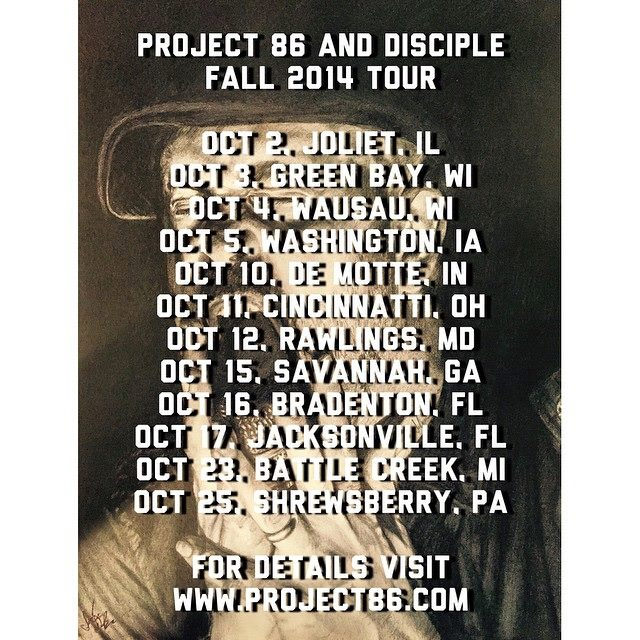 Disciple, Project 86, A Life Set Apart
10/25/14, at Grace Fellowship Church in Shrewsbury, PA
With some of the more established names in Christian hard rock music taking the scenic route through the realm of the independent artist, it's probably no surprise that the label-less likes of Disciple and Project 86 would team up for their own humble-yet-glorious fall tour. Despite not being a very long run -- which concluded on October 25th in Shrewsbury, PA -- the tour was an exciting one, and it reminded concert-goers just why a tour like this is thrilling and why these bands continue to endure.
Churches can find a home anywhere. From movie theaters to schools to someone's own home, the church body can meet just about in any location. Yet, it still was a surprise when we pulled into the parking lot of a shopping center to find Grace Fellowship Church set in what looked like what used to be a grocery store at one time. But while one might expect automatic doors upon walking up to this building's entrace, one would actually find themselves entering what is otherwise a really cool, really snazzy looking church inside. From a food court style coffee bar off to one side and classrooms nearby, to a really nice sanctuary that easily accomodates a rock concert, Grace Fellowship proved to be a really cool church and concert venue.
At about 7pm sharp, indie rock/experimental duo, A Life Set Apart (comprised of Prestin and Jacob Apsley), opened the night with dueling drums and a very raw indie rock sound. I'm rather unfamiliar with the Apsley brothers' work, but I actually assumed they were a local band added to the show and not really part of this tour. I felt the guys definitely had potential, but not only did it seem like they could benefit greatly from more members (and not have to rely so much on pre-recorded programming to fill in the missing live instruments), but they just all-around seemed a bit too unpolished, especially for sharing the stage with the bands to follow. Their set was a short twenty minutes and then they left the stage for a brief set change.
We were actually unsure as to who exactly was headlining for this tour, as Project 86 had circulated a tour poster with frontman Andrew Schwab's face on it (drawn by yours truly, but that's irrelevant), but Disciple was also promoting it like their own tour. It wasn't until The Wedding's former bassist Cody Driggers took the stage that we knew for sure P86 was up next, and they opened to the tune of the "Intro" track on their new album, Knives To The Future. I was completely expecting the first real track (track #2) off that album, "Spirit of Shiloh," to follow and was surprised when they opened with And The Rest Will Follow album opener "Sincerely, Ichabod" instead. Schwab emerged donning a fluffy black afro wig, fulfilling a pledge promise he'd made to the band's IndieGoGo supporters to "bring the afro back" should they meet a certain goal. With wild eyes and powerful vocals, Schwab and his band of brothers delivered yet another intense performance. "SOTS" and "Omerta's Sons" from their latest album, Wait for the Siren, followed, and then Schwab instructed the standing audience to move closer to the stage before breaking out "Evil (A Chorus of Resistance)" from their album Rival Factions. Keeping the set list diversified, "Me Against Me," from the band's fan favorite Drawing Black Lines, was next, and then Andrew talked a bit about the new album, encouraging the Shrewsbury gang to preorder Knives, and how the band had just spent the day signing 2,000 copies of the new album just a few hours earlier. "Spirit of Shiloh" was next, and then the group had to halt for a snare drum replacement after the drum head was busted during that song. Schwab stalled a bit, which was perfect timing for him to be able to take a call from his wife and then put her on speaker phone for the audience to hear. Before too long, a new snare had made its way to the stage and the band launched into another new one, "Knives To The Future," before closing the night with Siren's "Fall, Goliath, Fall." I was a little bummed they only played 8 songs, but it was a great set and being left a little hungry made my anticipation for Disciple's headlining spot grow.
When the lights dimmed again and the sounds of some hype, intro music started, three members of Disciple, along with guest drummer Ben Millhouse, formerly of Wolves at the Gate, emerged and took their places on stage. Disciple bassist Jason Wilkes and drummer Joey West were temporarily out for personal reasons (I think at least one of them was in a friend's wedding), so Disciple was just a four-piece tonight. While I had been looking forward to hearing more of Wilkes' new role as co-vocalist on some of the new songs, Disciple still brought the rock in full force, opening with "O God Save Us All," from the album of the same name, and continuing, surprisingly enough, with the title track from their album Southern Hospitality. "Unstoppable," new track "The Name," and "Invisible" were next, and then frontman Kevin Young reflected on how we were in a 'house of worship,' setting things up for new worshipful rock song, "Scarlet." Afterwards, between songs, Young summoned onto the stage someone dressed as the Chick-fil-A cow and they played Michael Jackson's "Billie Jean" while Young freestyled about the popular fast food chain. Young then tried taking a video of the audience with his phone but didn't have enough space on it, so he asked a fan for their phone and videoed the crowd as they began the next song, "Dead Militia." Their game-changing hit "The Wait Is Over" followed, and then they slowed things down a little for "Draw the Line." Kevin then introduced Millhouse and sang the chorus to Michael W. Smith's "Friends" before the audience chanted for a drum solo from Millhouse, who obliged. Kevin proceeded to share the story about a girl who had planned to take her own life, but in her last minutes, asked God to speak to her if He existed and didn't want her to kill herself. She had later told Young at a show that she turned the radio on and heard Disciple's "After The World" (which is written as if it were God speaking to us) and gave her life to Christ. They then played a short verion of the song live for us and followed it with prayer. Kevin then talked at length about how important it is to have a real relationship with Christ and not just keep "trying" to be a Christian, because it's in a relationship (as a child being raised by a parent) that we grow to be like our Heavenly Father. After another prayer, "Dear X, You Don't Own Me" was next, followed by "Radical," a short message about the organization CURE and the song "Scars Remain," and then the band closed with "Game On," which Young dedicated to the church's pastor. They left the stage, but after the crowd chanted for more, they returned to play "Rise Up" from their self-titled album.
Great rock shows seem to be a dying breed, and even more so, the bands that seem to care enough about ministry to give inspiring messages and minister from the stage. Disciple continues to boldly proclaim the name of Christ and be an inspiration in the Christian music scene. If you get a chance to see Project 86 or Disciple live anytime soon, don't miss them! And be sure to pick up Disciple's latest record, Attack, which is out now, and Project 86's Knives to the Future, which releases next week on November 11.
--
John DiBiase
, 11/4/14
Project 86 Set List

01. Intro / Sincerely, Ichabod
02. SOTS
03. Omerta's Sons
04. Evil (A Chorus of Resistance)
05. Me Against Me
06. Spirit of Shiloh
07. Knives To The Future 08. Fall, Goliath, Fall
Disciple Set List

01. O God, Save Us All
02. Southern Hospitality
03. Unstoppable
04. The Name
05. Invisible
06. Scarlet
07. Billie Jean / Dead Militia
08. The Wait is Over
09. Draw The Line
10. After the World
11. Dear X, You Don't Own Me
12. Radical
13. Scars Remain
14. Game On

Encore
15. Rise Up
Disciple / Project 86 Fall Tour 2014 Photo Gallery
click on an image for a bigger size
**vertical images cropped for thumbnails**
A Life Set Apart
Project 86
Disciple
*all photos by John DiBiase and are the property of Jesusfreakhideout.com