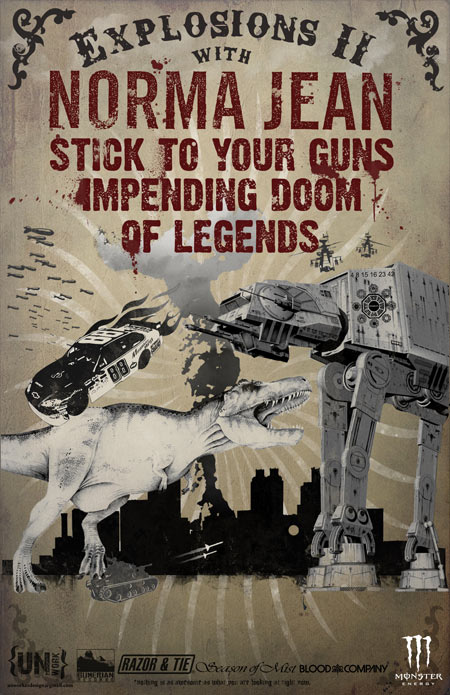 Explosions II Tour
Norma Jean, Stick To Your Guns, Impending Doom, Of Legends
3/12/11, at The Bottleneck in Lawrence, KS
When you think of a dank bar in the middle of a college town, you would most likely associate it with depressed people looking to drink their cares and life away. Though this is pretty true for the most part, some of these bars will provide you with some great live music as well. The Bottleneck in Lawrence, KS, has been home to a wide variety of artists; mostly local and no-name bands, but also national talent such as Matt Costa, Maylene and the Sons of Disaster, fun., Halifax and Showbread. March 12, 2011 was the night that The Bottleneck brought in the Explosions II Tour, which was headlined by newly-signed Razor & Tie hardcore giants, Norma Jean.
We arrived at The Bottleneck as a local band called The Runaway Sons were opening up the evening's show. We were scheduled to interview Norma Jean's frontman, Cory Brandan, during their set, so we missed their live performance. But from where we were, we could hear them playing, and they sounded pretty promising. They played a show with Spoken recently as well, so they're getting their name out there, and should probably get some attention from anyone reading this. After their set, it was a few minutes of set changes before the next band came out. During the set change, the house DJ played some awful music, particularly a poorly-written rap song with the f-word as the main lyric. Though it may have been, for lack of a better word, "appropriate," as it pretty much summed up the in-between-songs banter by the frontman for the first Explosions II Tour band, Of Legends. Musically, they put on a heck of a show. Their music was powerful and well-written, but when the vocalist said stuff like "This next song is about how we hate every f***in' thing you believe in!", it was easy to dismiss them. I enjoyed their musical offering, but their demeanor was very unappealing.
I felt much better when the next band took the stage, Facedown Records' Impending Doom. What I had heard from these guys in the past was just okay, but not something I would find myself rocking out to. They're pretty much straight-forward death metal, which isn't necessarily my cup of tea, but in a live setting, I definitely got into it some. Their set was heavy - I mean, heavy - and they didn't miss a beat. They had a pretty cool light show - nothing impressive, just lots of strobe light usage, but come on, when is a strobe light during a headbanging session not cool? The guitar player made ample usage of spitting his water all over the crowd, which lost some of its appeal after about the fifth time. They spoke of about love in between their songs, but never forcefully or in any way that a hardened heart could think of them as judgmental. Their combination of humble hearts and great attitudes with their skillful and ultra heavy death metal made for a real treat. Next up was a southern California-style hardcore band called Stick To Your Guns. It was another great set musically. They had a good mix of hardcore punk, metal guitar riffs and double bass. Despite their abrasive attitudes and the vocalist's usage of some harsh profanity, I appreciated that they carried a hopeful message with them. They didn't talk about that hope coming from Jesus, but at least it was hopeful nonetheless. Their music was some of the best of the night thus far.
There were about fifteen to twenty minutes between Stick To Your Guns' ending and the start of the headlining set. More people that had made their residence in the back of the bar made their way forward for what they were about to experience. It was clear that most people in the crowd knew full well what they were in for, probably having been witness to it at least once before. Anticipation kept building as the crew was soundchecking, and then the lights dimmed all around the concert area, and the excitement began to climax. "The Almighty" Norma Jean took the stage, and instantly destroyed everyone in attendance as they began with "Leaderless and Self-Enlisted," which is also the first track from their latest album, Meridional. This my was first experience with Norma Jean live, but from the opening bars of this song, I knew it was something I would remember. Cory Brandan welcomed everyone to the show and then told us that they recently wrapped up shooting a new music video for the next song they were playing. Also from Meridional, they blasted us with "Bastardizer." From there, they went back to the first Norma Jean album, Bless The Martry and Kiss The Child, to everyone's enjoyment, and played "Face:Face." The crowd was on fire, as the band tore through songs from all of their albums, with the exception of The Anti Mother and their albums under the name Luti-Kriss. From Redeemer, they pulled out "A Grand Scene For A Color Film," then followed it up with "The Anthem of the Angry Brides" before unexpectedly slowing it down quite a bit. I didn't expect a Norma Jean show to have any sort of break from the onslaught of music, but it did when Brandan strapped on a guitar of his own. He said that this was a song that just happened, and they felt it was good enough to make it to Meridional. The song was the indie-ish "Falling From The Sky: Day Seven." You could tell that Brandan's singing voice seemed a little tired from the intense screaming, but the chaotic boys showed what they were capable of with slower material. The show picked right back up after that song, though, and continued with their signature intensity for the rest of the night as they went through a seemingly random assortment of songs. "A Small Spark VS A Great Forest" was next, followed by the only song from O' God The Aftermath to be included, "Murderotica: An Avalanche In D Minor." Afterwards, Chris Raines played a very familiar drum beat, which the audience got super excited about. Their last song of the set was dedicated to the old school Norma Jean fans, and the opening riffs and screams of "Memphis Will Be Laid To Waste" filled the bar. Despite the song being a bit older, it felt like it didn't have a single ounce of rust on it; the song is still amazing to this day. Everyone in the crowd was into it, and I was very pleased to hear the inclusion of the part of the song that was done by mewithoutYou's Aaron Weiss on the album version, despite Weiss obviously not being there. The guys said their thank-you's and left the stage. Soon after, a chant of "one more song" started, but then died as it was replaced by a chant of "Norma Jean! Norma Jean!" It took a few minutes, but the guys came back to the stage and completed their set with "Vipers, Snakes and Actors" from The Anti Mother.
I've always admired the music of Norma Jean. Through all the chaos and oddly-structured songs, they've never left their artistry out of the picture. They're immensely talented, and they deserve all the accolades and attention they've received over the years. Now, after seeing them in a live setting, I can't say I've changed my mind. They're a great live band, and will captivate anyone in attendance. If you have an affinity for harder music or haven't seen Norma Jean live (or both), check out the Explosions II Tour. Despite personal feelings toward Of Legends and Stick To Your Guns, they put on a good show, as well did Impending Doom. Explosions II Part Deux starts up in May, with a new line up heading out with Norma Jean (however, none of these new artists are anyone I've heard of, so I can't offer you any information as to whether or not they're worth checking out), but the first leg of Explosions II is worth the admission price.
--
Scott Fryberger
, 3/14/11
Norma Jean Set List
01. Leaderless and Self-Enlisted
02. Bastardizer
03. Face:Face
04. A Grand Scene For A Color Film
05. The Anthem of the Angry Brides
06. Falling From The Sky: Day Seven
07. A Small Spark VS A Great Forest
08. Murderotica: An Avalance In D Minor
09. Memphis Will Be Laid To Waste
10. Vipers, Snakes and Actors