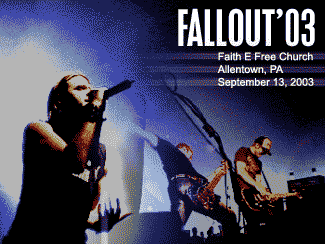 Audio Adrenaline, Skillet, Five Iron Frenzy
9/13/03, at Faith Evangelical Free Church in Allentown, PA
I cannot express enough hatred towards car accidents. Is there a reason why cars aren't entirely made out of the material they make the bumpers out of? How about rubber? We'd have more whiplash, but less demolished vehicles and crusher morales. Anyway, if you haven't figured it out yet, I fell victim to a car accident the day we attended FallOut '03 at my church in Allentown, Pennsylvania...
FallOut is a See You At The Pole event held at Faith Evangelical Free Church every Fall since it began several years back. Usually some mediocre local bands start off the day while kids can enjoy some skateboard ramps, inflatable sports, or just hang out and fellowship with their peers. The evening's main event is usually what helps draw the masses with past events featuring the Supertones, Rebecca St. James, Relient K, and others. This year, Skillet and Five Iron Frenzy return along with, my personal favorite, Audio Adrenaline headling. Now you noticed above I did mention this is the church me and my wife go to, but believe it or not, I had nothing to do with my favorite artist playing FallOut. In fact, I found out about them coming by accident online.
The gates opened around noon on one of the gloomiest and rainiest days in September (of course, it'd be the start of two of the worst days of the year for me). Local rock band Jasper was the first act slated to perform. Judging from their amateur cookie cutter sound from their show last year, they weren't high on our list to see. Another local act, run-of-the-mill rock act Remnant performed next. Due to press credential issues, Kevin and I did laps around the venue trying to get clearance to do our thing and so missed most of the shows in the early afternoon. Although we hear they put on quite the energetic show, from what we've heard in recording, Remnant isn't anything innovative or unique enough to recommend. Young hip-hop duo Un1on served as the intro performance for what would be yet another stellar performance from Ardent Records' Skillet.
With their fifth studio release just a couple months away featuring a new sound for the band, the members of Skillet were showcasing a new look as well. While the band had become known for their energetic industrial rock sound, their new stripped-down modern rock format called for a cropped haircut for frontman John Cooper, and more relaxed dress. With most of the keys absent from their new sound, John's wife Korey began picking up the guitar on key songs, forsaking her usual keyboard talents. To pump the fans up, they opened with their rousing "Kill Me Heal" from their 2001 Alien Youth record, followed by "Best Kept Secret" from their 2000 release Invincible. And while he would hate me for even mentioning this, it was actually borderline cool to watch guitarist Ben Kasaica miss his guitar solo cue which lead Cooper to halt the song and insist it be done right as he admitted "This is my favorite part of the song!" before belting out the lyrics "Let it out!" The band reached back far into Skillet history to pull the rocking opening track "I Can" from their self-titled 1996 debut. As a long-time panhead myself, it was a delight to hear classic Skillet and it never sounded so good. The slowed things down briefly for "One Real Thing" before offering their brand new single "Savior." The guys (and gals) then performed "You Are My Hope" and "Invincible" before performing the brand new modern rock track "Energy," followed by the classic "Locked In a Cage." With their hearts displayed brightly and boldly on their sleeves for all to see, they moved into a moment of worship with ther hymn "How Deep the Father's Love" before closing with their rock hit "Alien Youth." Sadly, the band had to immediately rush off to another show later that evening at Penn State University which understandably served as a disappointment to many.
OK, I mentioned an accident earlier and here's the deal... Kev and I answered the call for to dispell the urges for food consumption and ventured down the highway to a little fast food chain that is popular in some areas of the globe (hint: it starts with a "B" and ends in "urger King"). Following our obtaining of sustenance, we headed back to the church to which I, in all my loopy wonder, managed to slide my 1990 navy blue Plymouth Voyager across the slick macadam into the back of an unsuspecting black pickup truck. With the van now out of commission (and thanfully no one injured -- minus the ego and morale of one dopey driver), a broken and crushed webmaster crawled his way back to FallOut to mope out the rest of the evening. "What does this have to do with anything?!?" Everything! This is not a pity party people. You can't ask an astronaut how his trip to space was without him mentioning the astronaut ice cream! (I'm still trying to figure out what I mean by that) Anyway, moving on... I proceeded to make matters much worse on my present self by missing what would be my final opportunity to see Five Iron Frenzy live before their untimely demise next month. Thankfully, Kevin checked out the show and had the following to say about it...
"It was kind of interesting what happened before the Five Iron show. We got in an accident maybe an hour before they went on. That kinda put a damper on our day. Epecially John's day. But we are A-OK. By the way this is Kevin and this is the Five Iron Frenzy aspect of FallOut '03... Well while John was hanging with Scott, the webmaster for Audio A, I went to listen to Five Iron Frenzy. I arrived half-expecting their set to be half over. The only problem with me seeing Five Iron is I'm not familiar with some of their songs. However, their new CD The End Is Near, is really good. I was looking forward to seeing them due to the fact I might never again because of them breaking up (and he won't... & neither will I! - John). If this is news to you then you probably might not know who they are. So skip these few paragraphs... Anyways, Five Iron puts on a good show, and I was looking forward to seeing them. They opened with a song, as most bands do at live shows (in other words, he didn't know the title), and followed that with "Handbook for the Sellout." They played another song, which was off of the new album (detailed, isn't he? You really feel like you're there, huh?). The first song they played was off of the new album as well. "Cannonball" was next, which is also off the new CD. Five Iron's songs sound so much better live than on CD. They will definitely be missed! Next was "Blue Comb 78," a crowd favorite. They then played another new song, "All Those Other Old Guys" (Wow! 3 titles in a row!) that went right into "You Probably Shouldn't Move Here" where a guy dressed in an animal suit came onstage and started dancing. They then played "Oh, Canada" and then "You Can't Handle This." At this point I went back to meet John and Scott. The only problem with Five Iron is they have a lot of good songs that I wanted to hear and wonder what their names were because I'm really bad at song titles because when I buy a CD I take it out of the case and put it in the CD player and put the CD case in a rack, kind of like a CD rack, and when I talk to John and say I like that song by Five Iron Frenzy and he'll ask which one and I'll be like "track number five on this CD, the one with the horns" and he'll say "well that doesn't narrow it down because I can't count and they all have horns" and I'll be like "sorry." (*speechless* - John) So which brings me to my next point. Don't do drugs and stay in school and see Five Iron on tour this fall with 5iron!" (for the record, Kevin doesn't do drugs, but he does do reviews at 3 in the morning... like I do.)
Thanks Kevin... I think. Anyway, so I mustered up enough energy to drag my pathetic self to see what would be the nineteenth time in nine years I'd be seeing Audio Adrenaline live. And it's at my church! (Everyone say "Niiiiiice" with me) In a much smaller venue than I've seen them in this Summer -- in this case, a huge-yet-still-smaller tent -- the band still managed to make a memorable entrance with "Worldwide One." An empty stage gave spotlight to an energetic and rhythmic drum solo from Ben Cissell as the rest of the guys took their places. The still long-haired Mark Stuart looked just as comfortable with this smaller, more intimate audience as he did with the larger, more intimidating Orlando audience just a week earlier. "Mighty Good Leader" followed, closely behind was "Church Punks," and then the unstoppable classic, "Big House." In between songs, the crowd - much to my surprise, and the band's - began chanting in unison for the performance of "Free Ride." With a boyish grin Mark teased the crowd "You wanna hear 'Free Ride'?!" He looked to his bandmates. "Alright, let's do it! Right now!" And without missing a beat, the guys spontaneously answered the call of the fans. "Dirty" and "Hands And Feet," songs encouraging today's young people to bring the Gospel to their peers fit the See You At the Pole theme perfectly. The band's hit "Ocean Floor" followed up by "Chevette" which saw Mark Stuart pick up a guitar -- a rarity for the lead vocalist. Looking at his attire of mostly black, he looked down at his black guitar and back up at the audience and dedicated the song to Johnny Cash since he had passed away that week. "Underdog" made for an appropriate intro for a heart-felt message from Will McGinniss about Christ's love for us and His passion for the lost. The tender "Leaving Ninety-Nine" was undoubtedly next which lead into the energetic guitar-driven update for "We're A Band." "Beautiful" became the band's opportunity for fans to participate on stage before being shooed off for the closer "Get Down." Due to sound curfew, Stuart apologized for the abrupt end to the evening's set list and made his exit from what was yet another incredible Audio Adrenaline performance.
What was next for me was the inevitable phoning of the insurance company, but for everyone else, fans were given a chance to meet the band for autographs before leaving for the night. FallOut '03 was an excellent event despite on-and-off rain and one idiot's stupid car accident (me!). Hopefully the local complaints of the noise caused by the bands won't be enough to keep future FallOut's from taking place, but it's an Eastern Pennsylvanian event for the Christian rock fan that shouldn't be missed.
...Oh! And just FYI... we left the van in a parking lot off of the highway that night for me to pick up the next day... In what was literally one of the most horrifying moments of my life (despite the time it was revealed to me that all those Christmas presents that said "from Santa" on them were always just my parents), I proceeded to get into another accident with the van as I attempted to pull it out of the parking spot the following morning to take it to a junkyard to get parts for it... Yeah... I can take a hint that you didn't want me driving that vehicle anymore, God...
--
John
Rock The Universe 2003 Photo Gallery
click on an image for a bigger size
Skillet -- 2:00 pm
Five Iron Frenzy -- 5:45 pm
Audio Adrenaline -- 8:00 pm
*all photos by
John
(except Five Iron photos, which are by
Kevin
) and are the property of
Jesusfreakhideout.com