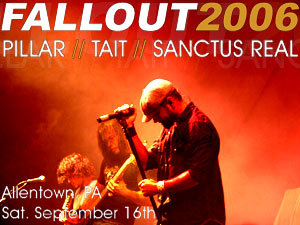 Pillar, Sanctus Real, Tait
9/16/06, at Faith Evangelical Free Church in Allentown, PA
FallOut festival returns for another year, jazzing kids up for the annual See You At The Pole event. Offering basketball and dodgeball tournaments, inflatable attractions, food, fellowship, speakers, local bands, and most significantly to this particular website, headlining Christian acts, there's something for all ages at FallOut.
For years, Faith Evangelical Free Church in Allentown, PA, has offered this festival and it's yet to disappoint. While past years have boasted top acts such as Audio Adrenaline, Rebecca St. James, and pillarMac, this year brings a much different kind of music to the church parking lot... headliners Pillar. Last year, Skillet and Day Of Fire represented a harder rock edge at the festival, but this marks the first time anyone from this genre was taking the main time slot.
I arrived at the fest a bit later than it started, missing the opening local acts Flint Face and Universal Royalty. But most importantly, I was right on time for TAIT's 2:15pm show. After an extensive soundcheck, the band was ready, allowing a clip from a song by Muse to strangely lead into their set-opener "Electric Avenue." Michael Tait danced out on stage ready to entertain and serenade. It's still surreal to see Michael without his well-known counterparts, but Michael and his band hold their own -- particularly live. From the intro, the band progressed through selections form their two record, including "Numb" and "Lose This Life," before pausing for a cover of dc Talk's cover of Charlie Peacock's original "In The Light," and on to "Alibi," "All You God," "God Can You Hear Me," and "Loss For Words." After Michael announced his newest TAIT album currently in the works, entitled Loveology, they proceeded to play "Wait" from the band's previous record Lose This Life, followed by a special band introduction that included a medley of the Mission: Impossible theme and The Red Hot Chili Peppers' "Give It Away" before leading into "Spy." TAIT closed their set with their take on the dc Talk original, "Jesus Freak." What's strange that I've noticed about each member of dc Talk's solo shows, is that quite often, all three of them will perform two dc Talk songs at their shows, and the two that are selected every single time are "In The Light" and "Jesus Freak." What's strange, too, is each one performs each differently that dc Talk performs it, which makes the fact the artist singing the song is most definitely not dc Talk all the more obvious. It's great to hear these songs kept alive - and for a new generation, but the original band's work is ultimately missed.
Another sound check followed TAIT's set, with Sanctus Real following suit. The band opened with the worshipful "Everything About You," immediately rousing the audience for their energetic set. Since the release of their most recent album, The Face Of Love, the band has taken a more serious approach to their songwriting and live show messages. One of the charms of this band is their unashamed support of the Gospel and their consistency of speaking about Christ at their shows. In a time where bands seem to think it's cooler not to talk about Jesus, Sanctus Real is a breath of fresh air. Sanctus provided a full setlist of songs, moving into "Say It Loud," "We're Trying," "The Show," the more serious "Don't Give Up," and the more solemn "Eloquent." A brief plug for the Mocha Club ministry preceded one of the more passionate and meaningful modern worship songs you're likely to hear this year, "The Face Of Love." The guys picked up the mood and the pace again with "Things Like You," "Possibilities," "Alone," "The Fight Song," the anthemic "I'm Not Alright," and wrapping it up with "Closer," tacking a new edgy rock intro on to the beginning of it.
Festival-wide dinner and worship with Danny Oertli followed. Oertli offered up your staple modern worship songs most everyone who attends church or listens to the radio has heard many times before, making it easy to unite the audience in worship, but leaving much to be desired for those needing something fresher. A bit later, I left the fest to do a little next-door shopping for essentials (hey, those dead lightbulbs don't change themselves, folks), and returned to share dinner with some friends. By the time I returned to the main tent outside for the main act, Pillar had already opened with "Fireproof" and "Hypnotized."
It was interesting to see Pillar filling in the bill as the headlining act. But with an as-yet-unreleased new album on the horizon, the band was armed with some extra strong musical ammunition. Pillar probably put on the tightest show I've seen them do yet, giving their all in a way that would make non-fans appreciate their efforts. The guys offered their catchy "Simply" before playing a new track from their album The Reckoning, entitled "Awake." Their cover of U2's "Sunday Bloody Sunday" followed, along with "Let It Out," and a brief message about the Grace of God before the more melodic and retrospective "Rewind." Two new cuts followed, the driving single "Everything" and the more hardcore-influenced "Tragedy." Pillar then continued with more familiar songs "Underneath It All," "Aftershock," and ended with "Bring Me Down." But it wasn't long before the foursome returned to the stage to provide "Frontline" for an encore.
While the lineup may not have seemed as strong as previous years, FallOut delivered a fun, faith-filled day for all ages, continuing to be a must-attend event for the Fall in the Allentown, Pennsylvania area. Come out next year and bring the youth group. Gather together at FallOut before you gather around the flagpole!
--
John DiBiase
, 10/11/06
FallOut 2006 Photo Gallery
click on an image for a bigger size
TAIT: Main Stage
Sanctus Real: Main Stage
Pillar: Main Stage
*all photos by
John DiBiase
, and are the property of
Jesusfreakhideout.com