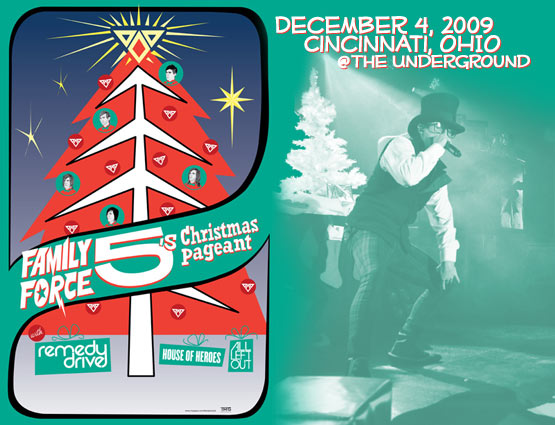 Family Force 5, Remedy Drive, House Of Heroes, All Left Out
12/4/09, at The Underground in Cincinnati, OH
Every once in a great while, there's that must-see tour for a music fan where it seems as if the stars have all aligned and several of your favorite bands just happen to be on the same tour together. All is well with the world (well, your world). Then, as if it's all some kind of cruel and unusual trick, you discover that the tour isn't coming anywhere near your hometown. Heck, you find out it's not even coming to your state or any that directly border it! You start to wonder what you've done to deserve this kind of punishment and try to forget the tour even exists.
Sounds overly dramatic? Sure it is. But for the diehard music fan, it probably sounds familiar enough to garner a chuckle or at least a grin (or, depending how deep the scarring is, you've decided this review has reopened such painful wounds and you will read no further). But for this reviewer, the idea of the Family Force 5 Christmas Pageant Tour - from one of the best live performance bands around - sounds too good to be true. And when you add rock band House Of Heroes, who released what many of us found to be the best album of 2008, along with rising stars Remedy Drive, you've got a winning concert lineup on your hands. This scenario painted here applied to this particular reviewer when it came to the debut run of the Family Force 5 Christmas Pageant Tour. Once my wife and I had decided to try some avenue for making it to a date on this tour, we worked around our schedules and chose the December 4th Cincinnati, Ohio spot to trek to. And after all the hassles and expenditures that normally wouldn't be alotted for just any tour, we felt it was well worth our trouble.
The Underground is a great Christian owned and operated club in Cincinnati. It's the kind of place that carries a similar vibe - on a smaller scale - to Nashville's Rocketown, and it proved to be a fine venue for such a show as Family Force 5's Christmas Pageant. With its own little cafe inside, a two-part balcony, and a sizable floor area, it's the kind of venue I wish we had more of around our area of Pennsylvania.
Around 7:30pm, New Zealand pop punk band All Left Out opened up Family Force 5's Christmas Pageant Tour. We had stepped out a bit before their set began, and when we returned, they had already begun their brief set. But while we were there, the four piece performed their own cover of "Have Yourself A Merry Little Christmas" (complete with festive garb), as well as their own originals, "Hold On," and "The Meaning Of Life," among others. They weren't bad and served as a decent opener, but with the rest of the acts being seasoned performers, there was a bit of an amateur feel to their show, and vocalist Ken Pratten's abilities seemed very limited. The tour didn't really feel like it was kicking off until Colombus, Ohio natives House Of Heroes stepped up to perform next.
Rock quartet House Of Heroes are a pretty reliable act for a great live show, and after just having released their best work to date with their album The End Is Not The End, the band decided to focus their regrettably short set on tracks from that release. With vocalist Tim Skipper clad in a long sleeve red shirt and his bandmates even more so color coordinated in red and green for the occasion, the guys opened with "Field Of Daggers" and continued with "If" and "Code Name: Raven." The band recently released a three-song digital Christmas EP and the opening track, a cover of Mariah Carey's "All I Want For Christmas Is You," was an appropriate choice to play, before the guys closed with their popular cut, "In The Valley Of the Dying Sun."
The opening acts had only so much stage space available to them - which is common for opening bands - and of the holiday decor, they were given several all-white lit Christmas trees and a series of hung stockings to give a Christmasy vibe on stage. When Lincoln, Nebraska natives Remedy Drive prepped the stage and were ready, they offered a pretty fine cover of the holiday favorite, "O Holy Night," before finishing the rest of their set with their own material. Despite the band not having any holiday recordings of their own, it was great to have them join in the festivities regardless. From there, the Zach brothers segued into their usual high energy performance, starting with "Stand Up," and moving into "Something Made To Last" and "Heartbeat," the latter of which frontman David Zach encouraged crowd participation for. David's usual kamikaze style stage presence of diving into his keyboard and throwing himself around the stage felt especially at home with them sharing the same stage as high energy performers Family Force 5. Next, Remedy Drive played a brand new song called "Don't Wait Too Long" (a track they've been performing since the Summer festivals, as well), and then took a breather for the piano ballad "All Along" before closing with another full-contact song with "Daylight" (which even found David diving into his brother's drum set!).
A longer set change ensued between Remedy Drive and our headlining act, as a large white sheet descended from the ceiling in front of the audience to hide the stage from them. As we waited, a few extra white Christmas trees were added to either ends of the stage, while the house music offered holiday favorites from the likes of Dean Martin and Nat King Cole. When all was ready to go, the lights dimmed again and the music from Family Force 5's Christmas Pageant album opener, "Carol Of The Bells" filled the room as the curtain (which briefly displayed the members' shadows) dropped to reveal the band in top hats and vests (a la Charles Dickens-style) and a cloud of suds-like snowflakes descending from the ceiling. The stage was wonderfully decorated with Crouton's illuminated drum set, the white Christmas trees, and even their stage cases and the Family Force 5000 were decorated like Christmas presents. FF5's loyal stage manager, Xanadu, was dancing across the stage during the opener dressed in a large abominable snowman outfit. The show intro was quite a sight.
Less than a week before this particular show, FF5 bass player and one of the three Olds brothers, Joshua - AKA "Fatty" (or "Phatty") - came down with a serious kidney problem which caused the band to cancel a show in Illinois and one in Indiana right before this Cincinnati performance. Joshua's condition was pretty serious, but as he began to show signs of improvement, the band decided the show must go on, and despite the fact the band had never previously played without Joshua before, they would continue the Christmas Pageant Tour without him. From the beginning of the show, there was an obvious void present without Joshua, something I didn't really think was going to be so obvious until I saw it for myself. Nathan ("Nadaddy"), who performs keys and the Family Force 5000 for the band, filled in most of Fatty's bass parts, but it was when the guys played tracks like "Drama Queen," in which Josh provides some of the most memorable vocals for the song and does some signature dance moves, that it felt really weird without the third brother. And given the circumstances, it gave fans a weird feeling indeed. Vocalist and ringleader for the band, Solomon "Soul Glow Activatur" Olds made it a point to mention Fatty's absence more than once and thank the fans for their prayers while encouraging them to keep them up. It was probably most evident in the way Solomon carried himself that he was having trouble shaking the absence of his younger sibling, but the band - and Soli - did their best to continue the show as usual.
After "Carol Of The Bells," and before the bittersweet performances of "Drama Queen," the guys offered their cover of "My Favorite Things" from The Sound Of Music. It was great to hear "new music" from the band - which is something they've been doing a lot of lately - but especially Christmas tunes. "Little Drummer Boy" was next, with drummer Jacob "Crouton" Olds providing lead vocals (and quite appropriately so). Their delicious version of "Do You Hear What I Hear" was next, and then the band performed a fan (and band) favorite with "Radiator," from their sophomore album, Dance Or Die. The fun rendition of "Angels We Have Heard On High" was next, before the band took a short break for an acoustic set with their original holiday ballad, "It's Christmas Day." I certainly never imagined I'd see the day when Family Force 5 would do an acoustic "set" (granted, it was one song), but they pulled it off nicely, with Solomon, Nathan, and Derek ("ChapStique") all grabbing stools to sit while playing. Immediately afterwards, they stood up again and performed their other Christmas original, "The Baby," and then invited some fans and crew out on stage to the tune from one of my favorite Christmas music composers, Percy Faith, and threw wrapped box presents into the audience (which turned out to be candy canes inside Priority Mail boxes). Afterwards, the band launched into what was one amazing feat - a medley of some of their best and most popular songs, without taking a breather! They opened with "Keep The Party Alive," and continued on almost seamlessly with "Get Your Back Off The Wall," "Fever" (which Solomon announced was written in that very venue one night), "Earthquake," "Love Addict," "Grandma Got Run Over By A Reindeer (to which one of the stage guys emerged in a reindeer suit)," "Ghost Ride The Whip," and "Kountry Gentelmen" (which they started towards the end of the song). With the medley's rousing conclusion, they left the stage, leaving the audience cheering for one more song. The guys then emerged once more and offered "Supersonic" as their closer.
The first run of The Family Force 5 Christmas Pageant was well worth going out of our way to attend and experience. Each band brought something unique and special to the stage, and Family Force 5 delivered a solid performance as usual, despite personal circumstances. If this tour comes anywhere near you, do not miss it. And hopefully this will become an annual tradition that not only continues to grow.... but actually comes to our neck of the woods next time!
--
John DiBiase
, 12/8/09
House Of Heroes Set List

01. Field Of Daggers
02. If
03. Code Name: Raven
04. All I Want For Christmas Is You
05. In The Valley Of The Dying Sun
Remedy Drive Set List

01. O Holy Night
02. Stand Up
03. Something Made To Last
04. Heartbeat
05. Don't Wait Too Long
06. All Along
07. Daylight
Family Force 5 Set List

01. Carol Of The Bells
02. My Favorite Things
03. Drama Queen
04. Little Drummer Boy
05. Do You Hear What I Hear
06. Radiator
07. Angels We Have Heard On High
08. It's Christmas Day
09. The Baby
10. MEDLEY: Keep The Party Alive
Get Your Back Off The Wall
Fever
Earthquake
Love Addict
Grandma Got Run Over By A Reindeer
Ghost Ride The Whip
Kountry Gentelmen
11. ENCORE: Supersonic

Family Force 5's Christmas Pageant 2009 Photo Gallery
click on an image for a bigger size
**vertical images cropped for thumbnails**
All Left Out:
House Of Heroes:
Remedy Drive:
Family Force 5:
*all photos by
John DiBiase
and are the property of
Jesusfreakhideout.com