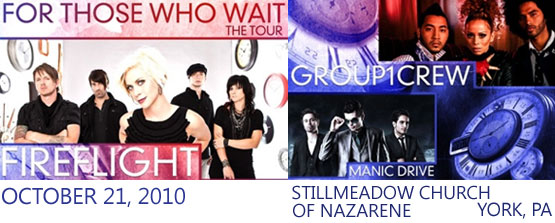 For Those Who Wait: The Tour
Fireflight, Group 1 Crew, Manic Drive
10/21/10, at Stillmeadow Church of Nazarene in York, PA
This Fall, Flicker Records rock band Fireflight headlines their own tour in support of their third studio album, For Those Who Wait, which hit shelves earlier this year in February. Accompanying the band on the road is underground rock band Manic Drive and Fervent's hip-hop/dance trio Group 1 Crew. It's an intriguing match-up of styles and vibes, but ultimately serves up a diverse helping of music for the concert goer.
After selling out Greeley, CO (900 tickets were sold) about a week or so earlier, For Those Who Wait: The Tour rolled into York, PA to perform at Stillmeadow Church of Nazarene. To contrast, the audience that filed into the church's gymnasium was considerably less than at the Greeley show, giving the evening a more intimate feel. To start the night, the church's own youth band, 180 Out opened. Those in attendance who go to the church seemed most into the youthful, spunky worship rock, but the vibe of the band didn't match well with the tour bands. However, if there would be any band closest to the kind of feel 180 Out was eminating, it would be Canadian rock band Manic Drive. Once the local act left the stage, the lights stayed out as the signature overly dramatic intro began for the rock trio. A booming voice told an outlandish story about the Manic Drive guys being vampires, featuring audio clips from Twilight in the mix. "Music," from their 2009 release Blue, then opened their set, with front man Shawn Cavallo and his brother Mike ready to pump up the audience. After such a cheesy intro (that, admittedly, is intended to be silly), it's tough to take the band seriously. And when they're singing rock anthems and often dressed in suits, you'd think that they'd like to be. But then they perform a track like "NYC Gangsters" that is catchy but rather goofy (with a chorus that says, "Follow me my misfits and leave this world behind / As we ride like New York City gangsters / Lighting it up as we drop the bomb"), it seems all the more like they're not quite sure how they'd like to be perceived. With the sound of sirens and headline soundbytes, "Walls" was next. Afterwards, Shawn took a moment to admit to the crowd that, despite what their show intro stated, the band members were in fact not real vampires, and then declared that they hated Twilight. He then announced that he had received a request that Mike perform a country song; and so he did a snippet of one while Shawn picked up an acoustic to play their last song, "Dancefloor."
After a short break, Group 1 Crew emerged. With just Manuel Reyes and Blanca Callahan on this tour (third G1C member Pablo was sitting out this tour), the duo only had a drummer for live accompaniment, and otherwise sung to tracks. I've previously seen the group perform in their home state of Orlando at Rock The Universe, complete with a full band, and that was by far the best setting for the group I've seen to date. But the trio has also always done well with recorded tracks and this evening was no exception. To launch their set, Blanca and Manuel performed the title track from their latest album, which actually released last month, Outta Space Love. Blanca and Manuel seemed comfortable as just the two of them, but Pablo's absence was definitely felt -- especially when they performed older tracks, like the following one, "iContact." After "Let It Roll," Manny greeted the audience and teased those seated that they shouldn't be sitting, half-jokingly laying on a guilt trip as heavy as possible. They then encouraged crowd participation via sing-a-long with the lead-off track from their latest record, "Live It Up." And after "Movin'," the sound just simply died via technical difficulties. Manuel and Blanca took it like troopers and before they needed to figure out a way to stall, their drummer quickly answered the call from an audience member for a drum solo. But within moments, the sound was back up and Blanca introduced a new song, one she said had personal significance, "Walking On The Stars." The duo closed with "Keys To The Kingdom," and Manny stayed on stage to introduce a promo video for World Vision, then gave a message about his own experiences with sponsoring a child, urging the audience to visit the World Vision table and make a difference in a young child's life.
A ten to fifteen minute intermission gave the audience a chance to mingle or visit the merch and info tables in the lobby a little before the night's main event. And after a brief instrumental intro, Orlando progressive rock band Fireflight emerged from a dry ice mist to perform their album - and tour - title track, "For Those Who Wait." There was one significant, noticeable change when the band began performing - original bassist Wendy Drennen was not with the rest of the band. Like Pablo's absence from Group 1 Crew, it remained unexplained, but Wendy was actually not feeling well enough to play that night, causing Fireflight to play their very first show without her on stage with them. So, on this particular night, the rock quintet was a rock quartet, and guitarists Justin Cox and Wendy's husband Glenn seemed to step up their energy even more than usual to compensate. And with a generous 15-song set, the band offered some of their best and fan favorites, with the intense "You Give Me That Feeling" and anthemic "Stand Up" following. With "Fire In My Eyes," front woman Dawn Michele asked the audience to raise their hands if they had never seen them live before, revealing that most of the audience was seeing the band for the first time. "Desperate," "The Hunger," and "What I've Overcome" were all next, before Dawn took a seat on a stool and began sharing the story of a fan of the band who had written them online and shared some of her personal struggles with them. She said that it was stories like this one that had inspired their next song, and with only Justin left on stage providing keyboard accompaniment, Dawn sung the emotional ballad "Name." It was a song they don't play live often, but the brief acoustic interlude in their set was a nice touch. When the song ended, Justin left the stage and Glenn came back to provide acoustic guitar support for the highlight "Wrapped In Your Arms," for which Justin also joined in with an acoustic guitar later in the song. To reintroduce the band to their rock songs, they transitioned with an electronic drum loop that unexpectedly lead into the encouraging "Brand New Day." Drummer Phee Shorb then performed a drum solo before "You Gave Me A Promise." Soon, Dawn asked the audience if it was okay if they performed a couple of songs off their debut, The Healing Of Harms, and then performed "Waiting" and the single from the album, "You Decide," before returning to their newer material. During the rocker "Core of My Addiction," the fog machine smoke had been enough to trigger the building's smoke alarm, and the high pitched beep of the church's alarm could just barely be heard above the music before it was shut off. After the song, Dawn also shared about World Vision, reading Isaiah 30:18 to the crowd, and then the band closed appropriately with "All I Need To Be" from For Those Who Wait. With that, the foursome walked off the stage, leaving a cheering audience hungry for more - but not for very long. After about a minute, they came back out, with Dawn announcing "I've just got one question for you -- are you unbreakable?" and the audience cheered as they performed what has become their biggest hit to date, "Unbreakable."
While the fall season is prime time for all kinds of tours, rock music fans would do well to check out Fireflight's For Those Who Wait: The Tour. It's a unique blend of styles, with a little something for fans of different kinds of music, and the bands included offer a positive message that point their listeners to Christ. And if you miss Fireflight's fall tour this year, be sure to catch them on the road next year if they come near you!
--
John DiBiase
, 10/27/10
Fireflight Set List
01. For Those Who Wait
02. You Give Me That Feeling
03. Stand Up
04. Fire In My Eyes
05. Desperate
06. The Hunger
07. What I've Overcome
08. Name
09. Wrapped In Your Arms
10. Brand New Day
11. You Gave Me A Promise
12. Waiting
13. You Decide
14. Core of My Addiction
15. All I Need To Be

Encore:
16. Unbreakable

For Those Who Wait: The Tour 2010
click on an image for a bigger size
**vertical images cropped for thumbnails**
Manic Drive:
Group 1 Crew:
Fireflight:
*all photos by
John DiBiase
and are the property of
Jesusfreakhideout.com