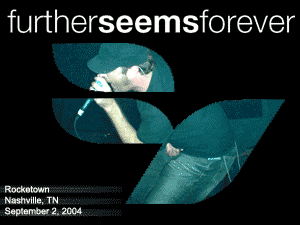 Further Seems Forever, Brandtson, The Kicks, Salem
9/2/04, Rcktwn, Nashville, TN
September 2nd was a date I had been looking forward to for some time. Iíd heard Hide Nothing and was blown away. But there was still a lot of tension (even at the show, Iíd find out) that Jon Bunch would not be able to carry on the Further Seems Forever name as the third vocalist to give the job a try.
When Ethan (JfH Street Teamer and lifelong friend of mine) and I entered the main stage area at Rcktwn to see Further Seems Forever on the highly anticipated night, there were fewer than fifteen people in the room. Very odd, especially after just having seen the Bleach Farewell show in the same room three days prior. They had packed 1,300 into the room Sunday night. And only seeing fifteen in the dimly lit room was a drastic contrast. So Ethan and I took the opportunity to purchase some FSF merch and get spots right up front.
By the time the first band, Salem, began playing, a crowd of no more than forty had gathered. Why does it seem like the first and least known act of most shows feels the need to crank up the volume so loud that you canít even make an attempt to enjoy their music? Itís a baffling question, and Salem did little to shed light. I wasnít enjoying their music very much at all, and didnít really appreciate the name of the band (or what it might possibly stand for), so I told Ethan I was going upstairs to try and get some posters. Unfortunately, I had little luck in that department. And even more unfortunately, I could still hear the band fully well from upstairs. When I finally headed back downstairs, their set had almost come to an end. It was very hard to tell, but Iím fairly certain they were some sort of grunge/emo/rock band. The lead singer had some sort of funny twang he forced in his voice as he sang that made his seem like he was about to start crying. I was impressed he was able to keep it for the entire set, which lasted about 5-6 songs.
Next up was Brandtson. Upon beginning their punk/pop-oriented set, the first noticeable trait about the band was the drummerís lead vocals. The guitarist provided more vocals as the set went on, but the drummerís vocals were never "background" as is usually the case in punk rock bands. This guy was singing verses. And the band was very impressive all-around. They had some loyal fans in the crowd (which had climbed to around seventy-five at this point) that were singing along to their songs.
After about seven songs, they exited the stage and made way for The Kicks, an appropriately titled band. Their rowdy and rambunctious stage presence was enjoyable to watch, but their music was severely lacking. They were rock with a bit of punk thrown in for good measure. But their set list seemed to drag on, and it was hard to follow up an impressive act like Brandtson. At this point, the crowd had waited long enough, and they were ready for the band they came to see.
And good things come to the approximately two hundred that were waiting by that point. Further Seems Forever finally took the stage, as did vocalist Jon Bunch, the newest member of the band. He smiled often at the crowd and seemed to enjoy the set and feeding off of the enthusiastic crowd. Though the crowd was small, they sang every word and all could be heard over the blaring amps and speakers.
They began their set with "Hide Nothing" and then moved into "The Sound" from their sophomore release How to Start a Fire. Ethan had seen the set list before the show started, and informed me that they would be playing it, and I was in a bit of denial. Could Bunch pull it off? The answer to that one came in a short, three minute time period. And it was an emphatic "yes". Though on the album, he has a voice completely different from former FSF vocalists Carrabba and Gleason, his vocals on "The Sound" (and later when "The Moon Is Down" was played) were remarkable similar to the alumni voices of the past. Perhaps the only thing he wasnít capable of doing, was raising his voice to the swift and sudden signature scream FSF made popular on The Moon Is Down and How to Start a Fire. With the exception of the two songs mentioned above, their set list consisted entirely of songs from their phenomenal new release Hide Nothing.
That is, until their encore. They finished their primary set with "Bleed" before leaving the stage, much to the disagreement of the small, but crazy crowd that had gathered. Chants for "One more song" evolved into demands for "Ten more songs" which eventually became a simple "We want more". At last, they took the stage once again. The crowd roared, and Bunch announced that they would play "Wearing Thin" from The Moon Is Down, which they did in style. Then, accompanied only by a toned down electric guitar and an acoustic, Bunch sang "For All We Know".
All fears were put to rest by the end of the night. Anyone the least bit worried that Bunchís abilities will not be worthy of the FSF name, need worry not. Jon Bunch is the perfect compliment to the musicians of Futher that weíve come to know and love. These guys are true survivors. Letís hope Jon Bunch sticks around to continue touring and making music with these guys.
--
Josh Taylor
, 9/3/04
Further Seems Forever Tour 2004 Photo Gallery
click on an image for a bigger size
Brandston
The Kicks
Further Seems Forever
*all photos by
Josh Taylor
, and are the property of the photographer and
Jesusfreakhideout.com