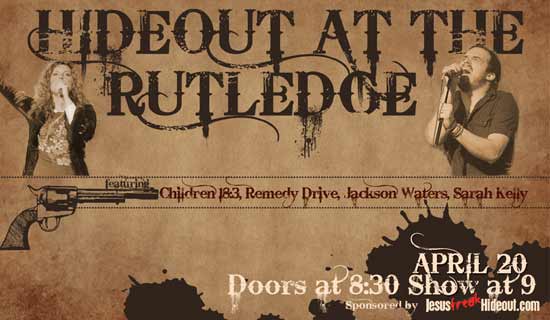 Hideout At The Rutledge
Jackson Waters, Sarah Kelly, Remedy Drive, Children 18:3
4/20/08, at The Rutledge in Nashville, TN
Well this is a first. It's definitely kind of an odd feeling to do a show review for something we put together. But the "Hideout At The Rutledge" event marked the first time Jesusfreakhideout.com has sponsored a show in its almost twelve-year existence, and the first time we sponsored an (unofficial) GMA showcase. It's an experience that was a bit surreal, but hopefully something we can make a regular event.
It was the first time any of us had ever been to The Rutledge, which is a venue in Nashville that had been renovated not too long ago to be a much nicer setup. The doors opened around 8:30pm for the GMA Music Week crowd to start trickling in. The attendance was a bit thin at first, but apparently word about this show had traveled around enough that by the time the show began, we had a pretty packed house. Our very own Josh Taylor was in attendance and took the reigns as MC for the night (and he did a pretty good job I must say!). And after his little intro for the night, the music began...
Tooth & Nail Records sibling punk rockers Children 18:3 kicked off the night with their infectious "All My Balloons," becoming a sort of three-piece whirlwind on the stage. While the actual members themselves are rather introverted and quiet, their stage presence is the complete opposite (perhaps they just bottle up any energy to pull some kind of Tazmanian Devil routine when the spotlights hit them and their instruments are in hand). It's funny cause if you meet these kids in person, you'd never assume their live show would be what it is, but the Hostetter siblings have great chemistry and incredible energy. For what they lack in words to their audience or personal connection, they make up for in stage presence. As on their album, "All My Balloons" flowed perfectly into "LCM," which then went right into the anti-abortion anthem, "You Know We're All So Fond of Dying." From back bends to braving guitar solos from atop sizable speaker stands, the Children kept the audience's attention before they wrapped the set up with "Mock The Music" and closed with a delicious instrumental.
Josh did his thing and Word Records newcomers Remedy Drive were soon up to bat. The Lincoln, Nebraska pop/rock band opened with "Hope," before moving into their Daylight Is Coming album opener, "Stand Up." The four-piece, all brother band put on an impressive live show - offering what could probably be best described as a sort of pop/rock version of MuteMath. By the time the set closers "All Along" and "Daylight" rolled around, front man David Zach was conquering his keyboard like few know how to and the dynamic between the Zach brothers was just fantastic. It was one of those live sets that you watch and realize that something special is happening before you - this band is certainly going places. It was also an honor for us to hear David tell The Rutledge audience that this was the band's first ever official Nashville show - and these guys aren't new to the touring circuit either.
It's huge to me to have Sarah Kelly performing at our very first show (of any kind). Two years ago, we'd talked about the idea of having some kind of JFH event and she said she'd love to be a part of it. So it meant a lot to have Sarah there. And considering how she's just this fantastic personality, it was truly an honor. Sarah's been through an incredible season in her life, having undergone an abusive relationship in her marriage (which she talked about openly at the show). So to hear her open with just her amazing vocals and a piano on "Out Of Reach," it set the stage for her four-song set to tell a story of pain and redemption. She introduced her new song "Brand New Day" as being a reflection of the joy and freedom she's experiencing after overcoming that relationship, as well as feelings of self-hate, for so long. The two new songs she played in her set were performed to a backup track along with players who weren't part of her usual band, but Kelly made the best of it. The new tracks were a stark contrast from the melancholy, emotional piano songs, but a great way to raise the mood back up. She performed the gorgeous "At About Midnight" as just her and her piano once again, before closing with the pop-worship anthem "Born To Worship." She proved a great addition to our roster of artists for the night.
Former Word Records band Jackson Waters was the evening's closer. The five piece rock band performed mostly new tracks they've been working on - some still in development. Surprisingly, the only song out of the seven that was on their debut Come Undone was the song that made it on One Tree Hill, "Center Of Attention" - a delectable moody piano-driven rock ballad. And among the other new songs, the guys offered up a soulful cover of "No Sunshine When She's Gone" to serve as another set highlight. It was great to get a taste of what's next for the guys, although it was harder to get fully into new songs fans have never heard before (but it wouldn't be much of a GMA showcase if the songs weren't new now would it?). Regardless, they were a fantastic end to an incredible night of music, and we couldn't have been happier with the outcome.
"Hideout At The Rutledge" was a success. Hopefully it's something that we can do regularly now, God-willing. You'll most certainly be hearing about it on here if it happens again in 2009. Also, keep an ear out for all of these stellar acts -- Jackson Waters, Sarah Kelly, Remedy Drive, and Children 18:3. We could hardly ask for a better lineup and encourage you to check out their recordings as well as their live sets. And here, again, is to hoping you'll be hearing about this again next year...
--
John DiBiase
, 4/26/08
Hideout At The Rutledge Photo Gallery
click on an image for a bigger size
Hideout At The Rutledge - Soundcheck / Audience / Josh Taylor, MC
Children 18:3
Remedy Drive
Sarah Kelly
Jackson Waters
*all photos by
John DiBiase
and are the property of
Jesusfreakhideout.com
For video footage from "Hideout At The Rutledge", check out the video below!


*video footage taken by Amy DiBiase and Josh Taylor*
You can also download this 36-minute video clip montage from the show for FREE on our iTunes podcast!