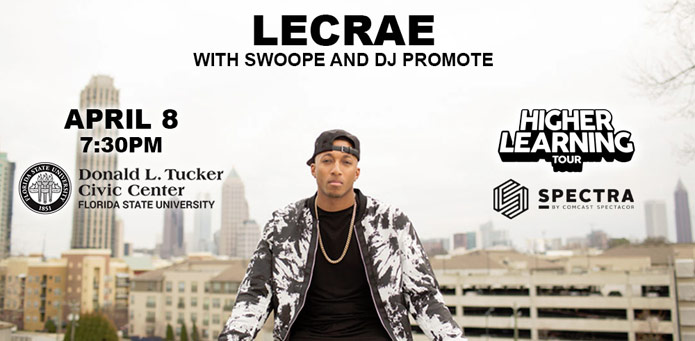 Higher Learning Tour
4/8/16, at Donald J. Tucker Civic Center in Tallahassee, Florida
As much as bands like Pillar and Skillet are the reason why I got into Christian rock, Lecrae introduced me to the 116 clique, and Christian rap overall. I've had the privilege of seeing him twice before this show, but both were before his albums Anomaly and Church Clothes 3 were released. Having loved both of them, as well as his prior performances, I was excited to see him perform live again.
Of course he didn't come alone, as Hip Hop artist Swoope along with EDM and great entertainer DJ Promote opened up the night in style. Swoope did a good job opening up the show with his own music. As with many openers, there wasn't much in the way of production, just a few lights and him rapping. He was a good choice to open up the night, as he got the crowd moving and set the mood for the night. DJ Promote came on stage next and set the bar to the next level with his set. A mixture of EDM songs along with a video board in front of his turn tables and the addition of stage lighting got the crowd really moving. It was definitely one of the most energetic crowds I've ever seen at a concert, as DJ Promote turned a concert venue into a full-on dance club. What was just as entertaining to me was the aforementioned video board, which included gifs ranging from video game levels to Lecrae's own snapchat videos. I was genuinely blown away by the performance he put on.
Lecrae came on, starting off the show with a spotlight on him, creating a silhouette, as he performed a slower song off of Anomaly, "Timepiece." From there, he transitioned into "Nuthin" and then to one of my favorites, "Dirty Water." All told, he included 9 songs off of Anomaly in his 23-song set list, 8 of which were the first songs he performed. Not to be forgotten were some of his older songs, including "Jesus Muzik" and "I'm Turnt," and of course he made sure to include a few off of Church Clothes 3, like "Déjà vu." Obviously, he helped form the 116 clique, so hits by Andy Mineo "Uno Uno Seis" and Tedashii "Dum Dum" were performed too. The production was good for the show, as was the 3 different backgrounds used, but the lack of a video board that showed graphics and/or lyrics was unfortunate. What wasn't unfortunate was hearing Lecrae speak. He took 3 breaks during his 90-minute set to speak to the crowd, on topics ranging from his failed attempts to picking up girls when he was in college, to telling kids in college how they don't have any real life experience until they are truly independent and can pay bills on their own. There are few Christian artists that can be relatable to a younger audience, but Lecrae certainly is one of them, and it's worth the price of a concert ticket just to hear him speak. That, along with the song choices and Lecrae's great stage presence, made for a great concert.
The crowd, with a diverse range in age as well as race, had a great time at the show, and the sectioned-off end of the civic center with the capacity of 2,500 people held the roughly 1,500 people who attended nicely, as everyone had a great view. The only real drawback was the echoing that occurred during the show. With the building generally used for basketball games, there was no real sound absorption put in place for concerts held there. Thankfully, there were no other issues that took away from the show.
The Higher Learning Tour was a great one, with the openers setting the stage for an outstanding headliner in Lecrae. The Christian rap artist has only grown in both his music library as well as his stage performance. The unfortunate lack of a full production show, as well as the echoing in the civic center, took away from the show somewhat, but Lecrae's ability to entertain as well as give inspiring talks made for a great concert and night.
--
John Breuer
, 4/18/16
Swoope List



Fantasy
Dreamslave
Falling Down
Cellphones and Lighters
LSD
Sin in Me
#SameTeam
Jesus is God

Lecrae Set List



Timepiece
Nuthin
Dirty Water
Welcome to America
Outsiders
Fear
Wish
All I Need is You
Jesus Muzik
Background
Go Hard
Dum Dum (Tedashii)
I Know
Round of Applause
Déjà vu
Manolo (Trip Lee)
Nothing I Can't Do (Tedashii)
Sideways (KB)
Uno Uno Seis (Andy Mineo)
It is What it is
Can't Do You (e40)
I'm Turnt
Say I Won't (encore)
Higher Learning Tour 2016 Photo Gallery
click on an image for a bigger size
**vertical images cropped for thumbnails**
Swoope
DJ Promote
Lecrae
*all photos by John Breuer and are the property of the photographer and Jesusfreakhideout.com