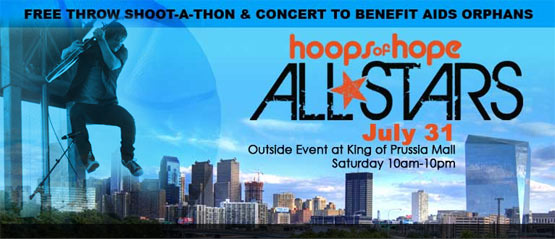 Hoops Of Hope
The Afters, Francesca Battistelli, Dave Barnes
7/31/10, at King of Prussia Mall in King Of Prussia, PA
On July 31st, a unique ministry called Hoops For Hope (www.hoopsforhope.org) hosted an outdoor event in the parking lot of the grand King of Prussia Mall near Philadelphia in King of Prussia, PA. When I first learned that The Afters were playing in KOP with Francesca Battistelli and Dave Barnes, it seemed that event details were really difficult to find online. It really wasn't until the day before the event that I discovered that the event was open to the public and was an all-day festival, starting at 10:00 AM. We didn't arrive on site of the KOP Mall until after dinner that evening, and found that the Hoops of Hope All Stars event had already ended, leaving only the concert portion of the festivities to remain for the evening. After we got our tickets and entered the festival grounds, we could see quite a few free standing basketball hoops were being dismantled. In truth, we mainly wanted to attend the event for the music portion of it, but I was surprised to find that everything seemed to end about at least an hour or two before the live music began.
What was especially neat about this event was that if you wanted to watch the concert from afar for free, you could. There was a fenced off section of the parking lot in front of the stage that allowed a great open area for those who paid general admission for tickets to the concert, but beyond the fence enclosing this area was a wide open space for just anyone to walk up and watch the concert from. And with these artists, they're likely to get a healthy helping of ministry with the music.
Upon arriving, I was pretty certain I knew what the lineup order of the night would be. Typically, the artists would play in a sort of rank of seniority or popularity, and I figured the acoustic solo efforts of Dave Barnes would be first, with the lovely soulful pop stylings of Francesca Battistelli following, and The Afters headlining the night. However, this was, for some reason, the complete opposite. When the music kicked off around 7pm, Texas pop rock band The Afters were the evening's opening act. Thinking back on it, it still perplexes me, but given the time slots, it's a good chance that less people would want to stick around the mall for a late show than one earlier in the evening.
After the stage's emcee introduced the band, the shrill of sirens rung out with an electronic voice repeating the words "we are the sound." Suddenly, The Afters broke into the rocker "We Are The Sound" for just the chorus, leading it right into the title track from their 2008 release, Never Going Back To OK. Front man Josh Havens hopped around the stage, taking turns from song to song using a guitar, sitting at his piano, or standing with a mic alone. "Tonight" followed, before Havens announced that the following song was going out by request, and they launched into an anthemic song for "all the single ladies," and even jumped down from the stage to have some fans sing along. The song didn't really fit into their set, but it was fun that they did it upon a fan request. Somewhat appropriately, they succeeded it with "MySpace Girl," after Havens explained the inspiration behind the song being a true story. He then talked about their upcoming new album, Light Up The Sky a bit before launching into the title track. They admitted that they hadn't played it live much, but it sounded great nevertheless, and it was a nice teaser for what's to come on the new record.
Things shifted to the considerably more serious when Havens introduced "Ocean Wide" with the heartbreaking story of a family that looked like they had everything all together for many years, but then the father just one day walked out on them, admitting he had been living a lie and couldn't do it anymore. As the band played the emotional ballad, they concluded the song by moving into Chris Tomlin's "How Great Is Our God" to lead the audience in worship. Josh paused then to share from his heart about the hardships of the past year or so -- the tragic loss of their manager to cancer, the loss of the drummer's former StorySide:B bandmate to a sudden heart attack, and even close family troubles. He then declared the following Bluetree cover as having become an anthem for the singer in the past year, and performed "God Of This City." When the worship song finished, the band moved into their most popular song, "Beautiful Love," in which Josh took a moment to introduce the band members, even taking a fan's camera and photographing the band members and audience. And with the conclusion of their hit song came the conclusion of their set. It was a bit disappointing - like their set at last year's Uprise Fest nearly a year ago to the day - that they played a couple worship covers in place of their own original material. Hopefully when the new record drops and they begin to tour for it, the band will play more of their own stuff live.
After a break between sets, Word Records' own Francesca Battistelli stepped up with her live band. Franny was actually seven months pregnant at the time of the performance and she "hid" it pretty well (despite being still quite visibly pregnant) with a modest, flowing black dress. For the opening of her lengthy set, Francesca stood while singing, but after two songs ("Unpredictable" and "I'm Letting Go") she apologized for needing to sit, and took a seat on a wooden stool in front of her mic stand. After "My Paper Heart," Francesca talked to the audience a bit, admitting that if she rambles on a bit, that that is her exact intention to do so as she attempts to catch her breath between songs. Although she kept expressing her difficulty keeping her breath and singing due to her pregnancy, her voice still sounded incredibly solid. If anything, she probably couldn't hold some of the notes for as long as she normally would, but even at [what she might consider] her weakest, she still packed a powerful vocal punch that few female vocalists can offer. "Blue Sky" was next, and then Franny moved to the piano for the lovely "Beautiful, Beautiful," and then back to her stool for "Lead Me To The Cross" and "Forever Love." After "Time In Between," Franny expressed her struggle through breathlessness and then performed a brand new song titled "Angel By Your Side," for which she encouraged the audience to put their arms around someone they love. Afterwards, Francesca got to her feet and introduced her band, including her drummer husband, and then played another new song entitled "Don't Miss It," which she explained was about living life to the fullest. Finally, Franny told the story of how she wrote the next song after a bad day, that included backing her car into a lawyer's car, and performed "Free To Be Me." Afterwards, Francesca hesistated, saying that one was her final song, but because of how great the audience was, she decided to perform an additional song, which she said was written by Brandon Heath and Christy Nockels, entitled "Never Be Afraid of Love."
When Francesca Battistelli had finished her set, she left the stage for the evening's emcee to come out and introduce the founder of Hoops For Hope, a fifteen year old boy who had created the ministry before he was even 10 years of age, Austin Gutwein. Austin then came out and gave an encouraging and inspiring talk. It's incredible to find someone so passionate about ministry at such a young age -- and not just talking about doing something, but actually taking action. Following Austin's message, there was a surprisingly long intermission before Dave Barnes came out to play. The event was listed at ending around 10pm, and it was after 9:30 when Barnes finally went on. Sadly, we had to leave early, but from the sound of Barnes' set (which began just after we exited the event's grounds), it sounded like a great acoustic pop rock show.
Hoops of Hope's All Stars was a cool event to have, and a bold one to place so strategically outside of the King Of Prussia Mall. I hope that if they host this again in the future, we can attend more of the event. If you're a fan of basketball or interested in just learning about a cool new ministry, check out www.hoopsforhope.org for more info about Hoops of Hope.
--
John DiBiase
, 8/8/10
Hoops of Hope 2010 Photo Gallery
click on an image for a bigger size
**vertical images cropped for thumbnails**
The Afters:
Francesca Battistelli:
Austin Gutwein:
*all photos by
John DiBiase
and are the property of
Jesusfreakhideout.com