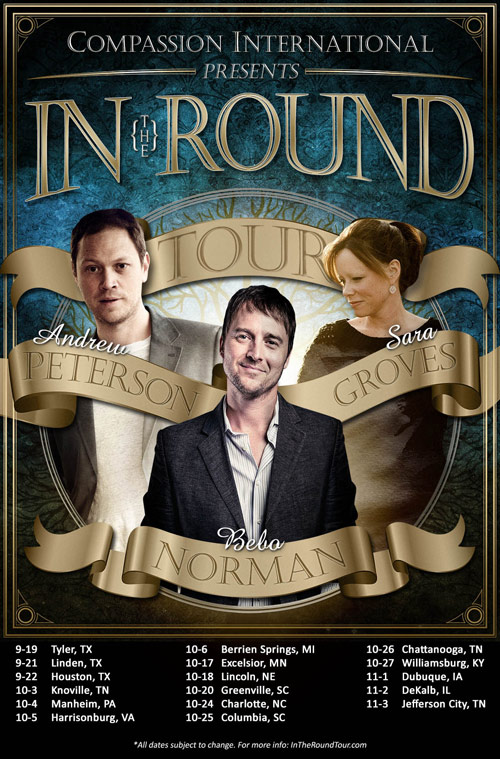 Bebo Norman | Sara Groves | Andrew Peterson
In The Round Tour
10/4/13, at The Junction Center in Manheim, PA
When you hear about bands breaking up, it's often a surprise but necessarily a complete shock. For many, the news that acoustic/fok pop artist Bebo Norman would be retiring completely from music at the end of this year definitely came as a quite a surprise. When you look at many solo artists who have have been making music for decades and show no signs of stopping (Steven Curtis Chapman, Michael W. Smith and Phil Keaggy come to mind), Bebo Norman has always been one of those artists that seemed as if he'd be in it for the long haul. So, it is with great sadness that we bid a fond farewell to Bebo with his Fall 2013 "In The Round Tour."
Don't get me wrong; I fully and completely respect Bebo's decision to retire from music. Any sadness or disappointment (with a sprinkling of disbelief) is out of admiration and acknowledgement that Bebo Norman has long brought something valued and needed to the Christian music realm. His honesty and transparency -- from being a seeking bachelor to a married father and family man -- has always been appreciated. That said, it is only entirely fitting that Bebo would recruit the able-bodied musical support of his peers Sara Groves and Andrew Peterson, who, like Bebo, have been making thoughtful and artful music for years. For the In The Round Tour, the trio share the stage as one all-star band, with each of their own fellow musical friends filling in the accompaniment needs. For example, Sara's husband Troy Groves provides drums and percussion while producer Ben Shive supplies keys and Bebo's longtime musical partner-in-crime Gabe Scott joins them on bass. The end result makes for a story-filled and intimate night of artful music.
Thanks to my underestimation of rush hour traffic, we arrived a bit late to the party. The show had already launched with Sara Groves' "Miracle," which she performed while sitting behind her piano and Bebo and Andrew aided with background vocals. As we walked up to the tent outside WJTL's new venue, The Junction Center, Andrew Peterson was performing "Rest Easy" from his latest release, Light for the Lost Boy. Bebo Norman then took over for "At The End of Me," from his latest (and final) album, Lights of Distant Cities. At this point, the gang started to introduce each other with the next few performances. Bebo talked fondly of Sara and introduced her, and she began talking about her recent 2-disc compilation The Collection and how the next song, "Blessed Be The Tie," was born out of an appreciation for her (and her husband's) friendships throughout their musical journey together. Sara then introduced Andrew who joked about how difficult it is to follow Sara. He then told the story of when he visited the Kensington Gardens and how he wasn't permitted into the Peter Pan exhibit due to being an adult. He recalled his disappointment and told how the experience inspired the song "Day By Day." After performing that song, Andrew told the story of meeting Bebo while on tour with Caedmon's Call in the mid-90's and how it began a longtime friendship that ultimately made this tour possible. He then introduced Bebo who proceeded to play the acoustic "Daylight Breaking." Most of the songs had a wonderfully organic sound due to the stripped down production, but this was really the only time in the set where the percussion (in this case, a pounding tom drum) was more distracting than complementary. Bebo then passed the proverbial baton back to Sara who talked about marriage and how inspiring her grandparents' union of 70 years is. Appropriately so, she introduced her husband Troy Groves and then performed her song "Fly." As the following applause faded, Andrew quipped "It's not fun following Sara Groves," which was met with understanding laughter from the audience. Andrew then shared about how the next song, "Dancing In The Mine Fields," was inspired by a fight he and his wife had, but ended his introduction of the song by playfully adding that it "turned from a make-up song into a make-out song."
Bebo Norman took the spotlight once again for "The Middle," but prepped the song by talking about his career and how easy it can be to wrap our identities up in our career or family. It was pretty easy to recognize where Bebo was coming from just from the bits and pieces of the night where he talked about his career. His readiness to retire was tangible; you could tell he was more than ready to move on from the music industry. "The Middle" was an appropriate addition to the set as it addressed the struggle with identity. After the song ended, the stage cleared and a video promoting Compassion International began. When it finished, Bebo returned to share his personal experiences with Compassion and sponsoring a child and how much it had personally impacted him. He even encouraged the audience to not spend any money on his merchandise if it meant sponsoring a child instead. His message was honest and inspiring, and he shared two major points that really struck a chord. His first was a quote from International Justice Mission's Gary Haugen who said, "In times of horror, I've ceased asking 'where is God' and I've begun asking 'where are His people?'" Bebo also added that "the greatest lie is two words: someone else," imploring the Manheim audience to seriously consider taking action and sponsoring a child.


Bebo Norman (w/ Sara Groves and Andrew Peterson), "Great Light of the World" - Live October 4, 2013

A 15-minute intermission occurred and then the stage was illuminated once again for Bebo Norman's "Pull Me Out." For this second half of the night, the artists took turns with two songs a piece before each doing a song and ending. Bebo continued with a classic song of his, "Walk Down This Mountain," deciding to pick an oldie for those who've been following him for some time. He encouraged a sing-along with the audience, which helped boost some needed crowd participation. (Due to the 'chill' format of the evening, everyone remained seated for almost the entire night.) Sara Groves then took over for "Painting Pictures of Egypt" before talking about her 92-year-old grandfather and his inspiring, introspective poetry. She used this time to talk about getting older and how insecurities can infiltrate her thinking more, using this to segue into "Obsolete." Peterson then talked about how the next song was written for a friend going through a rough patch in his marriage and performed "Carry The Fire," following it with "Nothing To Say." Bebo then talked about the loneliness and homesickness he would experience in his early days of touring and how it inspired "Where The Trees Stand Still" and proceeded to perform the emotional ballad. Groves followed it with a story about her oldest son's birth and her natural instincts for protecting him kicking in when she first took him home from the hospital. She then sang "You Cannot Lose My Love," which Andrew complemented with a song he wrote for his own sons, "You'll Find Your Way," encouraging them to find solace at home when if they ever feel lost as they get older. To close, the audience rose to their feet for the grand finale, a rousing rendition of Bebo Norman's hit song "Great Light of the World." When the group finished, the audience remained standing, cheering and clapping without showing any signs of stopping. The six-piece band then came back out on stage and Bebo stepped up to the microphone, admitting "We're in a dilemma because we don't do encores!" Clearly caught by surprise, the group then decided to, on the spot, perform a hymn to keep the focus off the band on stage and more on the whole group of people present as one body in Christ. It was a beautiful way to end a wonderful evening of music and storytelling.
It's tough to say goodbye to an artist with a catalog of songs like Bebo Norman. His career has been filled with a wide array of styles and topics--from his straight-up folk days and his heartbroken bachelor years to his more CCM-driven pop tunes with worshipful leanings. We'll miss you, Bebo; thanks for the memories!
--
John DiBiase
, 10/9/13
In The Round Set List

01. Miracle - Sara Groves
02. Rest Easy - Andrew Peterson
03. At The End of Me - Bebo Norman
04. Blessed Be The Tie - Sara Groves
05. Day By Day - Andrew Peterson
06. Daylight Breaking - Bebo Norman
07. Fly - Sara Groves
08. Dancing In The Mine Fields - Andrew Peterson
09. The Middle - Bebo Norman

[Intermission]

10. Pull Me Out - Bebo Norman
11. Walk Down This Mountain - Bebo Norman
12. Painting Pictures of Egypt - Sara Groves
13. Obsolete - Sara Groves
14. Carry The Fire - Andrew Peterson
15. Nothing To Say - Andrew Peterson
16. Where The Trees Stand Still - Bebo Norman
17. You Cannot Lose My Love - Sara Groves
18. You'll Find Your Way - Andrew Peterson
19. Great Light of the World - Bebo Norman

Encore:
20. Great is Thy Faithfulness - All
In The Round Tour 2013
click on an image for a bigger size
**vertical images cropped for thumbnails**
Bebo Norman, Andrew Peterson, Sara Groves
*all photos by John DiBiase and are the property of Jesusfreakhideout.com