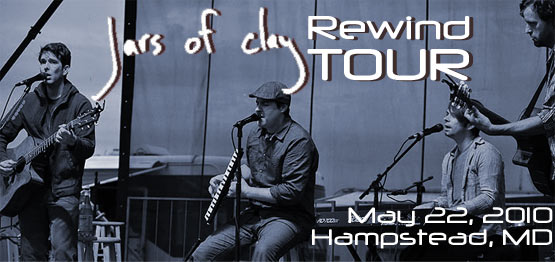 Jars Of Clay "Rewind Tour"
5/22/10, at Cascade Lake in Hampstead, MD
It's hard to believe it's been fifteen years since Jars Of Clay's self-titled debut album hit streets. I remember seeing them on tour that Winter opening for PFR and never having had heard of them before. Since that February, 1995 show, I had been hooked on their unique acoustic flavoring. The band had already been getting a lot of attention prior to their album release, and when it finally arrived in stores in May, it became understandable why. To commemorate the fifteen year mark, Jars Of Clay has unofficially launched the low profile "Rewind Tour" with the aim to perform their full debut album - all 10 songs (plus the hidden track) - from beginning to end.
Ultimately, this concept, while nothing new, is something Jars Of Clay hasn't implemented before. They had wanted to tour their Good Monsters record by performing the whole album, but it hadn't worked out. It seems more than appropriate for the first project the band tries this with to be their flagship release. It's a longtime Jarhead's dream to experience something like this, and it was certainly a special one. The band's debut is a strong batch of songs, and they hold up well fifteen years later - even if the debut may suffer some wear due to dated production.
A church fund raiser at Hampstead, Maryland's Cascade Lake fell victim to soggy, rainy Spring weather on this particular Saturday afternoon. A few local acts had performed before the main event, which featured just the four Jars Of Clay guys minus their live bass and drum accompaniment companions. This particular set would be done entirely acoustic - which seems especially appropriate since they're revisiting their debut. Frontman Dan Haseltine seated himself on a stool, with a cap pulled low on his face, while guitarists Steve Mason and Matt Odmark framed their seated bandmates, which also included keyboardist Charlie Lowell. Their demeanor while playing was concentrated and serious, while their between-song banter was anything but. The guys were clearly enjoying themselves, even if it was almost entirely self-entertaining. But it rubbed off on the audience, which was a mix of longtime fans and little children playing down front. It was a very intimate setting - one of the most intimate settings I've seen the band perform in - which inspired Haseltine to remark more than once that he felt like he was playing in his backyard.
With the rain falling on the Maryland audience, Haseltine joked about their debut album having several water metaphors, and the band opened with the first song off of Jars Of Clay, "Liquid," a song they've recently updated for their regular plugged-in sets. Next was "Sinking," something I probably haven't heard them play live in at least a decade or longer. It was excellent hearing it again. "Love Song For A Savior," which the band also still plays pretty regularly, followed, with another fan favorite - but rarity - "Like A Child." The folksy ballad "Art In Me" was next, a song I can't even recall if I've ever heard live before. "He," which was written to speak out against child abuse, was one I remember hearing the first time I saw them. It's an emotional ballad that takes on a new dimension with the band members being parents themselves - as well as many of their younger fans from that time period. "Boy On A String" was undoubtedly fun to hear once again, and Haseltine joked that their next song, their most recognizable one still to this day, "was written in 1978," before they broke into "Flood" (and much to our amusement, Dan even forgot some of the lyrics to the hit, which he later blamed on a barking dog distracting him from backstage).
A set highlight, "Worlds Apart," was next. Arguably one of the band's best songs of their career, the ballad occasionally finds its way into a Jars Of Clay set, but it's been quite some time since I've heard them play it live. The debut album then concluded with "Blind," and Haseltine paused to talk about how short the album was compared to how much music could be crammed onto a CD and told the story of how they decided to include the chatter from the orchestra players as filler after the album had ended. They then played the hidden track that preceded the filler, a song based on the scripture the band pulled their name from, 2 Corinthians 4:7, simply titled "4:7" (Haseltine even broke out his melodica for this one). It was a nice treat to hear them add that in to end the performance of their self-titled album.
At this point, Jars exited the stage to allow those who put on the event to share a little bit about a local hero in their community who had started an orphanage in Africa. After briefly honoring her, they announced Jars Of Clay once again, and then came back on stage for a few more songs. Their demeanor had changed from the first set to this one. Dan remained standing for the next five songs, and even Mason and Odmark seemed to approach their playing differently. There was a bit more energy emitted from these songs, while the initial set carried sort of a reverence for the content. They continued in an entirely acoustic fashion, opening with "Closer," which sounded remarkably different in its acoustic form. A lot of their newer music has much more production than their earlier work, so they tend to be given a much different feel when translated acoustically. Their personal ode to their sons, "Boys (Lesson One)" was an intriguing follow-up, but it sounded great in its acoustic form and seemed appropriate for the many parents in attendence. The originally agressive pop rocker "Dead Man (Carry Me)" was next, also sounding excellent in its stripped down state. Finally, they wound the set down with their current pop radio hit "Two Hands," and closed with their cover of Julie Miller's "All My Tears."
Although it's unknown how many shows this year will include this throwback set list, fans of the band would do well not to miss a date on this run of shows - and especially if they carry it into a fall tour (keep those fingers crossed!). It's wonderful to see the evolution of such a great band of musicians from their debut into their current incarnation. And it's safe to say that they're still one of the premiere touring acts in music today.
--
John DiBiase
, 5/27/10
Jars Of Clay Set List
01. Liquid
02. Sinking
03. Love Song For A Savior
04. Like A Child
05. Art In Me
06. He
07. Boy On A String
08. Flood
09. Worlds Apart
10. Blind
11. 4:7

Second Set:
12. Closer
13. Boys (Lesson One)
14. Dead Man(Carry Me)
15. Two Hands
16. All My Tears
Jars Of Clay - Live May 22, 2010 Photo Gallery
click on an image for a bigger size
**vertical images cropped for thumbnails**
Jars Of Clay:
*all photos by
John DiBiase
and are the property of
Jesusfreakhideout.com