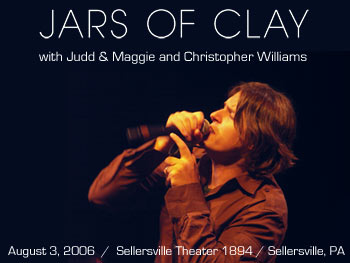 Jars Of Clay, Judd & Maggie, Christopher Williams
8/3/06, at Sellersville Theater 1894, Sellersville, PA
It's always exciting to watch the growth of a band as musicians and artists. This also applies to their live performances. I remember quite well seeing Jars Of Clay performing on their first national tour as they opened up for PFR in the spring of 1995. A lot has changed since then. PFR has since disbanded (and reunited, and disbanded again... at least once), Jars' debut hit it big in mainstream, and several studio records have since followed. The band's live show has continued to grow, change, and mature over this time period, and now, over eleven years after I'd first seen them live, they may just be better than ever.
Sellersville Theater 1894 is a modest little venue. Sort of a blend between a coffee shop, bar, and modern theater, it seemed like a great place for the kind of music that would grace the stage this particular evening. Nashville resident (but NY native) Christopher Williams assumed center stage first. Accompanied by merely his guitar, Williams opened with a blues folk pop style that initially left a bad taste in my mouth as the performer just felt like a knock-off of what is popular in mainstream radio right now. But as Williams moved to his next song, I was proved dead wrong. What this man could do was nothing short of impressive. With a southern-flavored voice that perfectly matched his equally southern acoustic stylings, Williams bested each song he performed with the next. From an a capella song to a rousing performance of a single bongo, Christopher Williams proved to be one of the best opening surprises I've seen in years.
Newcomer brother/sister duo Judd & Maggie followed Williams. While the opening act was a tough one to follow, Judd & Maggie performed a worthy if not modest acoustic set as the two sung together and occasionally picked up a bass or sat behind a piano to provide accompaniment. The two offered a fond rememberance of a more folk-oriented LaRue as they played selections from their RCA Victor release, Subjects.
After a brief intermission, the four members of Jars Of Clay, along with their touring bassist and drummer, filed out onto the stage. To be honest, despite knowing the nature of their newest project being amped up a bit, I wasn't sure if it was too soon for the guys to be playing new selections from it or not. My question as to whether or not this would be an acoustic show was answered quite quickly as the opening electric riff from "Work" blared deliciously through the speakers. While their acoustic/folk style of their recent albums fit well with the opening acts and the quaint setting, it was a fantastic shocker to the audience's system to hit them with an all-out rock track to start. While I saw it coming once the song began, I doubt few did (especially with the nature of the night's lead off performances). Jars frontman Dan Haseltine hopped up and down to the fast-paced drum beat, not caring whether or not the audience was ready for a rock number -- which just made it all the more appealing. And let's face it -- while Jars Of Clay has been a wonderful asset to folk and acoustic pop over the years, rock just plain sounds great on them. The edgy "Work" was followed by the quirky and almost as energetic "Dead Man (Carry Me)," making for a consistently rocking introduction to the show. But as not to drown the audience with continuous unfamiliarity (although I was loving it), Jars shifted gears slightly to a hymn -- the infectious "God Will Lift Up Your Head" from their hymns project Redemption Songs. From there, the guys shifted gears yet again, dipping into their past with their most recognizable song, the runaway hit "Flood." Breathing new life into the old favorite, the band played it edgier than I've ever heard it before, and it sounded beautiful. From here, a slightly reimagined, more stripped-down version of "Love Song For A Savior" followed before Haseltine introduced another cut from the band's new record, "All My Tears." Although the band has been playing the Julie Miller original for about two years, this is the first time it is being made available to the public in recorded form on CD (an in-studio version hit iTunes late last year).
A wonderfully updated version of "Liquid" preceded the anthemic "Revolution" from their 2001 record The Eleventh Hour. It was soon after this that Dan paused to ask the audience if they remembered the 70's, to which the band joked that they barely did. The reminiscing was a segue for an inevitable cover, this time in the form of Gerry Rafferty's classic "Baker's Street." The Jars guys pulled it off with style, with Haseltine wielding a small melodica instrument for the song's famous melody-driven chorus. The title track from their pending new release Good Monsters was next, a fitting title for the unique pop number, and was followed by two hymns to end their set, "Nothing But The Blood" and "It Is Well." For the first classic worship song, Haseltine asked the audience to stand, and it was then that they finally seemed to really get into the music for the first time. The audience was singing along and raising their arms as the sweet praises of Jesus filled the theater. It was a great way to end their set.
But then again, all good shows deserve an encore, and Dan walked back out on stage first alone to share with the theater patrons about the band's heart for the poor and sick in Africa and their own ministry, BloodWater Mission. This lead into the more folk-driven and sobering "There Is A River" from the new record, as well as the more upbeat "I'll Fly Away" as the night's closer.
It's always exciting to see Jars Of Clay live because you never quite know what you're in for. Mixing rock, pop, bluegrass, folk, and even a little more into their set for a diverse and strong song list performed by some truly excellent artists, Jars Of Clay has really matured into something amazing. And as the band prepares to go out this Fall for an official tour in support of Good Monsters, with Sixpence's Leigh Nash and newcomer Matt Wertz opening, I'm not sure I can look upon seeing them again with greater anticipation...
--
John DiBiase
, 8/9/06
Concert Photo Gallery
click on an image for a bigger size
Judd & Maggie
Jars Of Clay
*all photos by
John DiBiase
and are the property of
Jesusfreakhideout.com