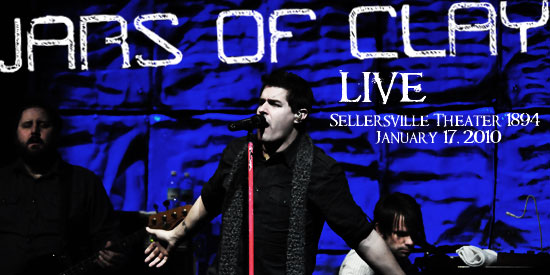 Jars Of Clay, Thad Cockrell
1/17/10, at Sellersville Theater 1894, Sellersville, PA
In both 2006 and 2007, Sellersville Theater 1894 in Sellersville, PA brought Jars Of Clay for two great shows, but sadly weren't able to get the guys in 2008 or last year as they were on the Creation Fest Tour. To make for lost time, the Theater secured the music vets for not only a January, 2010 show, but TWO shows in one day. At the band's recommendation, we attended the later show at 7:30pm on Sunday, January 17th.
Sellersville Theater is a wonderful venue and a great setting for an intimate concert experience. It's always a great place for Jars to unwind for a true fan-friendly show too. Indie folk artist Thad Cockrell opened the evening with his somber and vulnerable stage presence. The North Carolina native stood on the lonely stage, armed merely with an acoustic, a harmonica, and his emotional vocals to present what was a soothing if not completely lulling performance. He sang about relationships mostly, and then invited all of Jars Of Clay (sans singer Dan Haseltine) to serve as a live backup band for the last couple of songs. Cockrell's set really picked up with the accompaniment, to the point where I wondered if it would have been beneficial to open with the band first. Still, Cockrell's performance, and presence at the evening's event, was a nice surprise. They closed on a worshipful note, which set the stage appropriately for the feature act.
After an intermission, Nashville pop/rock foursome Jars Of Clay emerged to the building piano melody of the instrumental track, "The Long Fall." With the guys simply backlit, the atmospheric Long Fall Back To Earth album-opener was a wonderful treat to launch their set with. And just how it moves right into "Weapons" on the aforementioned release, the guys moved right into it for their set. Although the band had just performed a 4:00pm show with Thad, they showed no sign of being tired or less than excited to be playing again. From "Weapons," they proceeded into the energetic rocker (and personal favorite), "Work," where Haseltine took a moment to greet the Sellersville audience. Haseltine prefaced "Closer" as being a love song, and followed it with yet another cut from The Long Fall Back To Earth, their radio hit, "Heaven." Dan prefaced the next song, an emotional ballad inspired by their own personal family experiences, as one they call 'the fighting song,' and performed "Safe To Land." It's a wonderful live moment, and much to the surprise of the diehard fans in the audience, they performed "Frail," from their indie debut album of the same name, as well as their 1997 sophomore record, Much Afraid. Haseltine paused again to talk about how the next song was inspired by the big city and how disconnected people have gotten from each other. "Headphones" continued the string of Jars ballads, which was followed by the considerably more upbeat "I Need You" from their 2002 album, The Eleventh Hour.
Haseltine took a moment once again to stop to talk about the next song. This time, he mentioned how it was inspired by their sons and was an attempt to share their experiences about life with them. This marked the first time I was hearing "Boys (Lesson One)" - from The Long Fall... - live, and it made for a great moment in the set. A candid moment followed where guitarist Steve Mason shared a story about how he recently heard "Frail" used on the Weather Channel and couldn't believe it. After joking about having plans to become a "weather band," they performed a string of fan favorites from their successful self-titled debut album, starting with their update of "Love Song For A Savior," followed by a slight update of "Liquid," and then their Closer EP rendition of "Flood." It was a great set segment and it probably garnered the biggest response from the audience. They then concluded their set with "Dead Man (Carry Me)" from Good Monsters and their pop radio hit, "Two Hands," from their latest record. With that, they thanked the audience, bowed, and left the stage. The house lights came back on, but most of those in attendance remained at their seats. The band had no plans for an encore, but the fans kept cheering and didn't budge. After several minutes - which kept everyone in wonder if this was going to work at all - the lights went out again (which was met with even greater applause), and the humbled four emerged (without their bass and drum accompaniment) to play their cover of Julie Miller's "All My Tears." It was fantastic end to yet another great evening of music from Jars Of Clay.
Jars is one of those bands that do a great job at changing up their set almost every time you see them. While some bigger artists tend to stick to a formula that works and seldom ever tweak it, these guys know how to keep it fresh and even surprise their fans from time to time. This show was no different, and it was another satisfying performance. Sometimes these non-tour special event shows are the best ways to experience Jars Of Clay live, so if you enjoy their music and get the opportunity to see them, don't miss it!
--
John DiBiase
, 1/26/10
Jars Of Clay Set List

01. The Long Fall
02. Weapons
03. Work
04. Closer
05. Heaven
06. Safe To Land
07. Frail
08. Headphones
09. I Need You
10. Boys (Lesson One)
11. Love Song For A Savior
12. Liquid
13. Flood
14. Dead Man (Carry Me)
15. Two Hands
Real Encore:
16. All My Tears

Jars Of Clay January 2010 Photo Gallery
click on an image for a bigger size
**vertical images cropped for thumbnails**
Thad Cockrell:
Jars Of Clay:
*all photos by
John DiBiase
and are the property of
Jesusfreakhideout.com