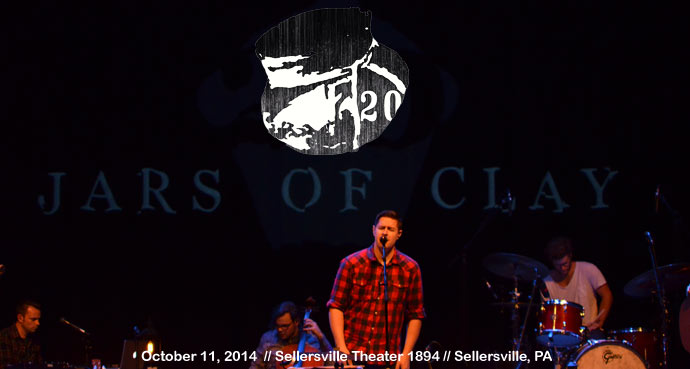 Jars Of Clay "20" Tour
10/11/14, at Sellersville Theater 1894, Sellersville, PA
It's hard to believe it's been nearly twenty years since I joined a van full of teenagers on a trip to LMHS Fine Arts Center in Lancaster, PA to see PFR in concert with this strangely-named new band opening for them called Jars of Clay. This timid four-piece band (who had their uncle playing drums or something?) had only a 2-song cassette sampler available at their merch table to whet the appetite of new listeners, but performed live selections from their forthcoming debut. The release of their self-titled debut was still a few months out, but unbeknownst to me and many eventual new fans, Jars of Clay already had one album under their belts-- an indie project called Frail. This little project was one they created in college and released a year earlier in 1994. And it was that year--and that album--that was really the springboard for what would be an incredible career for these young music-makers.
If you've been listening to music and following bands for a while, you might have noticed how rare it is for a band's roster to NOT change while they're in the spotlight. The truth is, Jars did have a member shuffle in its infancy, but by the time Frail released, it was really just Dan Haseltine, Stephen Mason, Charlie Lowell and Matt Odmark. And it has remained this incredible bunch since then. It's also intriguing to witness the evolution of their music as well as their lyrics and messages. These musicians have truly blossomed from boys to men: husbands, fathers, champions for social justice (via Blood:Water Mission). This foursome has quite a story to tell.
Jars of Clay has made four or five stops to Sellersville Theater 1894 over the past decade, and this latest appearance included two separate shows--at 6pm and 9pm. We attended the first show, with indie act Rictor opening. The husband and wife duo performed an intimate little acoustic set, with Kyle Rictor leading on vocals and acoustic guitar in hand, and his wife Kelsey joining in from time to time with harmonies. They performed some cuts from a recent EP, titled Till the End, and offered a little chatter between songs, with their set including "Black Sheep," "Graphite Man," and the set closer (and highlight), "Living Is the Hardest Part." For one of the songs, Jars' live cellist Matt Nelson joined the pair to provide accompaniment. When all was said and done, they'd performed six songs and had finished within a half hour. There was then a 15 minute intermission before the evening's main event.
Jars of Clay took the stage, with cellist Matt Nelson in tow, and opened, surprisingly, with "Art In Me." It's a deep cut on their self-titled 1995 debut, and one that just seems oh so appropriate for the road these four have travelled artistically. As an original Jars enthusiast, I found it to be a spine-tingling opener. With that kind of surprise, it really left the night open to an array of surprises. It was 'anything goes.' "Fade To Grey" followed--which was one of two songs off of their indie debut, Frail, that didn't make it to their self-titled label debut the following year (the other, of course, being "Frail"), but then later made their 1997 sophomore album. It's a fan favorite and definitely a set highlight. "Work," one of my all-time favorite Jars of Clay songs, was performed acoustically next. It loses a little something (just a smidge) in acoustic form--with that rock edge adding to the urgency and tragedy of the lyrics--but it's still an incredible live song. At this point, the guys paused to talk a bit about their most recent all-new studio album, Inland (which released last year), and drummer Jake Goss joined the band on stage to perform a selection from the album. A few fans chuckled after Haseltine announced that the next song was from Inland and then proceeded to sing the chorus from Much Afraid's "Overjoyed," but then they moved right into "After The Fight," the first song from Inland (and, therefore, keeping their word). Up until this point, vocalist Dan Haseltine had been using just a kick drum and snare in front of him while singing, and Goss joined to offer another layer of drums for this track. Furthermore, guitarist Steve Mason traded his six string for four and played the bass for a change. For the next song, another from Inland, Nelson traded his cello for the bass, Steve returned to guitar, and Jake took over drums as they performed the rocker "Loneliness & Alcohol." The catchy "Reckless Forgiver" followed, and then the guys talked about their Jars 20 album project and the history behind the next song before performing "No One Loves Me Like You" from If I Left To Zoo, which featured Mason playing the ukulele. The smiles and fun faded to stillness as the band then prepared themselves for the very somber and serious "Silence." Their presentation was beautiful and haunting, and I found myself unable to move as I soaked in the moment. Very appropriately, though, the guys followed it with their 20 rendition of "God Will Lift Up Your Head," which served as a real nice complement to "Silence." Haseltine prefaced the next song as being one they had actually forgotten about until the fan-selected 20 project, and performed "Trouble Is" before introducing Nelson and Goss and then playing the quasi-romantic "Mirrors & Smoke" from Good Monsters. Nelson returned to the bass for "Age of Immature Mistakes" and then the band broke into their biggest hit of their career, "Flood" (which always causes the audience to erupt in applause with excitement), followed by "Dead Man (Carry Me)" and "Inland." It felt like a fitting end to the set, especially at this chapter in the band's career, and the guys left the stage. The Sellersville audience gave the boys a standing ovation and so they returned for one last song, bowing out with "Love Song for a Savior."
This concert event is a special one. It reminds listeners why we loved the band from the start and why they're still worth following today. This run of dates will be the last tour the band plans to do at this time, as they intend to spend more time with their families at home (and will only focus on select events in the future), so keep your eyes peeled to JarsofClay.com for any tour dates in your area or upcoming events they will be playing at. If you've ever enjoyed Jars of Clay's music or just really appreciate great, artistic music, it's a tour not to let pass you by.
--
John DiBiase
, 10/15/14
Jars Of Clay Set List

01. Art In Me
02. Fade To Grey
03. Work
04. After The Fight
05. Loneliness & Alcohol
06. Reckless Forgiver
07. No One Loves Me Like You
08. Silence
09. God Will Lift Up Your Head
10. Trouble Is
11. Mirrors & Smoke
12. Age of Immature Mistakes
13. Flood
14. Dead Man (Carry Me)
15. Inland
Encore:
16. Love Song For A Savior

Jars of Clay "20" Tour 2014
click on an image for a bigger size
**vertical images cropped for thumbnails**
Rictor
Jars of Clay
*all photos by John DiBiase and are the property of Jesusfreakhideout.com