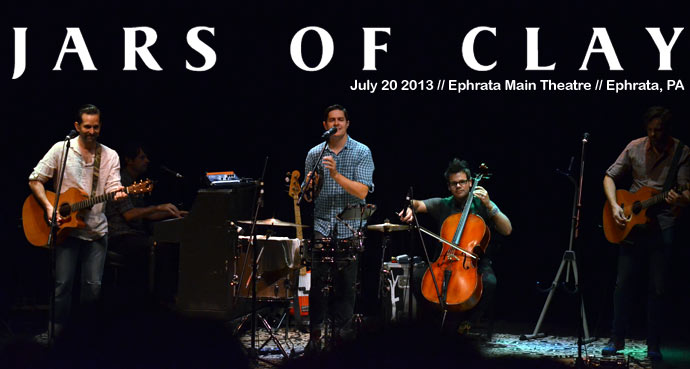 Jars of Clay, Brooke Waggoner
7/20/13, at Ephrata Main Theatre in Ephrata, PA
Following the completion of their long-awaited new studio album, Inland, Jars of Clay hit the road for a short tour in the summer of 2013 with Nashville artist Brooke Waggoner. Jars' stage show was of the more stripped down variety, being made up of the core foursome and their trusty cellist Matt Nelson. This time around, however, frontman Dan Haseltine increased his percussion duties to add more texture to their borderline acoustic set. Mixing new material with fan favorites, Jars painted a wonderful picture of where this respected band has been and where they're headed next.
Nashville's own Brooke Waggoner opened the night. Playing songs from her latest album Squint, some older material, and even a 1940s cover from the band The Ink Spots, she offered quirky, jazzy indie folk tunes driven by her own piano playing and sometimes offbeat vocal style. With guitar, drums and a standing bass to support her, her music was eclectic and unique, although at times dissonant. It was in the more idiosyncratic musical decisions that made her songs more difficult to embrace. But the singer/songwriter went out on a high note with some of the best songs in her set, closing with "Hill for the Honey" and "To Love."
A short intermission followed and then Jars of Clay took the stage. The venue, which Waggoner claimed was featured in an old Woody Allen film, is a really cool little vintage movie theater with retro lighting on the walls and classic film signage in the lobby. When it isn't playing new, first run features, it's showcasing musical talent. While I've seen live shows in old theaters before (like Roxy Theatre in Northampton, PA for a Kevin Max show and several old converted theater venues in Philly), this was the first time I'd been in a literal two-screen theater that looked very distinctly like a movie theater when you found yourself sitting there instead for live music. The acoustics were great as well, and it proved to be the perfect setting for a summer quasi-acoustic show.
When the lights went out again, Jars of Clay emerged to the sound of a stripped down chorus of "Overjoyed" (from their 1997 album Much Afraid). After just one chorus of the song, they immediately officially began the set with "After The Fight," the first song the band debuted from Inland (click here for a short Instagram video I took). It sounds great live and it set the tone well for the song choices ahead. "Work," a staple of a Jars of Clay show since 2006's Good Monsters, was presented in a more acoustic form as well, with two surprise treats in "Fade To Grey" and "Like A Child" following suit. Before the latter song, the guys paused to reflect on playing in an old movie theater, which would start running jokes for the rest of the night about likening the progression of their performance to that of a movie's. "Eyes Wide Open," the lone song they'd perform from The Shelter, was a nice upbeat addition, and then they paused to talk some about Inland and the personal themes it contains before performing two cuts from the record, "Loneliness & Alcohol" and "Fall Asleep." The first of the two was especially catchy and upbeat, while the lovely "Fall Asleep" offered an emotional feel in line with songs like "Safe To Land" or maybe even "Surprise." In discussing their recent online StageIt.com performances, they mentioned a show they did that comprised exclusively of cover songs; this inspired the quintet to perform Depeche Mode's "Enjoy The Silence," which they followed up nicely with their career-making hit "Flood." Keeping things upbeat was "Dead Man (Carry Me)" next, and then the title track, and first official single, from Inland. It's another excellent song (that plays off the idea of no man being an island) that served as a fantastic closer to their set and brought the audience to their feet.


Jars of Clay, "Inland" - Live July 20, 2013

However, the ovation didn't last too long after the band exited before they would return. They launched into the opening song from their 1995 self-titled debut, "Liquid," which warranted an eruption of applause when the audience heard the guys haromize the song's lead-off "Yeah-eah"'s. Afterwards, the show took a uniquely candid direction. They talked about fans' requests and timidly approached performing "Sinking," which they were afraid they wouldn't remember. They pulled it off beautifully without a hitch and it was easily a set highlight (I personally love that song too). At this point, Haseltine joked that this was the part of the movie where you feel like it's going on too long, as the night was getting a bit late. But few if anyone in attendance was eager for the music to stop, and it went over quite well when guitarist Matt Odmark suggested they play "Two Hands." Haseltine then provided a fast electronic beat, complete with audience claps, for "Weapons," before thanking the audience with genuine appreciation for their support and warm welcoming, and ending with impactful "Frail" from their '94 indie album and '97 national sophomore album (Nelson adlibbed a brilliant addition of Wham!'s "Careless Whisper" into the "Frail" melody for good measure). Guitarists Steve Mason and Odmark were the last remaining members on the stage as "Frail" faded out to end the evening. But the rest of the guys returned for a bow and to wave goodnight before officially drawing their summer tour to a close.
With nearly twenty years of music making under the belts, Jars of Clay is still one of the most reliable artists today. They always deliver solid live performances with a focus on their fans, and they always provide plenty of music to make the ticket price worth your while. And from what we heard this evening, Inland is certainly shaping up to be one of the year's best album releases.
--
John DiBiase
, 7/22/13
Jars of Clay Set List

01. Overjoyed (Chorus) / After The Fight
02. Work
03. Fade To Grey
04. Like a Child
05. Eyes Wide Open
06. Loneliness & Alcohol
07. Fall Asleep
08. Enjoy The Silence (Depeche Mode cover)
09. Flood
10. Dead Man (Carry Me)
11. Inland

Encore:
12. Liquid
13. Sinking
14. Two Hands
15. Weapons
16. Frail
Jars of Clay Summer Tour 2013
click on an image for a bigger size
**vertical images cropped for thumbnails**
Brooke Waggoner
Jars of Clay
*all photos by John DiBiase and are the property of Jesusfreakhideout.com