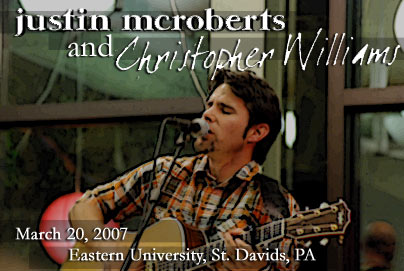 Justin McRoberts and Christopher Williams
3/20/07, at Eastern University, St. Davids, PA
I caught my first Justin McRoberts show at a Fall festival at Hershey Park in 1999 when he'd first been signed to the since-defunct 5 Minute Walk Records and was touring with, surprisingly, Five Iron Frenzy. I've followed Justin's career since he left the label after his sophomore album and went on to record several more albums on his own. McRoberts regularly tours the country with just himself and his guitar, with his wife Amy by his side to aid with management, bringing the Gospel in a warm and real way to colleges and churches nationwide.
Last Fall, I had the pleasure of being introduced to the music and ministry of Christopher Williams who wowed the audiences of a Jars Of Clay show in Sellersville, Pennsylvania. Performing masterfully with an acoustic, a bongo, and a harmonica, it didn't take much to reel in his listeners. Later last year, Williams met McRoberts at Soulfest in New Hampshire and the two hit it off. The friendship would eventually lead to a Spring 2007 tour which features the two as an acoustic team up on stage together.
When I heard of this pairing, I assumed it was your typical dual-billing which would just have Williams open for McRoberts' usual show. Quite the contrary. When their set began on a chilly Tuesday night in the Dining Commons at the St. Davids campus of Eastern University, I was quite surprised to see the two on stage at the same time, ready to accompany each other as they took turns singing their own material. McRoberts opened with a U2 cover, "The First Time," before stepping back for Williams to perform his own "Did Not Draw." The night continued in this format. McRoberts would present his incredible and soulful "Bring You Down," and Williams stepped in for an incredible improv jam about their trip from New York visiting his mother earlier that day to their evening's destination. This lead into one of Williams' own selections, and back to Justin who candidly shared about finding strength in weakness before playing "Haunted." At times, Williams would support McRoberts with a bongo accompaniment or a background vocals and a second guitar, while McRoberts would occasionally join in for Christopher also with the latter. The teaming was fantastic, and their similar humor played wonderfully off each other, mixing comedy with serious messages. Williams played a newer song inspired by the recent loss of his father, and also shared a beautiful folk song about selfishness and God's patience with us when we fail. McRoberts shared some incredible insight on reaching out to those who are in need in Africa and related poverty-stricken societies, and lead the attentive college-age audience in worship with his genuine, self-penned "Learning To Need You." A lot of the night was spontaneous and free, and it made for a really entertaining and thought-provoking experience. McRoberts encouraged his listeners to not buy into the lies that complacent Christianity falls prey to and peformed the more lyrically intense "Into Your Home," and Williams offered up fantastic renditions of Bob Dylan's "Serve Somebody" and Sara Grove's "Add To The Beauty." Justin also performed a recent rendition of "Amazing Grace" as well as resurrected an old hidden track from his sophomore record, Father, entitled "Man Like Me." With the crowd loving the duo's offerings, the guys left the stage only to receive overwhelming encouragement for more, and Williams performed another one of his songs before Justin closed with "Holy Ground."
After seeing Justin McRoberts live many, many times, it was really intriguing to see this fantastic artist interact with another creative mind musically. I'd actually love to see what these two could collaborate on in the future. While a solo McRoberts show is still the best way to experience this talented musician, I couldn't have been more thrilled or impressed by the inspired matching of Christopher Williams and Justin McRoberts. If you can see these two together (or separately), I can't recommend it enough. You can learn more about Justin at www.JustinMcRoberts.com and Christopher at www.ChristopherW.com.
--
John DiBiase
, 3/21/07
The Justin McRoberts and Christopher Williams Photo Gallery
click on an image for a bigger size
Christopher Williams
Justin McRoberts
*all photos by
John DiBiase
and are the property of
Jesusfreakhideout.com