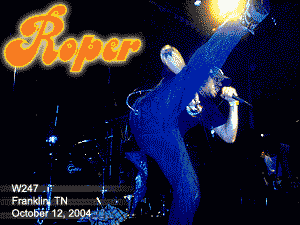 Roper, Paramore
10/12/04, W274, Franklin, TN
I never got the chance to see Five Iron Frenzy live. That fact shall haunt me for the rest of my life. I had always known about and liked Five Iron, but it was not until a couple of years ago that I began to become somewhat of a fan. And it was not until last year that I became about as hardcore for a band as anyone whom hasn't seen them live could be. Unfortunately, word of their impending break up had already been announced by that time. But that fact brought with it a Five Iron Frenzy stop though Nashville on their "Winners Never Quit" farewell tour. However, it just so happened that not three weeks before the much-anticipated concert, I suffered a head injury that kept me from attending. Forever will "Oh, Josh, it was such an amazing show!" ring in my mind and haunt my dreams.
So Five Iron Frenzy is dead (Or like your dog that you put to sleep?), and former lead vocalist Reese Roper has started the creatively named Roper for our listening pleasure. What's even better, they were coming right through middle Tennessee on their first tour. No way was I going to miss this one. And after a close call with a weekly school class that was strangely canceled that week (A sincere "Thank You, Jesus!" was in order.), my sister Amy, my friend Ethan, and I found ourselves at the W274 in Franklin, TN to watch Roper.
This was an important show for the guys. Some of the big names from EMI were there to observe the frenzy. It was a "big name" night, indeed. Leanor of Five Iron fame was in charge of merch, Ethan Luck from the Supertones was taking photos of the show, some of the guys from The Lonely Hearts were hanging out, and Ethan and I spotted a guy from Mono Vs. Stereo. And Reese Roper, the man himself, was performing on stage that night.
But before Reese and company would take the floor, local act Paramore got their time in the spotlight. Paramore featured four guys on guitars and drums and a female vocalist. This girl-fronted rock band played seven heavy and energetic rock songs before saying goodnight. And I cannot help but think that this is a band that has an incredible future ahead of them. Try to think Avril Lavigne meets Evanescence meets any number of modern rock bands.
Even with the incredible talent Paramore possessed, it was near impossible to enjoy their set when Roper was awaiting. The transition took about fifteen minutes. Then the lights dimmed, the guys took the stage, and Roper's 20th show as a band began.
Without getting into the technicalities of the musical style of Reese's new endeavor (Read the review of Brace Yourself for the Mediocre for details on that), it was an amazing show from beginning to end. All five members of Roper played very well. Three guitarists, a drummer, and Reese on keyboard and vocals set up for a great punk sound. They played all but one song from Brace Yourself…, and played them all to perfection. Reese was all over the stage. Karate kicks, jumps, cute little curtsies… you name it. Even when trouble arose in the tech department, Reese kept it cool (Ironically, by pretending to be frazzled because of the importance of the show and the people watching it). He pulled out Christmas cards and asked audience members if they would like a signed one. Random thoughts such as "I hope you were good this year" and "Be nice to spiders" filled the cards. It became more of a "fun time" than a "time filler" after awhile.
But the highlight of the entire night came near the very end of their set. Reese asked the fans what they thought of "cover songs". "They're good as song as they're stylishly done," one fan said. And with that, the familiar sounds of one of the most infamous songs in Christian music history began to be heard. "Handbook to the Sellout", one of Five Iron's most popular songs, had begun. It was most unusual hearing the song without horns, but the fans did their part in supplying the right effects. And when the opening lines started, Roper, in grand tradition, gave it over to the fans… "You found a way/ to draw a line between/ the world and you/ faking your identity…."
That moment added to what was already the perfect night. At last, I finally got to see Reese Roper play live, and not only that, but I had taken part in the Five Iron Frenzy ritual of "Handbook for the Sellout". It is hard to sum that night up in a few words. Here's fellow JfH Street Teamer Ethan Willis with his best attempt…
"It was awesome to see some guys from Five Iron again. Leanor, "Jeff the Girl", was working the merchandise table, and I overheard some guys talking to her. From what I heard, she got married 3 months ago to the guitar player from Roper. After they were done talking, I bought a poster and got a picture with her. But I must say that it was very sad when Roper played "Handbook for the Sellout" without the trumpet, saxophone, or trombone in the background; but it got a little better when everybody in the crowd was doing the sound effects. It was also cool to see Josiah Holland and Yogi from The Lonely Hearts at the show. Reese just has a certain energy that makes any band that he is in fun to watch. The handing out of Christmas cards, and the jumping around all added a certain touch to the show. Who knows? Maybe Roper will leave the same legacy that Five Iron Frenzy did..."
--
Josh Taylor
, 10/16/04
Roper Set List
01. Hello Lamewads
02. Amplify
03. You're Still the One
04. Say Sayonara
05. You're with Stupid
06. Red Eye to Miami
07. Day of Pigs
08. Fireflies
09. In Excelses Deo
10. Quicksilver
11. Fortunate Son
12. Handbook for the Sellout
13. 1985
14. Vendetta

Kenya Spare A Dollar Tour 2004 Photo Gallery
click on an image for a bigger size
Paramore
Roper
*all photos by
Josh Taylor
and are the property of the photographer and
Jesusfreakhideout.com