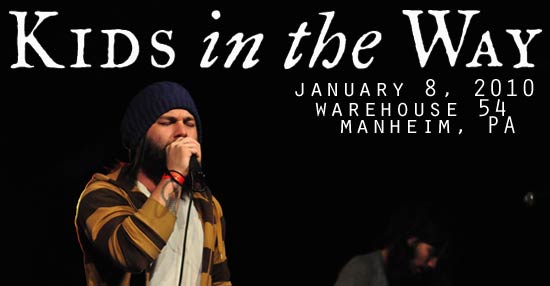 Kids In The Way
1/8/10, at Warehouse 54 in Manheim, PA
I guess it's inevitable for some bands who call it quits to eventually decide to return to music. This is the case with former Flicker Records rock act Kids In The Way who disbanded quietly in late 2007 before the release of their third album, Love Hate Masquerade. In 2009, the band decided it was time to get back together, perform again, and make new music. On January 8th, 2010, Kids In The Way were brought in to the renovated Warehouse 54 (one of my new favorite venues) in Manheim, PA for a mix of local acts and these seasoned rockers. The results were actually just as mixed.
Despite an evening of snow the night before and some flurries throughout the day, some diehard fans of Kids, as well as local acts Divebomber and Rescue Aurora, ventured out into the cold to Warehouse 54. Sadly, a very humbling crowd was in attendance, making it, quite honestly, a somewhat awkward setting. Because Warehouse 54 is spacious enough to hold a sizable crowd (last Spring's Stellar Kart / Nevertheless tour fetched an impressive turnout), it made the smaller audience all that more obvious. Divebomber, featuring former original Ghoti Hook member Conrad Tolosa and his family, put on a decent and energetic punk flavored rock set, while the female fronted Boston, MA rock band Rescue Aurora followed with their own distinctively indie performance. It all paved way for the night's headliners with an especially informal feel, but the newly formed Kids In The Way weren't exactly greeted with the enthusiasm expected... or deserved.
But how much energy can an audience of twenty onlookers produce late in the evening? The Kids In The Way boys emerged to a sample intro before opening with Apparations Of Melody lead-off track "Last Day Of 1888." It was surreal to hear them perform again, and hearing tracks from Apparations... was indeed music to my ears. Vocalist Dave Pelsue donned a beanie pulled low over his head and sported a full beard. The longtime Kids singer was almost unrecognizable - until, of course, his signature vocals filled the Warehouse room. The band lead off with fan favorites early on, peforming "Apparations Of Melody" next, followed by "Your Demon" from Love Hate Masquerade. Pelsue thanked the audience for braving the freezing temps, but didn't pause too often during their set to interact much with the crowd. Instead, the band kept the music coming almost nonstop, with "Phoenix with a Heartache" from their debut following, and then a string of Apparations... tracks with "Breaking The Legs of Sheep," and a successful segue from "Safety in the Darkness" into "The Seed We've Sown." "Fiction," from the Dead Letters edition of Apparations... and later Love Hate Masquerade, was a great addition to the set, and then the band gave a swift close to their set with "We Are," also from their debut. The set seemed a bit brief, even though they served up a satisfying mix of selections from their catalog, but it was pretty evident that the band was rather discouraged by the small and less than enthusiastic audience. It's understandably so, too, but despite circumstances, the band left the stage, leaving guitarist Austin Cobb and bassist Wille Bostic alone to continue playing an ambient melody. After a minute or two, the rest of the band joined them again for a moody and pensive musical finish. It was rather anti-climactic, but once we discovered later that their usual drummer Eric was not in attendance and this was one of the few shows they were doing with a fill-in until his return (which limited what songs they could play live), it was a more understandable.
Even if the setting wasn't the best for experiencing Kids In The Way in their newly reunited form, the five piece rock band still knows how to put on a great performance and it's a show not to be missed, for diehard and casual fans especially. I'm excited to see what the band will be up to next!
--
John DiBiase
, 1/9/10
Kids In The Way Set List

01. Last Day Of 1888
02. Apparations Of Melody
03. Your Demon
04. Phoenix with a Heartache
05. Breaking The Legs of Sheep
06. Safety in the Darkness
07. The Seed We've Sown
08. Fiction
09. We Are
Encore:
10. N/A

Kids In The Way January 2010 Photo Gallery
click on an image for a bigger size
**vertical images cropped for thumbnails**
Kids In The Way:
*all photos by
John DiBiase
and are the property of
Jesusfreakhideout.com