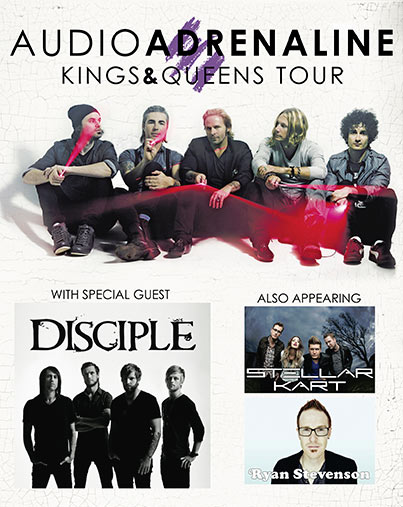 Kings and Queens Tour 2013
Audio Adrenaline, Disciple, Stellar Kart, Ryan Stevenson
10/18/13, at Bethany Wesleyan Church in Cherryville, PA
Many new bands go through more than just a couple changes as the members grow and mature together. In the case of veterans Audio Adrenaline, the band went through a complete rebirth in 2012, and 2013 has been a year of change and growing pains for the AA collective. With a new studio album, titled Kings & Queens, that debuted former dc Talk-er Kevin Max on lead vocals for AudioA, the band has been touring heavily this year to bring the new line-up and new sound to the masses. The quintet has already rotated out two members and replaced one to become a quartet, but Audio Adrenaline continues to find new and fresh legs this year as a second generation of Audio Adrenaline fans experience The Kings & Queens Fall Tour.
In March, I first saw the new Audio Adrenaline rebooted lineup live after the fivesome had played less than ten shows together as a band... ever. Despite the fact that Kevin Max was battling a cold, and the band was still adjusting to playing together on stage, they still put on a pretty good show. The members were individually each veteran players, so it was tough to beat the experience these guys had. The Kings & Queens Tour continues this fall with a slightly different lineup and it's clear from just a song or two that this new band is tighter than ever. For this fall leg of their tour, they've enlisted the support of Gotee Records' Ryan Stevenson, Inpop's Stellar Kart and the newly-independent rockers Disciple.
This particular date of the Kings and Queens Tour stopped at Bethany Wesleyan Church in Cherryville, PA, who made the show part of a youth group lock-in in addition to keeping the show open to the public. The show took place in a new addition of the church that included a coffee shop (which is awesome, I must add) and a sanctuary that was perfect for a rock show. New Gotee Records signee Ryan Stevenson kicked off the night with selections from his brand new Holding Nothing Back EP. Stevenson put on a pretty good acoustic set, closing his short batch of songs with the title cut from his EP, which has been impacting radio. His sound is a bit too molded for CCM radio, but it translated much stronger in this live setting. Inpop Records' newly rejuvenated Stellar Kart, which includes all new members supporting original vocalist Adam Agee, were next, bringing their pop / pop punk sound to the PA audience. While Stevenson's acoustic stylings were more of a laid back way to open the night, Stellar Kart seemed to have just what the young Cherryville audience was looking for, especially as they opened with a Stellar Kart classic in "Activate." The band played a couple other cuts, slowing it down at times too, before closing with a brand new song, "Criminals And Kings," from their 2013 Inpop debut, All In. It's a more rocking track that served as a nice segue into the next band.
Despite a lineup featuring four artists, the night seemed to fly by at a rapid pace, with each set remaining relatively short. But hard rockers Disciple, who are now enjoying post-label life, were primed and ready to rock the venue. About a year ago, two of the band's longtime members left to spend more time with their families, so High Flight Society vocalist Jason Wilkes joined on bass and Philmont's Josiah Prince joined on guitar. Also, I Am Empire's guitarist Andrew Stanton is currently touring with them on a second guitar. This is the first time I've seen them since after Uprise Fest last year before the changes and, I have to say, their live show is still as solid as ever. Opening with "O God Save Us All," Disciple was already off to a brutal start, continuing on with the melodic rocker "Once and For All" before vocalist Kevin Young encouraged a singalong for O God Save Us All's opening track, "Outlaws." They then slowed it down for the ballad "Someday" before Kevin addressed the crowd again. He shared a message about sin, likening it to dating relationships and how even when they go bad, we can often look back on them in a positive light. And it's not until we see that person again or re-enter that relationship that we remember how bad it actually was. It was a fantastic analogy for sin, and Young followed it nicely with the appropriate track, "Dear X, You Don't Own Me." To close their energetic set, Disciple revisited their album Scars Remain for the title track and then closed with "Game On." It was a solid batch of songs and it was kind of sad to see it end after just seven songs.
In between sets, a speaker representing Food for the Hungry came out on stage to engage the audience. And engage he did. He shared his personal testimony of how he had been a believer but fell into the wrong crowd and became addicted to drugs. He explained how he lost his family and job due to his addiction and had to hit rock bottom before God rescued him and was able to turn his life around. He tied it in with the work that Food for the Hungry is doing and encouraged the Pennsylvania audience to give to those in need. It was one of the more powerful messages I've heard given at a concert like this. A short intermission followed, allowing people to hit the restrooms or visit the Food for the Hungry table, and then the lights dimmed again for the final set of the night.
The sounds of Johnny Cash's recording of "God's Gonna Cut You Down" drifted through the air as the Audio Adrenaline members took their spots on stage (I thought it was appropriate to hear it as an intro song, considering that Kevin Max had covered the song for a solo hymns project a few years back). This then lead into "Clap Your Hands" from AudioA's final studio album with Mark Stuart on vocals, 2005's Until My Heart Caves In. It was always an awesome lead-off song for their shows and it was great to hear it in concert again. This was the first time I was seeing the band as a four-piece since Dave Ghazarian (also known as "David Ian" as a solo artist) and Jason Walker left the band, so it was also the first time I was seeing SONICFLOOd's Dwayne Larring on guitar for AudioA. His stage presence was strong and he definitely meshed well with the rest of the band's energy. For this run of the tour, the band utilized two large light-up "A"'s at the back of the stage and a wall of lightbulbs under drummer Jared Byers' riser. It was a nice look that definitely added to the show. "Get Down," from the band's 1999 album Underdog, followed, and then the foursome played the first new song of the night, "King of the Comebacks." The lights then went dark for a video of Mark Stuart talking about having to quit the band due to vocal troubles and how he's more heavily involved with the Hands & Feet Project in Haiti. Their song "Kings & Queens" then followed, with the music video playing in the background as the band played (complete with having removed Dave and Jason from the footage). "Believer" then came next, continuing the string of new songs. It was cool to hear the audience recognizing the new material since the album had released since the last time I'd seen them. Kevin then talked to the audience briefly and launched into a medley of sorts of "Never Gonna Be As Big As Jesus" and "Big House." Afterward, Kevin then shared from his heart about God's redemption and how he had moved to Los Angeles at one point and had lost his spiritual focus. It really brought some extra meat to the evening by hearing him talk so openly, and the message served as the perfect intro to the AA classic "Ocean Floor." Another medley seemed to flow naturally from that as Kevin got a chance to flex his vocal muscles with the hymns "It Is Well" and "How Great Thou Art" (which saw Byers and bassist Will McGinniss dropping out so Max was just singing to some strumming from Larring). It was a cool set moment for sure. However, a cover of U2's "Hawkmoon" seemed like a really bizarre follow-up and set inclusion. With there being a whole new album of songs to choose from, let alone a huge AudioA back catalog, an obscure U2 cover seemed kind of out of left field. It didn't really fit in their set, and the band returned to their new material for their Martin Smith cover of "Fire Never Sleeps" from the Kings & Queens album. They then moved to the rocking cover of Pete Townshend's "Let My Love Open The Door" from Underdog before pausing for a special message from McGinniss. Will frequently would speak at AudioA shows through the years (and for as long as I can remember), so it's always great to stil hear him doing that to this day. Will talked about God's love and the Hands & Feet Project before they closed with the song that inspired the ministry, "Hands and Feet." Despite the lights coming on after the last song, the audience hung around the stage for a short while before crew coming out to dismantle the stage setup signaled that there would definitely be no encore.
It's still a little surreal to see this new incarnation of Audio Adrenaline after having known the band as something else since they debuted 20 years ago, but the fact remains that a solid group of accomplished musicians -- some with significant history in the CCM realm, too -- are carrying the torch now for Audio Adrenaline. It's always been fun to see AudioA live and I'm excited to see how this band continues to evolve over the coming months. Definitely give them a try if they roll into your neck of the woods soon!
--
John DiBiase
, 10/28/13
Audio Adrenaline Set List

01. Clap Your Hands
02. Get Down
03. King of the Comebacks
04. Kings and Queens
05. Believer
06. Never Gonna Be As Big As Jesus / Big House
07. Ocean Floor
08. It Is Well / How Great Thou Art
09. Hawkmoon
10. Fire Never Sleeps
11. Let My Love Open The Door
12. Hands and Feet
Kings and Queens Tour
click on an image for a bigger size
**vertical images cropped for thumbnails**
Ryan Stevenson
Stellar Kart
Disciple
Audio Adrenaline
*all photos by John DiBiase and are the property of Jesusfreakhideout.com