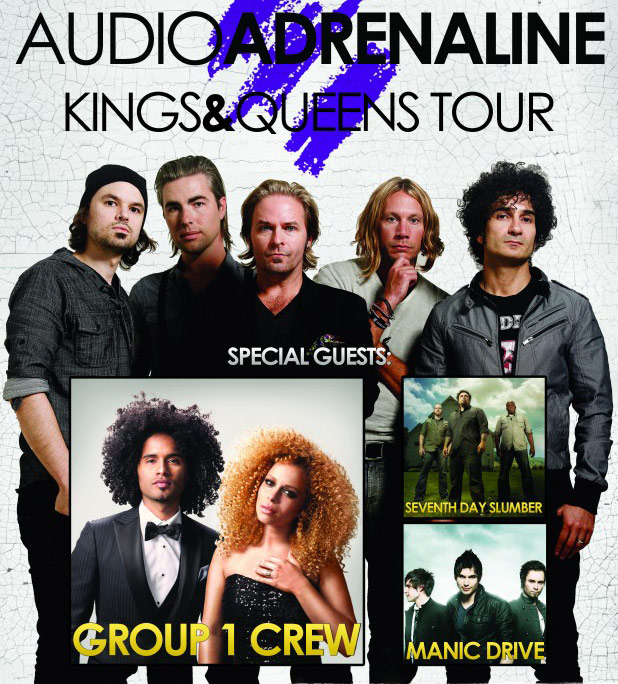 Kings and Queens Tour 2013
Audio Adrenaline, Group 1 Crew, Seventh Day Slumber, Manic Drive
3/3/13, at Lancaster Bible College in Lancaster, PA
If you've followed JFH for any amount of time, by now you will have learned that Audio Adrenaline has been a band near and dear to my heart for many years. My first ever real concert experience was Audio Adrenaline in October, 1994 at the LMHS Fine Arts Center in Lancaster, PA. I have some vivid memories of what it was like to be in the audience that night (and the sounds of the band's Live Bootleg recording help bring some of those back as well). As a teenager, their music hit home on a very deep level, and I had been a baby believer at the time, finding many of the 90's Christian artists to be a big encouragement in my faith. In 2007, Audio Adrenaline called it quits, largely due to the fact that lead vocalist Mark Stuart's voice was deteriorating. Five years later, the brains behind replacing Newsboys' Peter Furler with ex-DC Talk vocalist Michael Tait decided to resurrect the Audio Adrenaline brand with ex-DC Talk vocalist Kevin Max in place of Stuart. Reception to the notion has understandably been mixed, but with literally only a few shows under the resurrected band's proverbial belts, "Audio Adrenaline 2.0" (as dubbed by Stuart) hit the road for their first tour in early 2013.
For the Kings & Queens Tour, the band has been offering a special VIP experience which allows these ticket holders early admittance to a meet and greet with Audio A, as well as a new 8x10 photo, reserved seating and "VIP Pass." At this particular show, which was the third night of the tour, Kevin Max was struggling with a cold that was limiting his iconic vocal abilities, so he sat out the meet and greet session to rest his voice before the show. But after most of the band gave the VIP gang some face time, rock band Manic Drive kicked off the evening's festivities at 7pm sharp. I did, however, miss their set due to catching up with some friends I hadn't seen in some time, but I made it back to the Lancaster Bible College chapel to see some of the second act of the night, Seventh Day Slumber. Like label mates Kutless, Seventh Day Slumber is one of those rock bands that has increasingly become less of a rock band due to the success of their more tame worship songs. In fact, 7DS is sharing a new album release date with Audio Adrenaline as they were gearing up for the March 12th release of Love and Worship. Accordingly, they played a couple new songs, in addition to their radio hit "Caroline." Admittedly, I've never been much of a 7DS fan, and this show didn't do anything to change that. Still, their sound fit in with Manic Drive and Audio Adrenaline to some extent, but they didn't quite make sense as an opener for the first main act of the night, Group 1 Crew.
If you're still somehow unfamiliar with Group 1 Crew, the duo (formerly a trio) of Blanca and Manny bring a nice mix of pop, hip hop, and soul with their sound, and their stage show is always energetic and entertaining. Sometimes the twosome hit the road on their own, but on this tour, they had a three-piece band for support, which included Blanca's husband Ben on the drums. Blanca was also visibly pregnant, as she and Ben are expecting their first child this August, but this didn't hinder Blanca's spunky stage presence at all (in fact, I was amazed that it didn't slow her down at all!). The duo opened with (what I think was) "Bring The Party To Life," with their guitar and bass support both donning "faceless" white masks. In all honesty, it was kind of bizarre to see them with such masks on, as it didn't really fit the vibe of their band or their sound. Perhaps that feeling has something to do with mentally associating those masks with the more intense and intentionally creepy White Collar Sideshow performances, but still, it seemed like an odd move for a band like Group 1 Crew. But the guys didn't keep them on too long, and the vocal duo of Manny and Blanca soon moved on into "Movin'" and then to the super catchy party anthem "Live It Up." A couple songs from their brand new album, Fearless, followed, with "Dangerous" being first. Then Blanca took a moment to really open her heart about her upbringing in a broken home and how God brought healing to her life. They then performed their hit single "He Said," with Blanca's husband Ben performing the vocals for Chris August's part in the recorded version of the song. I think "His Kind of Love" was next, and then they broke out an old school fan favorite with the fun and funky "Keys To The Kingdom." Finally, Manny thanked the audience and then the group closed with another new one, the party anthem, "Night of My Life."
At this point, the set change began, but not before a video from Will McGinniss and Kevin Max of Audio Adrenaline came on the screen to talk about the ministry efforts of Child Fund International. When the video finished, Jeff Gilbert, formerly of Kutless, came out on stage to give a personal testimony about his experiences with supporting Child Fund. After giving his message, including encouraging the audience to check out the Child Fund table, there was a brief intermission before the night's headlining act.
Those who know my history as an Audio A fan seem quite eager to know my thoughts on the new incarnation of the band. I myself was eager to experience the band's new stage show, and it was a bittersweet sight when a video came on that displayed the graphic of an old TV set and clips of fan favorite Audio Adrenaline songs through the years played as if channels were being changed. On the screen, clips from music videos of applicable songs were displayed as the "channels" changed, and it was a way to kind of highlight the legacy of Audio Adrenaline before introducing the new age of the band (which, I did appreciate, since, similarly, the current state of the Newsboys doesn't really embrace their previous vocalists at all). As the clip wrapped up, the band walked out on stage, soon followed by Kevin Max who donned John Lennon-style glasses. He walked out holding his iPhone, prepping it to take a photo and then snapped one of the audience before starting to sing the opening song, "We're A Band." The twenty-year-old song is still a personal favorite and it sounded incredible with Dave Ghazarian's crunchy guitar sound. K-Max, despite struggling with a cold on this particular evening, still sounded better than most lead vocalists in a live setting, and did a great job with the song. Personally, it was a bit jarring at first to see and hear someone else sing that song--especially since it was about Audio Adrenaline being a band (with the purpose of spreading the Gospel)--so it took a few songs for me to really adjust to what was unfolding before me.
The rock n roll continued with "Mighty Good Leader," and then the first brand new song of the night, "King of the Comebacks," from their first record with Max at the mike, Kings and Queens. It's a great track that fits right in with the rest of the Audio catalog, and it was the first time that it felt like the band was really playing their own songs. However, it does help to see Will McGinniss back on the bass, and he and Ghazarian were very energetic on stage. Former AA guitarist Tyler Burkum (who's been on tour with Mat Kearney since AA's first break-up, and is also in the band Leagues) had a very stoic stage presence, and the fact Dave can barely stand still makes for a much more engaging performance. But, in contrast, Max is a far more stoic frontman than Stuart, and it just adds to the different dynamic that Audio Adrenaline now has. The band's most popular song, "Big House," was quite the crowd pleaser, and Max carried on the tradition of having a fan come up on stage to finish the song (much to the shock of the girl he pulled on stage this particular show). The poppy tune was appropriately succeeded by the Kings and Queens album opener "He Moves You Move." Afterwards, Kevin took a moment to talk about how he tried to find himself after dc Talk broke up and he went out on his own musically. He was especially open with the Lancaster audience, and it made the impact of the following song, "Ocean Floor," even greater. The crowd, washed in a watery blue lighting effect, connected with the anthem for forgiveness, and the band followed it with another brand new one, "Believer."
Toward the end of Audio Adrenaline's career in 2007, the band had a pretty solid set list that was locked into to a specific collection of notable hits. Because of this, a lot of classic Audio Adrenaline songs had been long dismissed or forgotten by the band. Thankfully, with this new roster, some of those missing favorites were dusted off for the new show. "You Still Amaze Me," from their 2001 album Lift, was a welcomed surprise into the set list, and Max sounded great on the song. Another gem, this time from their 1996 album bloOm, was next, and it was a wonderful treat to hear that one live once again. Underdog's catchy "Get Down" followed, and then another new one from Kings and Queens, the band's cover of Martin Smith's "Fire Never Sleeps" came next. At this point, the stage went dark and the video screen illuminated with the face of Mark Stuart who addressed the audience with his raspy, broken voice, and shared a little bit about Hands and Feet Project and the work their ministry is doing in Haiti. It was a heartwarming way to still include Mark in the live show, and it was the perfect lead-in to the song "Kings and Queens." Will then addressed the Lancaster crowd and talked about being there for each other and being the hands and feet of Jesus. This lead in to their final song of the night, "Hands and Feet." Interestingly enough, the original music video for the song displayed on the screen behind the band while they performed it, and it was neat to see the then-and-now comparison. When the song finished, they quickly exited (unfortunately, they didn't play their usual encore of "Some Kind of Zombie") and the house lights immediately came on.
It certainly is a different time to be a Christian music fan when members of DC Talk take over/revive fellow big players from the 90s like Audio Adrenaline and Newsboys. In their own unique ways, they still work, which says something for the talent of guys like Kevin Max and Michael Tait. While the Stuart-led years of Audio Adrenaline will always have a place close to my heart, this new line-up is truly exciting. With members of DC Talk (Kevin), Bleach (Jared Byers), the original Audio Adrenaline (Will McGinniss), Superchick/Church of Rhythm (Dave Ghazarian), and Know Hope Collective (Jason Walker) all playing together, there's a lot of CCM history assembled here. With their debut album landing in a few days, and as they continue to gel as a new band on this Kings and Queens Tour, I highly recommend seeing these guys out on the road and supporting something really special: the beginning of a new era.
--
John DiBiase
, 3/7/13
Audio Adrenaline Set List

01. Intro / We're A Band
02. Mighty Good Leader
03. King of the Comebacks
04. Big House
05. He Moves You Move
06. Ocean Floor
07. Believer
08. You Still Amaze Me
09. I'm Not The King
10. Get Down
11. Fire Never Sleeps
12. Kings and Queens
13. Hands and Feet
Kings and Queens Tour
click on an image for a bigger size
**vertical images cropped for thumbnails**
Seventh Day Slumber
Group 1 Crew
Audio Adrenaline
*all photos by John DiBiase and are the property of Jesusfreakhideout.com