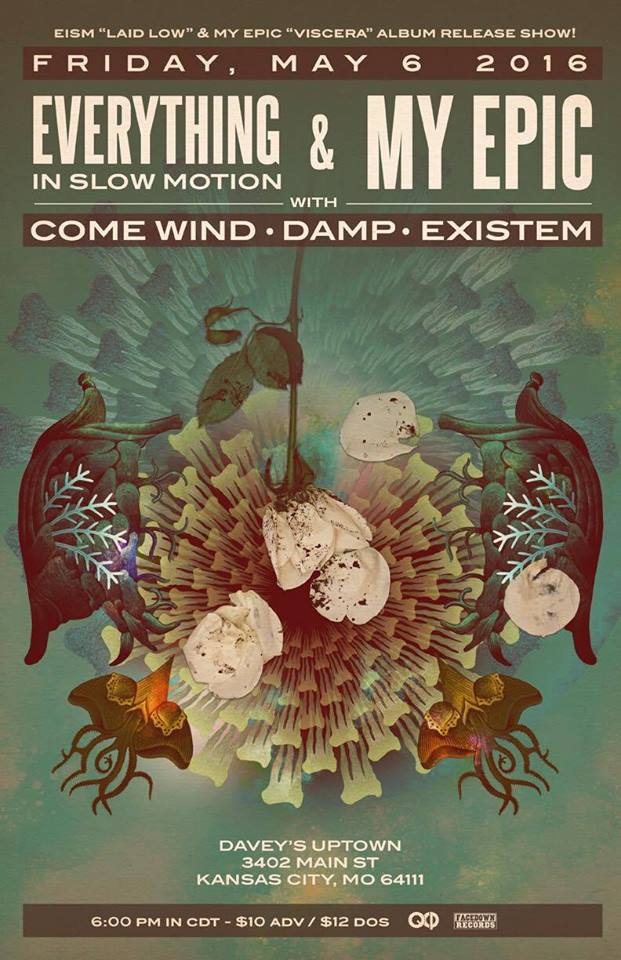 Laid Low/Viscera Album Release Show
5/6/16, at Davey's Uptown
When I think I had been to every music venue in Kansas City, I find another concert that proves me wrong. This most recent example finds me checking out some local and national talent at a bar on Main Street called Davey's Uptown. The national talent in question was semi-popular independent rock band Come Wind, headlined by two Facedown Records artists, both of whom released brand new EPs within two weeks of each other. Everything In Slow Motion released Laid Low in late April, and My Epic dropped Viscera the day of this show. So a co-headlining show with the two in one of their hometowns (EISM's Shane Ochsner calls Kansas City home) was a brilliant idea.
With an 8 p.m. start time and five bands playing, I was hoping the two openers wouldn't go on too long, but I was also willing to give them a shot. We arrived at Davey's just as the opening band Existem was introducing themselves to the not-yet-there-in-full crowd. The guys started off with a sound similar to My Epic, which they maintained throughout bits and pieces of their set, but in all honesty, they reminded me a lot more of Living Sacrifice. In fact, lead vocalist Chris Gochis sounded like he was very inspired by Bruce Fitzhugh's general style. They were pretty solid overall. Also from the Kansas City area (Lee's Summit, to be more accurate), Damp was a lot more hardcore, with pounding double bass, dirty chugging guitars, and murky bass. They were also a bit more sloppy. I feel like they should've been the actual openers, not only because they seemed the newer, less experienced of the two, but also Existem felt more similar to the following bands, if even only marginally.
Come Wind took the stage after Damp. Depending on how much independent Christian rock you listen to, you may or may not know the name or have some of their tunes in your library. I knew the name prior to this show, but couldn't name any of their songs or point them out on the radio. But I can tell you that they were a breath of fresh air after the local hardcore acts. Come Wind came at us with passionate pop-infused indie rock, a la Mike Mains and the Branches. I didn't catch many song titles, but they did play a handful of songs from their newest album Move In Place, such as "Blessing," "Clarity," and "Bouquet." If you're one of the unfamiliar music fans, I can easily recommend picking up Come Wind's latest wherever you prefer buying music.
I wasn't sure which of the headliners would play first; one on hand, it's Everything In Slow Motion's territory, but on the other hand, My Epic's album came out just that day. As I was anticipating seeing My Epic just a little more, I was pleased to see them setting up their gear on stage next. With little delay, they jumped into the first single from Viscera, "Ghost Story." As the song encapsulates just about every aspect of My Epic's personality, I thought it to be a great start to the show. And with Shane Ochsner present to perform his part of the song, it worked out fabulously. "All Hail" followed suit, and it was wonderful to hear a song with such blatantly worshipful lyrics. I don't imagine that it's all too common to go to a dank bar in downtown Kansas City and hear a band singing "Majesty, worship Your majesty, Jesus who died, now glorified, King of all kings." I even saw a few hands raised in worship. That's awesome. I failed to make a note of what song followed, but I did catch the next one. My favorite My Epic song is from my favorite My Epic album: "Deathbed" from Broken Voice. A powerful song that's set to remind fellow believers that "the darkness has no substance of its own," and that Jesus is our light that drives away the darkness. After performing "Zion," the guys took a moment to talk with the crowd and used the time as an opportunity to share their faith in Jesus. I don't really know the ratio of believers to non-believers that were in attendance, but they didn't want to pass up an opportunity to share the message with everyone and to invite anyone to come talk to them after the show. They also confirmed their near-future plans to release a new EP and do one tour per year in an effort to give fans new music on a more frequent basis. "Memoir" was next, and then they concluded their set with an untitled song, declaring "My God, I am not, but You are."
As the hour was getting late, one could really feel a wave of sleepiness rolling over the crowd. A lot of the audience members found themselves wandering around trying to stay awake. Finally, Everything In Slow Motion was ready to go. Now, officially, EISM is a one-man band in Shane Ochsner, but he can't perform his songs live on his own. He was joined by four other friends to fill up the stage, giving the live band three guitars, one bass, and a drummer. Similar to My Epic, EISM started with the first song from their new EP, "Coma." Laid Low is a bit of a different album than EISM's last release Phoenix. Where Phoenix was a post-hardcore work, with Ochsner's tense screams taking the lead, Laid Low works more as an indie rock album with some heavier tendencies. "Coma" was a perfect example of this transition of sound. A Phoenix track called "Poison" was next, followed by another new song, "Bad Season." By this time, I wasn't as engaged with this performance as I was with My Epic's, but Ochsner and company are seasoned indie rock and post-hardcore musicians, and they did put on a good show. It was at this point that, due to some unforeseen circumstances, I had to leave the show a little early. But I made sure to pick up some merch on the way out!
Album release shows don't see very common anymore these days, but they're a lot of fun, especially when it's garnering more excitement for new material from two very talented bands. Though the opening acts did little to change my underwhelmed attitude toward the local music scene, it was good to finally get around to checking out Come Wind and to see some of Facedown's elite for the very first time. If you haven't already done so, it wouldn't be a bad idea to pick up the new releases from these amazing artists.
--
Scott Fryberger
, 5/7/16