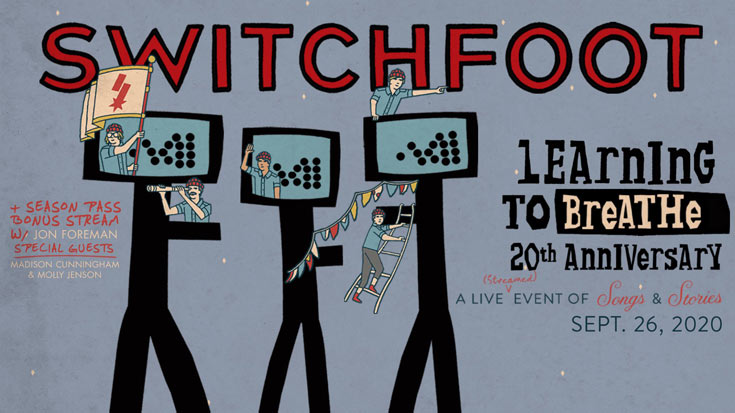 Switchfoot and Their Fantastical NOT Traveling Music Show
Learning To Breathe: 20th Anniversary
9/26/20, at Switchfoot.com
It's hard to believe it's already almost been a full year since I embarked on the epic journey that was "Switchfoot and Their Fantastical Traveling Music Show." Heavily inspired by the works of director Wes Anderson (The Royal Tenenbaums, Fantastic Mr. Fox), this two-act production showcased Switchfoot performing an acoustic set and then a full-production rock show, all in the thematic packaging of the band being shipwrecked. It was fun, humorous, and personal, as the band had even invited fans to share their song requests via messages in a bottle. It was a wonderful evening of music, and it made perfect sense that the band would plan for 2020 to continue this journey.
Sadly, the year shipwrecked not only the tour plans of this San Diego quintet, but the plans of the entire world, thanks to a widespread pandemic. This has caused many artists to rethink how they connect with fans and sell performance tickets, with many opting for livestream productions. This has led to Switchfoot launching a monthly online livestream performance, along with a payment subscription plan that includes a discounted ticket and an exclusive bonus Jon Foreman acoustic show. But for those not ready to get locked into such a committment, the one-off show tickets are still reasonably priced at $10.99 each, which obviously allows you to share the livestream with a roomful of friends and family for that one fee.
For the September 26, 2020 performance of "Switchfoot and Their Fantastical NOT Traveling Music Show," the band decided to celebrate 20 years (20 YEARS!) of their 2000 album, Learning To Breathe. It was two decades to the date that the band--then a trio--had released their third studio album. They've since added two more members (who still remain), so this was the first time many of these songs have ever been performed by Switchfoot as a five-piece.
To start the show, the aforementioned late-comers to the band--Jerome Fontamillas and Drew Shirley--acted out a cute little intro where they discover that their fellow bandmates Jon Foreman, Tim Foreman, and Chad Butler had been transported back to 2000 where they're stuck, and the duo interact with footage (on Jon's old laptop) of the guys from a 2000 interview to mimic them being trapped back in time. Jerome and Drew then get sucked into Jon's laptop, joining their bandmates (as they look now) in the year 2000. While my 9-year-old son (who had just experienced the Back to the Future trilogy at the drive-in exactly a week prior) asked if this was all "pretend," it was pretty obvious that the guys were just fooling around and having fun, and it was too silly not to be funny. The band, now assembled "back in time," decide collectively that they need to perform their 2000 album Learning To Breathe if they want to get, as Jerome puts it, "back to the future" (ha!). And, before long, the guys were launching into the title track from the album.
With a prompter set not too far out of the guys' line-of-sight that displayed the livestream chatroom comments in real time, the band continued to play tracks from the album (with live applause recorded from previous live Switchfoot shows inserted in between). They were set up in a homemade studio brilliantly made up to resemble a dock or part of a ship, and it added wonderfully to the ambience of "Their Fantastical Traveling Music Show." For playing the album from start to finish, they surprisingly did NOT play the songs in order. But true to the "Fantastical Traveling Music Show" format, they opened with an acoustic set first, performing 6 of the 11 tracks in acoustic form. But as one fan put it to the guys via chat (which they read out loud), "Didn't anyone bring an electric guitar?", I myself had wondered if they'd intended to plug in at all for the album performance. I had definitely been looking forward to hearing songs like "Learning To Breathe," "Poparazzi," "The Loser," and others in a five-piece electric format. And while we still got some of those that way, this wasn't entirely the case. Furthermore, they played the songs almost entirely out of order, which also surprised me. While Anberlin is currently playing their albums from start to finish in their own monthly livestreams, I erroneously assumed Switchfoot would follow suit when they'd promised to play the full album of Learning To Breathe.
After the title track, the band performed "Erosion," "Playing for Keeps," "Poparazzi," and "Economy of Mercy" (in that order). It was so surreal to hear these songs live again--in any format. I still have vivid memories of listening to it in my car, and seeing them perform some of them live for the first time at Purple Door Festival. It's a rare thing when bands are even still together after all these years, so a show like this is a true gift. After "Economy of Mercy," the band concluded their acoustic set with "I Dare You To Move," a song that gained far more popularity when it was re-recorded for their hit follow-up album, The Beautiful Letdown. Ironically, even though they've played this song countless times before, this was the song Jon stumbled over the words to, much to his own amusement. Somehow, the fact he botched this song up, out of all of them, made the goof-up all that more endearing.
The band took an intermission next, using the time to share about some of the causes that are near and dear to their hearts and sharing interviews with friends of theirs. The most interesting interview was a segment with their producer, and the man who discovered them, Charlie Peacock (although his need to wear a t-shirt pushing his political stance seemed rather distasteful and distracting in this setting). Connecting with Peacock made the album retrospective seem a little more complete.
After the break, the band reappeared in their own recording studio for a full plugged-in performance. I have to admit--this was what I was waiting for! However, I soon realized we'd have to wait just a little bit longer. The guys opened up the second half with a surprise cover of Cold Play's "Yellow," a song that Foreman said they couldn't imagine a more appropriate song for the time period they were revisiting. While "Yellow" is a song I downright despised after hearing countless times on the radio during a given workday back around 2000 and 2001, I didn't mind Switchfoot's version, or Jon's voice belting out the lyrics instead.
After their cover of "Yellow," they returned to Learning to Breathe with some fan videos expressing their personal attachment to the next song, "Love is the Movement," which sounded great in a live performance setting again. An album favorite for me, "The Loser," followed, and then Tim proudly displayed his jumpsuit from the music video for "You Already Take Me There" before the guys launched into the rock song. The guys then paused for a real touching moment when Drew shared with the band how, back in 2000, he was a fan of Switchfoot while also performing in the band All Together Separate (before having joined Switchfoot a few years later). He said his favorite song on Learning To Breathe was "Innocence Again," and he would listen to it over and over. (I was reminded how Drew told us in an interview back in 2011 how "Innocence Again" was his choice for a Switchfoot song he wished he could perform live--so it really felt surreal to be watching it finally happen.) In that moment, Drew was one of the fans watching along with them--and actually getting to play on stage with the band. After the guitar solo towards the end of the song, Jon announced that they should try it again since this "might be the only time we play this song... maybe ever," and the two ripped into the solo one more time. It was a highlight of the night!
To close out the show, Jon shared a Zoom call video with a friend of theirs from India and then synched his pre-recorded percussion with their live performance of "Living Is Simple." The song sounded amazing live, and for the chorus of voices near the end, pre-recorded fan videos of people singing along took over the screen and joined in for the performance. It was a sweet moment and it worked really well. With that, an overwhelmed Jon Foreman thanked the audience and his friends and the night seemed over. An animated video announced that the next live performance was set for the end of October when their "ship" would be "shipwrecked" ON an ocean liner. (Ha!) But, still, the night actually wasn't quite over yet. The live feed resumed in their little acoustic studio where they commented on the night, expreessed more gratitude to the fans, and then took a call... from producer Tony Berg... who they then announced is producing the band's next studio album! And with that good news for fans to chew on, they performed a rough little encore of "Golden" from their 2005 album, Nothing Is Sound, as a requested song for a fan's birthday.
I'm not gonna lie; hearing Learning to Breathe performed twenty years later is a dream come true that I never really knew I had. While the live concert experience loses a lot by watching it on your home TV (I streamed it on my iPhone and used AirPlay to watch it on our living room TV with my family), it's still a real treat to get to experience--even from the comfort of your own home. So while we wait for live, in-person shows to (hopefully) become a thing again, livestreams are still a nice option... even if they aren't quite the same. And I'm definitely looking forward to Switchfoot's next livestream performance--"Ship(Ship)wrecked: Filmed on the High Seas" on October 29th at 8pm EST at Switchfoot.com!
--
John DiBiase
, 10/4/20
Switchfoot and Their Fantastical NOT Traveling Music Show Set List

Act One (Acoustic):
01. Learning To Breathe
02. Erosion
03. Playing for Keeps
04. Poparazzi
05. Economy of Mercy
06. I Dare You to Move

Act Two:
07. Yellow
08. Love is the Movement
09. The Loser
10. You Already Take Me There
11. Innocence Again
12. Living is Simple

Encore:
13. Golden (Acoustic)

Switchfoot and Their Fantastical NOT Traveling Music Show Photo Gallery
click on an image for a bigger size
**vertical images cropped for thumbnails**
Switchfoot
*all screenshots were grabbed by Jesusfreakhideout.com for this review.