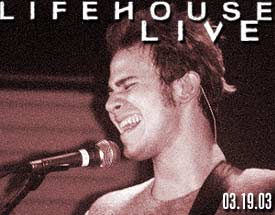 Lifehouse (with SR-71)
3/19/03, Crocodile Rock, Allentown, PA
I hate cigarette smoke. First of all, it doesn't mix well with contact lenses and even mild cases of asthma. One thing that Christian venues have going for them is that they are smoke-free more times than not. However, if even a Christian act plays a bar (like Jars of Clay), or even a mainstream act consisting of Christian members (like in this case), than most likely you're to fall prey to a sea of suffocatingly thick second-hand cigarette smoke. But in this case, too, it was pretty much the only major problem with the concert...
We couldn't pass up a chance to see Lifehouse in our area on their Spring 2003 tour. We caught them last year for the first time live at Musikfest in Bethlehem, PA, and were treated to quite the impressive performance. So in a much smaller venue with a more concentrated fan-base audience, Lifehouse was poised to put on an even more captivating performance. So was this the case? Well, one drawback was the lack of a solid lineup for the evening. Secular's easily dismissible pop/punk act SR-71, complete with spiritually hollow, meaningless, and misguided lyrics, was set to open for the band. The upside to this was it gave me and Amy some quality time in the bar's restaurant to share a cheese steak and watch the news (yeah... this was the evening President Bush declared war on Iraq, so needless to say, that was a little more important to watch than SR). This also yielded the opportunity for us to bump into Lifehouse's lead singer Jason Wade, complete with a freshly chopped do, as he wandered around the restaurant. But although the doors opened at 8, and SR probably played around 9:30, Lifehouse wasn't on board till 10:30pm...
Lifehouse walked out onto the stage waving to a packed house of screaming fans. Luckily for us, we were forced to struggle to see the band from behind several conveniently tall onlookers (note sarcasm). The band met the warm reception with the title track from their latest project, Stanley Climbfall. The energetic quartet wasted no time getting the party started and jumped right into their hit single "Spin." Bassist Sergio Andrade and new guitarist Sean Woolstenhulme stood at the sides of passionate frontman Wade while Rick Woolstenhulme, sporting a mini mohawk, beat mercilessly on his drum set in the background. The toned down and melodic "How Long" was followed by the worshipful rockers "Anchor" and "Wash" that drew out a sense of Spiritual passion in Wade's singing as he glanced upward occasionally (and briefly) while belting out the lyrics. Although Lifehouse isn't exactly all too outspoken about their faith in God, Wade's lyrics suggest otherwise and the band's presence is unmistakably different. You can see there's something different about these four musicians. They certainly don't seem to be your typical bar-hopping rock act.
Lifehouse soon offered the fan favorite "Sick Cycle Carousel". At certain points in the evening, the crowd sang in unison so loudly and boldly that it sometimes as prominent as Wade's himself. The catchy "Am I Ever Gonna Find Out" then preceded the equally catchy "Just Another Name". The foursome then paused for a brief acoustic set, reintroducing the fan favorite "Breathing" to the crowd and the love song "Somewhere In Between." The guys then treated the audience to a rousing rendition of "Sky Is Falling" complete with an all out spontaneous jam session to end the tune. The band kept the rock groove alive and moved swiftly into "Quasimodo" before breaking for the worshipful ballad "Everything" that even saw a few hands raised in praise. Lifehouse's current single "Take Me Away" appropriately closed the set, leaving obvious room for an encore. Wade then announced to the crowd that due to the stage setup the band couldn't just leave the stage and come back, so he urged the audience to imagine the following tunes as encore pieces. The crowd cheered wildly, which Wade then encouraged through the flailing of his arms before joking, "Man! We should do this more often as an encore!" Surprisingly, Lifehouse started their encore off with the tame and mellow "Trying" before closing with the inevitable classic "Hanging By A Moment." While "Hanging..." is rumored to have originally been written as a worship song, the audience responded especially enthusiastically and even lead couples to share some intimate moments (and sensual dancing?!). But Lifehouse ended the evening perfectly with another rock-out session that was a joy to watch and behold. And when the tune finally came to a close, Wade thanked the crowd and offered a "God Bless!" before walking backstage with his fellow bandmates.
All in all, Lifehouse's performance was a joy to watch and a breath of fresh air in the mainstream music scene. If these guys come to your domain anytime soon -- and it's not in a lousy smokey bar -- you'll not want to miss out on it!
Lifehouse Set List
01. Stanley Climbfall
02. Spin
03. How Long
04. Anchor
05. Wash
06. Sick Cycle Carousel
07. Am I Ever Gonna Find Out
08. Just Another Name
09. Breathing
10. Somewhere In Between
11. Sky Is Falling
12. Quasimodo
13. Everything
14. Take Me Away
15. Trying
16. Hanging By A Moment

Lifehouse Photo Gallery
click on an image for a bigger size
*all photos by
John
, and are the property of
Jesusfreakhideout.com