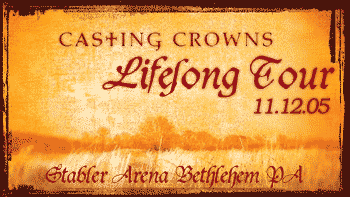 Casting Crowns, Building 429, Josh Bates, and speaker Tony Nolan
11/12/05, at Stabler Arena, Bethlehem, PA
Casting Crowns was one of the biggest-selling new artists to come out of 2003. They had several number one singles, numerous awards, and a decent live show to compliment all of it. And to say that Casting Crowns has hit a sophomore slump would be a complete disregard for the truth, with their newest recording, Lifesong, already reaching the heights that their debut set two years ago. Now they have embarked on their first nation-wide tour, and I took time out to attend one of the dates, at Stabler Arena in Bethlehem, PA. Stabler Arena is a small venue, but with enough tickets sold, you can fill the place to its breaking point. That was the scene on Saturday night, with almost every single seat occupied.
Now I had expected the concert to go a certain way, just based on previous tours I have been to. Usually, you have an opening band or two, then the speaker, and then the headliner. Needless to say, the show went on in a different fashion, with Josh Bates, recently signed to Beach Street/Reunion Records, kicking off the show with his short, two-song acoustic set.
Up next was one of the bigger artists from last year, rock/worship act Building 429. They started off with a stanza of an old hymn, "I Love You Lord," and then went right into their number one hit, "Glory Defined." At first, the instruments were turned up way too loud for anyone to be able to hear the voice of lead singer Jason Roy. The problem was fixed near the end of the song, though, which saved the rest of their six-song set from sounding really horrible. Only briefly pausing to mention who they were, B429 launched straight into "Free" and then "Show Me Love." Pausing for a drink of water, and to catch his breath, Jason Roy, donning a black shirt with the Batman logo, spoke briefly again to introduce and explain the title track from their debut album, Space In Between Us before leading into the ballad. B429 then quickly finished with "No One Else Knows" and even treated the crowd to a brand new rocker, "I Believe," from their new album coming around March, 2006. Jason had a little fun and told the crowd that the band was too far away from Nashville for anyone to care if they played a song they weren't supposed to play. Building 429 then quickly left the stage, and made way for Casting Crowns to start their 3-part set.
Casting Crowns has had a pretty powerful set to begin with, even though they've only had one album (and a live EP) to their credit. But now with 11 songs for them to experiment with on the road, they have a chance at having an even better live set. This proved to be true as soon as Casting Crowns took the stage, jumping right into the title track from their sophomore album, Lifesong. The song was executed perfectly, and really set the stage for the entire show. Only pausing briefly, guitarist Hector Cervantes proclaimed to the crowd that this would indeed be a worship service, and so it was, without question, as they next performed "Praise You With The Dance." Lead vocalist Mark Hall has been known for his stories and talks with the crowd in between songs, and this tour was no different. After describing the song's meaning, and how we are all members of the body of Christ, Mark led the band and crowd into a classic version of "If We Are The Body." Again stopping only to describe the core meaning of the song, the band slowed down to do "Does Anybody Hear Her," and the ever-powerful single "Praise You In This Storm." With each song, there was a PowerPoint slide that displayed the words to each song, so that the crowd could sing along even if they weren't familiar with it.
There was then a brief 20-minute intermission, in which Mark Hall gave a quick youth worker's conference, to promote the band's ministry. After the short intermission, Casting Crowns came back on stage and went right into my personal highlight of the evening, "Set Me Free." The song has a strong aggressive rock chorus in the studio version and they kept that vein in the live rendition. They immediately slowed things down again, diving right into the apologetic "Here I Go Again," and the serenity of "Love Them Like Jesus," with which Mark Hall encouraged the crowd that when you don't know what to say to someone that has a problem, sometimes the best thing to do is to love them like Jesus would. Briefly pausing again for a description of the song, the band went into "Voice Of Truth" and "Stained Glass Masquerade." In the midst of these songs, Mark Hall put in a plug for the tour's sponsor, World Vision, and also made fun of himself with his dyslexia and ADD, laughing at his own jokes.
This short second part of the set was complimented by special speaker and band pastor Tony Nolan's message afterwards. Clearly this entire tour was centered around Casting Crowns' sophomore album, because the title of the message was "LifeLight: Starting Your Lifesong On The Right Note." Tony described his coming to Christ as L.I.F.T. which stands for L: Life Changing Event (coming to Christ), I: Terminal Infection (sinful nature), F: Famous Person (Jesus), and T: Transplant (Christ gave a heart transplant). The message was written specifically to bring people to Christ, and it did. Many people gave their hearts to Christ that night, and I'm sure heaven was rejoicing for each and every one of them. After an emotional ending to the message, Mark Hall and the rest of the band came back on stage to conclude the message part of the show with the mellow "And Now My Lifesong Sings."
Not even missing a beat, Casting Crowns went directly into one of their biggest hits from their debut, "Who Am I." After the emotion settled, guitarist Juan DeVevo did his common encouraging act, asking the crowd to encourage each band member as he described them. When he got around to drummer Andy Williams, Andy went right into his trademark drum solo. For those of you who haven't seen Casting Crowns live yet, this is sure a sight to see. Williams is one of the best drummers in the Christian music industry today, and he proves it. Mark Hall's nickname for Andy is "The Bald Wonder," and there's no question why.
After this, Casting Crowns finished with two of their own big worship songs, one from each album. "Father Spirit Jesus" came, and then "Glory." When the band started "Glory," Jason Roy of Building 429 and Josh Bates both came out and each did a verse of the song with Mark Hall. The end result sounded even better with all of the diverse groups being represented. With an ending like that, you would think that there would be no better way to finish off the show. But, keeping in the vein of every major tour, Casting Crowns came back out for a one-song encore. Hall came back out with the band and said "You guys don't sleep, do you?" With that, "What If His People Prayed?" began, and it was the best encore for this kind of show.
Overall, I highly recommend seeing this tour while it lasts. With such an extensive set list and an amazing stage presence, Casting Crowns is an inspired headliner for this tour, with Building 429 adding a unique feel to the show as well.
--
Justin Mabee
, 11/16/05
Building 429 Set List
01. I Love You Lord / Glory Defined
02. Free
03. Show Me Love
04. Space In Between Us
05. No One Else Knows
06. I Believe
Casting Crowns Set List
01. Lifesong
02. Praise You With The Dance
03. If We Are The Body
04. Does Anybody Hear Her
05. Praise You In This Storm
(Intermission)
06. Set Me Free
07. Here I Go Again
08. Love Them Like Jesus
09. Voice Of Truth
10. Stained Glass Masquerade
(Tony Nolan's message)
11. And Now My Lifesong Sings
12. Who Am I
13. Father Spirit Jesus
14. Glory
(Encore)
15. What If His People Prayed?