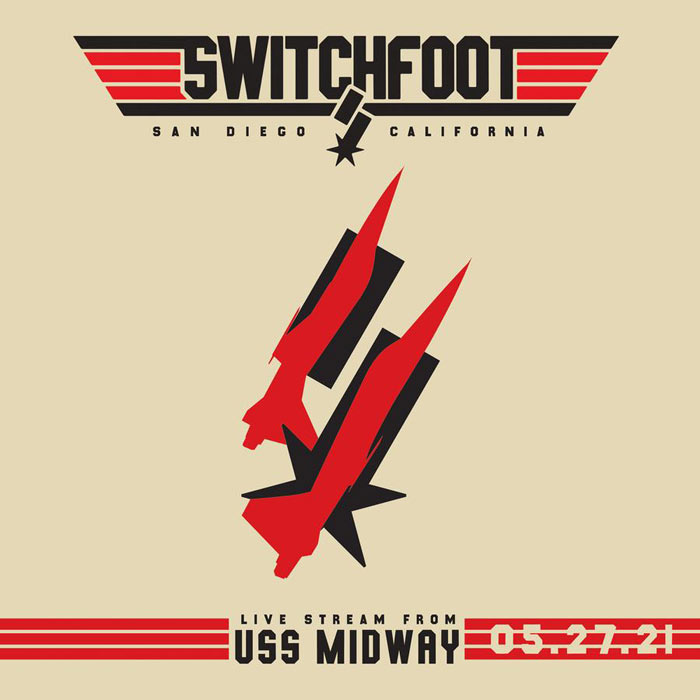 Switchfoot and Their Fantastical NOT Traveling Music Show
Live from the USS Midway Livestream
5/27/21, at Switchfoot.com in San Diego, CA
Every month since the summer last year, Switchfoot has been offering livestreams to fans as part of their "Switchfoot and Their Fantastical NOT Traveling Music Show." For these livestreams, fans can subscribe to a monthly fee of $8.99 to access the livestream, or pay a la carte whenever they'd like to tune in for just two dollars more. With each livestream, the band has continued to get more creative - from playing some of their albums in completion (like Learning to Breathe and The Beautiful Letdown), to playing on location in a cabin, on a cruise ship, or even thousands of feet in the air from a hot air balloon. For the special event livestreams, the shows were often pre-recorded, but many of their shows have been live in-the-moment, or at least partially. Their May 2021 show is a celebration of Memorial Day, and for that they set up their gear on the deck of the historical USS Midway in San Diego, CA to perform for fans and family.
The USS Midway show was pre-recorded on May 11th and streamed on May 27th to ticket holders. While some may be a little bummed that the event wasn't shown completely live, it's understandable that events like these are a bit more complicated when it involves streaming. After the Midway show, though, the guys did perform one in-studio live song, which was a nice way to wrap up the night.
The video the Switchfoot team captured on the USS Midway was gorgeous. The performance started at just before sunset and ended just as night enveloped their stage setup. Through the use of multiple cameras and drones flying around, the band captured sprawling footage of the deck of the Midway, which was decorated with helicopters and planes. It was definitely a unique setting for a rock show. To open the stream, guitarist Drew Shirley shared a brief interview with his very own father, a Navy veteran. The feed then cut to the band sitting live in their studio to introduce the recording. The Midway set then began with the quintet walking out onto the deck of the USS Midway and letting loose with a rocking opener of "Take My Fire" from their 2019 album, NATIVE TONGUE. It was a killer version of the song, and a great way to open their set. They then played an extended version of their 2005 hit, "Stars," which included Drew belting out a guitar solo of the Top Gun theme as an interlude before the band finished off the song. Without missing a beat, "Stars" flowed into "Free" from their album Hello Hurricane - a song I feel like I definitely haven't heard them play in some time - and they followed it with a brief moment for frontman Jon Foreman to catch his breath and talk a bit about playing for the friends and family in attendance with them that day. They then played one of my new Switchfoot favorites, the emotional "The Strength To Let Go," which had a slightly more rocking edge in this live version. It's takes like these that make me wish they'd release digital audio albums of these performances (like Anberlin has been doing with every single one their livestreams -- even pressing them on vinyl!).
Switchfoot rolled right on into, surprisingly, "Dirty Second Hands" from their 2006 album, Oh! Gravity. It's still one of my least favorite Switchfoot albums, but it was good to hear a few cuts from it this evening. The guys gave the song a bit of a stronger southern twang this time around, too. Foreman then paused to talk about family and loss, and just barely got through mentioning the loss of both grandfathers in recent months. The show from the Midway then cut to a previous interview that Drew and Chad had had with a man named Joe who was a veteran of the USS Midway and had worked in the engine room. It was a nice touch. Before long, the livestream was back to the music and another couple Oh! Gravity. songs followed in "American Dream" and "Awakening." And after a plug for Food for the Hungry from Foreman, they performed the ballad "Enough" from Hello Hurricane before rocking out with "Voices" from NATIVE TONGUE and fan favorite "Happy is a Yuppie Word" from Nothing is Sound. It was a truly excellent performance.
After the credits for the USS Midway show rolled (crediting all those who made the performance a possibility), the feed shifted to Jon on his cell phone talking about the performance and how they couldn't leave the night without playing something new. He then walked into the band's studio and joined them for a live performance of a brand new song, "i need you (to be wrong)." It's a track from their upcoming new studio album, and one they recently released as a single. The song is a slower, moody one, that actually has a bit of an Oh! Gravity. vibe. It's also kind of an odd choice for a single, but it's a grower, and I'm eager to hear how the rest of the album sounds (especially after they also stated that it's a much different record for them).
The band's performance from the deck of the USS Midway was another great livestream from Switchfoot. If you haven't checked any of these streams out yet, I urge you to tune into one sometime. The price of one ticket covers access to the stream for you and whoever else is watching with you, and you can watch/rewatch the feed as many times as you'd like for about a week or so after it airs. And hopefully the band will release these shows - or at least some of them - in some form so that fans can watch them again (or for the first time)!
--
John DiBiase
, 5/28/21
Switchfoot and Their Fantastical NOT Traveling Music Show Set List

01. Take My Fire
02. Stars
03. Free
04. The Strength to Let Go
05. Dirty Second Hands
06. American Dream
07. Awakening
08. Enough
09. Voices
10. Happy is a Yuppie Word

Encore (Live from the Studio):
11. i need you (to be wrong)

Switchfoot and Their Fantastical NOT Traveling Music Show Photo Gallery
click on an image for a bigger size
**vertical images cropped for thumbnails**
Switchfoot
*all screenshots were grabbed by Jesusfreakhideout.com for this review.