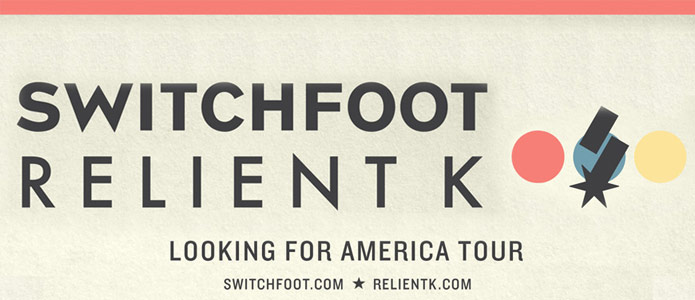 Looking For America Fall Tour 2017
Switchfoot, Relient K
Review: 2/17/17 at American Music Theatre in Lancaster, PA
Several years ago, I remember meeting an artist at a meet-and-greet before a show and, in a moment of small talk, they asked in a sort of perplexed manner, "Didn't you already see this tour?" It was something I never really thought of before -- and I knew it'd been some time since I'd seen this artist live, so when a tour extends to a second or third "leg," I don't necessarily think of it as the same exact tour.
But, let's face it, if I see a movie in the theater and love it, I'll want to see it again before it leaves the theater (Even though I don't get to the theater as often as I used to now that we have a young child, I still managed to see Star Wars: Rogue One in theaters three times). When it comes to a live show, tour and band you're a fan of, why wouldn't you want to see them as often as you could (And, to beat the analogy half to death, you can watch a movie in the convenience of your own home after it leaves theaters, but when a band breaks up, that's it - you won't see them live anymore... unless it's Bleach).
Switchfoot and Relient K launched the Looking for America Tour last fall to great success. I caught their stop in Philadelphia, and upon hearing of another local(ish) show in the spring, I just knew it'd do the soul some good to catch the tour again. After all, Switchfoot has never been a band to do the same live show twice (unlike some veteran bands, who shall remain unnamed, who would get pretty stuck with a specific, unchangeable set list).
We arrived late to the Fillmore show in Philly (thank you, city traffic), and I missed the first couple songs from Relient K. So, it was crucial to me to get to the show on time this time. The American Music Theatre is a beautiful venue with a very classic theater style to it. I'd been there once before to see Third Day and it was a more formal setting than this evening was. Despite assigned seating, fans gathered in front of the stage, but were shooed back to their seats by venue staff before the show started. However, once the show began, fans rushed the stage again, and I was thankful to find a little spot off to the side for the night. My first-ever concert experience was when I was 14 years old at a venue right down the street from the American Music Theatre. It was Audio Adrenaline performing a headlining show with openers Out of Eden at the LMHS Fine Arts Center. In fact, I saw Switchfoot and Relient K together open for the Supertones at that very same venue several years later in 2001. Needless to say, I was feeling especially sentimental this evening.
Relient K opened ablaze with "High of 75." I have to admit, I felt a little underwhelmed by their show in Philly. Maybe it was the set list, maybe they hadn't found their groove live yet, maybe it was because I wasn't close enough to the stage to feel engaged with the show, but there was something special about them this time. It was the second-to-last night of the whole tour, and the 69th show of it. It was a much different set list this time around, with some songs being moved to a different order, others omitted, and others added for nearly the first time. New track "Bummin" was next, with "Who I Am Hates Who I've Been" and "Boomerang" following. Frontman Matt Thiessen then paused to talk about how Pennsylvania, and specifically this Lancaster area, were "implemental" to their career as a band - from Purple Door Festival to the aforementioned LMHS venue right down the road. Aptly, "Forget and Not Slow Down" followed, and then "Sahara," "I Need You," "Air For Free" (for which a little fan had been holding up a sign requesting the already-planned title track from their latest record), and then "Must Have Done Something Right," "Look On Up" and "Mountaintop" all succeeded. The frivolous, 10-second "Crayons Can Melt On Us For All I Care" came before one of their biggest fan-favorites, "Sadie Hawkins Dance," and then they performed a brand-spankin' new song from their recently-released Valentine's Day EP, "Candy Hearts." "Cat" was another new song, from Air For Free, but Thiessen explained that it was a song they never play live and had to learn recently in order to play it for a friend. It made for an excellent addition to their set. Thiessen then randomly broke into a delightful, spontaneous cover of "Robin Hood and Little John" (from the Disney film), a wonderfully autotune-free version of "Empty House," and closed with "Be My Escape" and the epic "Deathbed," for which Switchfoot's Jon Foreman emerged to sing his part from the recorded version.
After Relient K's generously lengthy 19-song performance, a video promoting CURE International graced the screen in the back of the stage, and a set change ensued. It was close to 10pm when Switchfoot made their way on stage, opening once again with "Holy Water" from their recent, 10th album, Where The Light Shines Through. And much to the excitement of any casual fan of the band who never really kept up with them, Switchfoot's biggest hit, "Meant To Live" followed. The only real noticeable difference in their stage setup for this leg of the tour was the addition of some really cool lightbulbs on stands that were spread throughout the stage area. "Stars" was next, complete with a beautifully starry backdrop, and then the wonderfully anthemic "When We Come Alive" was a nice addition next. Frontman Jon Foreman paused to reflect on how the night is a celebration, as well as the tour, and he segued into talking about CURE and the band's own BroAm event in San Diego. "Where The Light Shines Through" followed, and then Jon talked about playing the Lancaster area, leading into "I Won't Let You Go," while encouraging fans to "drain their cellphone batteries" while creating a sea of lights in the audience. With the stage only lit by a single standing lightbulb, Jon began singing a refrain of Leonard Cohen's "Hallelujah," the chorus from "Restless," and then the full band kicked in for "Love Alone is Worth the Fight," in which he ventured out into the crowd to mingle with the audience. Foreman returned to the stage for a medley next, merging his solo song "Your Love Is Strong" with Switchfoot songs, "Your Love Is A Song" and "On Fire." It felt like one of his signature "aftershow" performances dropped right into the middle of the set. Jon then dedicated "If the House Burns Down Tonight" to Pennsylvania firefighters, and followed the song with Hello Hurricane's "The Sound (John M. Perkins' Blues)." The spine-tingling lament for heaven, "Where I Belong," was next, signifying the end of their set, which seemed especially brief after Relient K's stacked set, but it's such an amazing song to experience in a live setting (complete with flying confetti that blanketed the audience). Thankfully, the expected encore did follow, and "Float" included a bubble machine launching bubbles into the audience by the thousands. Hit single "Live It Well" saw the return of Thiessen and drummer Dave Douglas of Relient K to the stage to sing along, and then Jon spoke a bit about hope before closing with "Dare You To Move," and another burst of confetti from the stage.
Some bands, like good movies, have no limits to how many times they're worth seeing again and again, and both Relient K and Switchfoot are those kinds of bands. Whether the set lists vary drastically or remain rather static, these bands know how to give fans--not only musical treats and surprises--but songs to feed the soul and make a difference. Don't miss your chance to see either of these bands live.
--
John DiBiase
, 2/22/17
Relient K Set List

01. High of 75
02. Bummin'
03. Who I Am Hates Who I've Been
04. Boomerang
05. Forget and Not Slow Down
06. Sahara
07. I Need You
08. Air For Free
09. Must Have Done Something Right
10. Look On Up
11. Mountaintop
12. Crayons Can Melt On Us For All I Care
13. Sadie Hawkins Dance
14. Candy Hearts
15. Cat
16. Don't Blink
17. Empty House
18. Be My Escape
19. Deathbed
Switchfoot Set List

01. Holy Water
02. Meant to Live
03. Stars
04. When We Come Alive
05. Where the Light Shines Through
06. I Won't Let You Go
07. Love Alone Is Worth The Fight
08. Your Love is Strong / Your Love is a Song / On Fire
09. If the House Burns Down Tonight
10. The Sound (John M. Perkins' Blues)
11. Where I Belong

Encore
11. Float
12. Live It Well
13. Dare You To Move

Looking For America Tour 2017 Photo Gallery
click on an image for a bigger size
**vertical images cropped for thumbnails**
Relient K
Switchfoot
*all photos by John DiBiase and are the property of Jesusfreakhideout.com