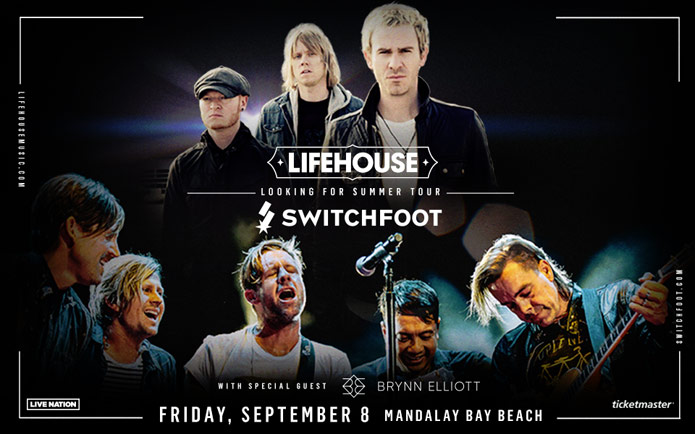 Looking for Summer Tour
Switchfoot, Lifehouse
8/6/17, at The Fillmore in Phladelphia, PA
It's hard to believe that it's been 20 years since Switchfoot made their debut in music. The Legend of Chin was a modest introduction to a band who was barely scraping the tip of the proverbial iceberg of what they were capable of. Many albums, accolades, and even a movie later (which can still be found on NetFlix), Switchfoot is still going strong, touring the world, hosting their annual Bro-Am, and making a difference in every city they perform in. For their summer 2017 tour, the San Diego five have pulled Lifehouse out onto the road with them, enabling the band to have their first US tour in six years with the Looking for Summer Tour.
It was roughly a year ago when I first experienced the relatively new venue The Fillmore in Philadelphia. It's a gorgeous, inviting venue with a wrap-around balcony, bar seating, and a large standing-room-only section. I love this place! Sadly, with our scrambling to get ready, getting our son situated with a sitter for the night, and wrestlinh Philly traffic, we arrived late to the show, missing opener Brynn Elliott (but we heard good things about her!). When we entered the floor area of The Fillmore, it was already close to 8:00pm, and the next act was about to go on. To my surprise, it was Switchfoot.
Given Switchfoot's more active status in music, I expected them to be the night's main headliner, but instead, they performed first. However, both headliners played full sets, which made for a really full and satisfying night of music. With a countdown on a large screen behind the band, Switchfoot kicked off with a classic of theirs, a full-band performance of "Hello Hurricane" - a song they've largely just been playing acoustic for several years now. Radio hit "Love Alone is Worth the Fight" followed, along with fan favorite rocker "The Sound." Finally, much to my excitement, despite seeing them twice on the "Looking for America Tour," this was the first time I got to hear the band play "Bull in a China Shop," from their latest album Where The Light Shines Through, live. It's easily one of the most fun songs on that record and I haven't understood why they weren't regularly playing it live. Band frontman Jon Foreman then took a moment to reflect on performing in Philadelphia through the years--including their early days--and then slowed things done for "Your Love Is A Song." "If the House Burns Down Tonight" was an excellent set addition, adding some fast rock into the mix before slowing it down again for "I Won't Let You Go." Foreman then shared how he'd read online about some fans who lost a friend named Brad and were in attendance tonight. They had apparently played "Live It Well" at his funeral, and Jon wanted to perform it acoustically for them in Philly. After that song, he mentioned jogging in Philadelphia to the Beastie Boys and admitting he felt the urge to add them to their set list tonight. With that, they launched into the band's iconic rocker "Sabotage," before Jon ventured out into the audience and climbed up the side of the balcony to perform "When We Come Alive." The incredible anthem for the afterlife, "Where I Belong," was next, and Jon took a fanmade banner with the song's title written on it and spread it out in front of him to show the audience. He then draped it over his neck and continued the song. To close the night, the band performed arguably their most recognizable song, "Meant To Live," before leaving the stage. Thankfully, despite not being the final act of the night, they did return for a short encore, "Float" -- complete with a bubble machine again -- and "Dare You To Move," for which Lifehouse's Jason Wade joined Jon on stage to sing along to. Jon even managed, at one point, to sneak a refrain of "Where The Light Shines Through" into "Dare You To Move."
After a lengthy set change, a little before 10:00pm, pop rock band Lifehouse took the stage. I've seen Lifehouse live twice before - once on tour, once at a local music festival - and it's actually been over 14 years since I've last seen them in concert. Needless to say, it was great to see them live again (if not entirely surreal). It was interesting, though, to realize that while Switchfoot had been playing an array of songs from across their catalog, including their most recent, 2016 release, Lifehouse stuck to mostly classics and hits. And while those are still arguably their best songs, it made it seem like Lifehouse is a band that isn't quite as relevant today as their tourmates (and I feel bad saying that, but it is a feeling I had while watching their show). However, the band opened with "Hurricane," a cut from their 2015 album Out of the Wasteland, and then "All In" from 2010's Smoke & Mirrors. "Half Way Gone," from the same album, followed, and then frontman Jason Wade said they'd play some old ones as well as newer ones, and launched into "Sick Cycle Carousel" from their 2000 debut, No Name Face. The melancholy "Only One," also from their debut, was next, followed by another sad song, "It Is What It Is," from Smoke & Mirrors. A cover of U2's "Pride (In the Name of Love) was a sweet surprise, sung by the band's multi-talented bass player, Bryce Soderberg. Another fan favorite, "Broken," was next, performed acoustically with just Jason singing. He then led right into the worshipful "Everything," for which the band eventually rejoined him. When they kicked in, it was a truly emotional and incredible moment in the night. A fan pointed heavenward as Wade belted out the chorus, and the singer smiled in response, nodded and also pointed upward. "Flight," from Out of the Wasteland was next, and Jon Foreman returned to the stage to sing along with Wade. Before Foreman left the stage again, Wade made sure to gush about how influential Switchfoot has been to Lifehouse, even as far back as their beginning! "Whatever It Takes," "For the First Time," and "Spin" brought the energy back up to close out their set. The band left the stage, but the venue kept the audience shrouded in darkness, giving hope for an encore -- after all, the band had not performed either of their biggest singles. Sure enough, when Lifehouse returned, they launched into the romantic anthem "You and Me," and then Bryce took a violin bow to his electric bass to create a haunting, Hans Zimmer-like effect to lead into "Hanging By a Moment" to end the night.
After the show ended and most of the audience had disspersed, Jon Foreman announced via Twitter that he would be doing one of his signature "aftershows" outside The Fillmore. A crowd gathered outside the venue and didn't have to wait too long before Jon emerged, amidst applause. Everyone huddled around the San Diego songwriter under a lamp near the venue's entrance as he opened with "24." But it wasn't long before The Fillmore workers asked everyone to move inside, so we were ushered within the first set of doors where Jon stood in front of the "LIVE" sign, where he would finish out his aftershow. "Caroline" and the Fiction Family song "Just Rob Me" were next, and then Jon took requests. "Learning To Breathe" won an abbreviated rendition, and then Jon closed with "Your Love Is Strong" before leaving again. It was a sweet little finish to a great night.
It looks like the bands may take turns headlining during the tour, and I have to say it may make more sense stylistically for Lifehouse to precede Switchfoot, but honestly, it doesn't matter; the two are an excellent pairing and together produce a truly entertaining and engaging live show. (It's tempting to try to catch this tour again before it's over!) If you're a fan of either artist, you won't want to miss The Looking for Summer Tour!
--
John DiBiase
, 8/8/17
Switchfoot Set List

01. Hello Hurricane
02. Love Alone is Worth the Fight
03. The Sound (John M. Perkins Blues)
04. Bull in a China Shop
05. Your Love is a Song
06. If the House Burns Down Tonight
07. I Won't Let You Go
08. Live It Well
09. Sabotage
10. When We Come Alive
11. Where I Belong
12. Meant To Live

Encore
13. Float
14. Dare You To Move

Lifehouse Set List

01. Hurricane
02. All In
03. Half Way Gone
04. Sick Cycle Carousel
05. Only One
06. It Is What It Is
07. Pride (In the Name of Love)
08. Broken (Acoustic)
09. Everything
10. Flight
11. Whatever It Takes
12. For the First Time
13. Spin

Encore
14. You & Me
15. Hanging By Moment

Looking for Summer 2017 Photo Gallery
click on an image for a bigger size
**vertical images cropped for thumbnails**
Switchfoot
Lifehouse
Jon Foreman (Aftershow)
*all photos by John DiBiase and are the property of the photographer and Jesusfreakhideout.com