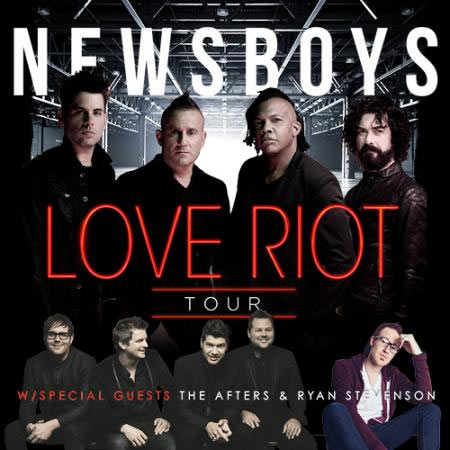 Love Riot Tour 2016
10/1/16, at Petersen Events Center in Pittsburgh, PA
Ever have one of those weeks where absolutely nothing is going right? Such was the week before I was to attend the Love Riot tour in Pittsburgh. It was one of those weeks where you just wanted to sleep it all away. But still, God gives us these little moments to pull us through, despite the daily frustrations and letdowns we experience. The Saturday of the show was a perfect summation of this very thing.
Due to crazy Pittsburgh traffic, a very heavy storm, and parking nowhere to be found, I'm sad to say that I missed a few of the acts on this tour. I was excited to see Mr. Ryan Stevenson in particular, as I've never had the opportunity to see him perform. Alas, it was not to be on this night. By the time I made it inside, The Afters were down to their final two songs. As the band closed out with the uplifting "Battles" from their new album, Live Forever, I began to unwind and feel the tensions of the week fade away. To my surprise, the host for the night then came out and announced the Newsboys as the next act taking the stage. I'd arrived later than I originally thought.
I covered various Newsboys shows in the past, and what never ceases to amaze me is how seamlessly they blend the fun, high-energy party feel with slow worshipful moments, all the while speaking to the condition of things in the world. You wouldn't have to go far to find someone praising Michael Tait's stage presence, or Duncan's wacky mannerisms, or the band as a whole and their catalog of hits - which is all rightful praise. The one thing I want to speak to is the band's willingness to speak about current issues facing this country - and to speak about them plainly, and not beating around the bush. Perhaps the most moving moment of the concert is Michael Tait addressing the riots and racial tensions this country has experienced over the last few years. "The Newsboys support the boys in blue. And let me be clear - ALL lives matter." The video screen behind them played a montage of news clips about various hot-button issues before the band broke into "Love Riot."
Overall, if you've ever seen the Newsboys live, you're familiar with their brand of gospel through stirring and energetic performances. If you haven't seen them yet, it's well worth the price of admission. You never know, as in my case, it could salvage a pretty crummy week!
--
B.J. Smith
, 10/10/16
Newsboys Set List
Born Again
That's How You Change the World
Crazy
Live With Abandon
Your Love Never Fails
Guilty
Love Riot
He Reigns
You Hold It All
We Believe
The King Is Coming
Committed
Jesus Freak (dc Talk cover)
Encore:

Hero
God's Not Dead (Like a Lion)
Love Riot Tour 2016 Photo Gallery
click on an image for a bigger size
**vertical images cropped for thumbnails**
The Afters
Newsboys
*all photos by BJ Smith and are the property of the photographer and Jesusfreakhideout.com