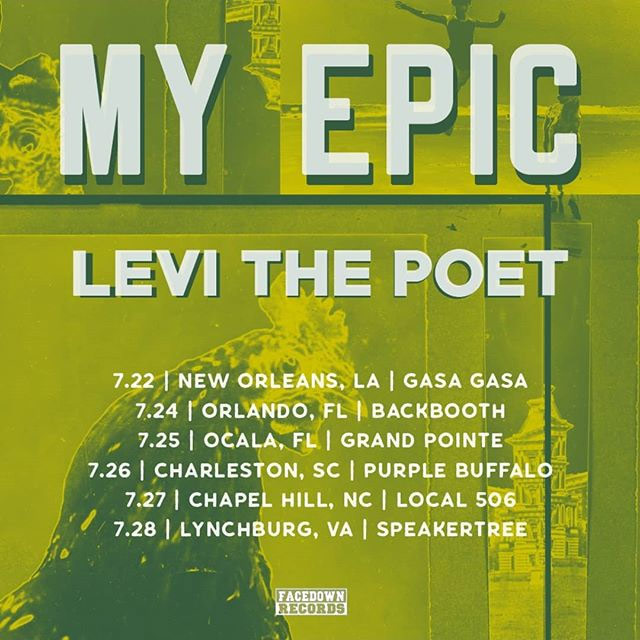 My Epic / Levi the Poet Tour 2018
7/27/18, at The Local 506 in Chapel Hill, NC
My Epic seems to be the odd man out on Facedown Records. Most of their label mates fit comfortably in the metalcore genre whereas My Epic leans more towards hard rock - and they do it very well. Their fantastic lyrics and great music make My Epic one of my favorite bands and I was very excited to see them live for the first time.
I arrived at Chapel Hill's Local 506 a little late, so I missed all of DENS' set. I'd never been to this venue before; Paper Route played there a couple years ago, but Local 506 isn't in the habit of hosting Christian music, so I really wasn't sure what to expect. The crowd seemed to enjoy the local post hardcore/screamo band Harm. I'm not a huge fan of screamo, but the band put on a good show and they reminded me a little of Flyleaf. The sound in the venue, however, left a lot to be desired. The booming echo of the sound system made it difficult to clearly hear the artists, though that did not seem to hinder anyone's performance.
After Harm finished their set, Levi the Poet came on stage and asked that all the lights be turned off. We soon learned this was done so he could project videos behind him for each of his songs. While this added an eerie effect to his set, it made it extremely difficult to take pictures due to the lack of light. He started his set with "Sommelier," "Fort Lauderdale Five" and "Motion Made Visible Memories Arrested in Space." I don't listen to many spoken word artists, but I enjoyed Levi the Poet and would recommend him to any fan of spoken word. He delivers his message with passion and conviction. His set continued with "Sanctuary Cities," "The Dark Knight of the Soul" and "Chapter Three: The Great American Game" and "As Far as the East Is from the (Naval to the) West." He closed with "Keep Forgiving" without any backing track as if it were a personal, intimate message to his audience.
Headliner My Epic launched into their set with "Two Nights" from their recent release, Ultraviolet. They followed with two of my personal favorites: "Ghost Story" (with guitarist Tanner Morita contributing vocals) and "Hail." They continued with the title track from Yet. Lead singer and guitarist, Aaron Stone, explained that the Hebrew meaning for the word "amen" is "so be it," which was a nice segue into their song "So Be It." The band then went into another favorite off Ultraviolet, "Of Wilderness" and followed with "Memoir" from their Viscera EP. Up next was the rocker "Lower Still" for which Levi the Poet came back on stage to sing a verse. This song received the most enthusiastic audience participation of the night. Aaron introduced the band and then talked a little about his faith in Christ. He then shared a story from John's gospel about how John refers to himself as "The Disciple whom Jesus loved." I don't see many self-proclaimed Christian artists openly sharing their faith from the stage much anymore - especially in a secular venue. It was really encouraging to hear Aaron speak about how much God loves us. My Epic closed out their set with another song off Viscera called "Open Letter" to end a great night of music.
Even though the acoustics were disappointing, each artist put on a great show. I wish My Epic had had a longer set, or maybe played a new song or two, but that didn't stop me from enjoying their fantastic set. Though this tour is now over, Levi the Poet has some more tour dates planned through August and I would assume that My Epic will tour again next year after the release of their Violence EP. If you're a fan of any of these bands, I definitely recommend checking them out live if they come to your area. To find tour dates, go to http://myepicrock.com and https://levithepoet.net.
--
Jack Glasheen
, 8/7/18
Levi the Poet Set List

01. Sommelier
02. The Fort Lauderdale Five
03. Motion Made Visible Memories Arrested in Space
04. Sanctuary Cities
05. The Dark Night of The Soul
06. Chapter Three: The Great American Game
07. As Far as the East is from the (Naval to the) West
08. Keep Forgiving
My Epic Set List

01. Two Nights
02. Ghost Story
03. Hail
04. Yet
05. So Be It
06. Of Wilderness
07. Memoir
08. Lower Still
09. Open Letter
My Epic Photo Gallery
click on an image for a bigger size
**vertical images cropped for thumbnails**
My Epic
*all photos by Jack Glasheen and are the property of the photographer and Jesusfreakhideout.com