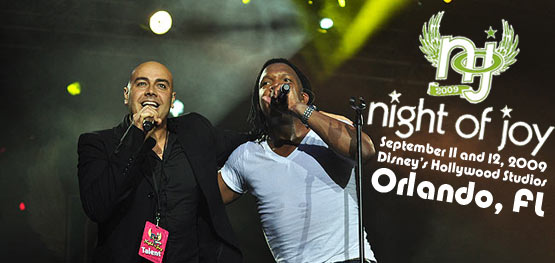 Jars Of Clay, Newsboys, Family Force 5, Flyleaf, P.O.D, Mandisa, Leeland, NEEDTOBREATHE, & more
9/11 - 9/12/09, at Disney's Hollywood Studios in Orlando, FL
I was in my young teens when I first heard about Disney's Night Of Joy. I remember when it was televised and I was really eager to see it because it featured some of my favorite bands. For the first twenty five years of Night Of Joy, the mini-fest was held at Disney's Magic Kingdom theme park. Last year, the event was moved to their Hollywood Studios park (formerly named MGM Studios), undoubtedly to compete even more with Universal Studios' Rock The Universe event, with this year being the event's second run at Hollywood Studios. Also this year, both Rock The Universe and Night Of Joy had some pretty tight lineups making the decision which to see -- which take place on the SAME weekend -- a difficult decision. After weighing our options, we decided it was about time we changed things up and tried out Night Of Joy for the first time. And we're really, really glad we did!
FRIDAY
I had first attended Disney's theme parks back in 1987, two years before there was an MGM Studios to speak of. I returned to Disney in 2003 as part of my wife's and my honeymoon, and really enjoyed what MGM had to offer. So to return after a six year hiatus from Disney's parks was an added treat for our Night Of Joy experience. We spent the first half of Friday at Epcot Center before heading over to Hollywood Studios (MGM) in the evening for Night Of Joy. There is much too much to do from the assorted Disney theme parks to try to squeeze into just two days, but making use of the time at the parks is well worth adding on to your own Night Of Joy experience.
We arrived at Hollywood Studios shortly before the park was being closed to Night Of Joy-only ticket holders, and took the opportunity to revisit some of the attractions before the music began. And the event was off to an incredible start at 7pm with NEEDTOBREATHE at the Theater of the Stars Stage (AKA "The Beauty and the Beast" Stage). Now, much like Rock The Universe, a lot of the artists' sets overlap. So while NEEDTOBREATHE launched into their set at 7:00 sharp, Francesca Battistelli was performing at 7:15 over at the Sorcerer Hat Stage (AKA "Main Stage"). Also at 7:15, worship leader phenomenon Chris Tomlin was performing his first of two sets over at the Lights, Motors, Action! Stage. Because of the overlapping sets, Night Of Joy is the only festival I've ever seen to feature many of the artists each night performing more than one set -- and back to back with just a short break in between. So if you wanted to see NEEDTOBREATHE or Francesca, but still wanted to see Tomlin, you could catch his 8:45 encore performance after one of those earlier shows. After Franny performed at the Hat Stage, Kutless performed at both 8:15pm and 9:30pm, before Newsboys would close there at 11:00pm and 12:15am. And because of the late night closing shows, the park would remain open - with rides still going - until around 1:00am.
NEEDTOBREATHE is a band you don't want to miss live if you're a music fan. Their southern-flavored folk rock style enables these guys to really demonstrate their talents as musicians and performers. They opened their standout NOJ set with the title track from their latest record, The Outsiders, before continuing into their ode to reuniting with a loved one in Heaven someday, "Streets Of Gold." The South Carolina foursome then announced the worshipful radio hit "Signature Of Divine (Yahweh)," before giving it a faux ending and continuing the song further for a sing-a-long with the audience. It served as a great transition into their current single from the new record, "Lay 'Em Down." The guys then moved into a custom intro for "Washed By The Water" that included a chorus of Creedence Clearwater Revival's "Have You Ever Seen The Rain" (which was especially fitting for the soggy Orlando weather!). NEEDTOBREATHE then ended their rousing set with the anthemic sounds of "Let Us Love," which is also the closing track on The Outsiders.
We decided to stay put at the Theater of the Stars Stage for Leeland's 8:00pm performance. Orlando's weather is a bit unpredictable, and this particular weekend called for rain showers on and off throughout, so the enclosed amphitheater was not only a great place to find some of the standout performances on Friday night, but it was also the driest place to watch music from that night. Leeland is a reliable source for worship music with incredible heart and musical integrity, and this performance was no exception. They opened with "The Door," from their brand new album Love Is On The Move, and followed it with "Can't Stop" from their debut Sound Of Melodies. From there, front man Leeland Mooring introduced the next song as one they learned while visiting Africa, and then followed that tune with one of their own, "Yes You Have." To everyone's surprise, after giving some back story on their current single, "Follow You" - which features Brandon Heath on the recording - Heath emerged from back stage to sing the song with Mooring. While I admit the recorded version sounds a bit TOO radio-ready, the teaming of Mooring and Heath for the song live was a nice touch, and it added a different dimension to the song. "Pure Bride" followed, with a hymn, "Hey," and "Count Me In" bringing the set to a close. We took the time following their performance to experience the Rock 'N' Roller Coaster ride at the park for the first time and grab some dinner. And while we ate in close proximity to the amphitheater, we could hear that Leeland changed up their second performance just a bit, adding "Tears Of The Saints" into the mix, as well as "New Creation."
We arrived at the Lights, Motors, Action! Stage just a bit later than we'd hoped to, and we could hear the sweet sounds of P.O.D's "Boom" as we approached the stage. This was probably the most unique stage setup in the park. There were bleachers that were set pretty far back, with a section of water down in front and then standing room for an audience right before the stage. It may be the most roomy and expansive setup, and it was a great setting for the San Diego hard rock band. While there have been rumors that P.O.D. is taking a break, we later overheard one of the emcees telling the NOJ-goers that the band is officially on hiatus with this being one of their few performances this year. It's no secret that I haven't been much of a fan of their material since Southtown and Satellite, so it was definitely the more classic P.O.D. tunes that sounded especially good during this set. Following "Boom," they performed "Addicted" and "Kalifan-Eye-A" from their latest project, When Angels & Serpents Dance, and the songs didn't exactly sound much better live than they did recorded. "Lights Out," from Testify was a nice addition to the set, while "Youth Of The Nation" sent chills down our spines. However, "Without Jah, Nothin'," although also from Satellite, was a strange set inclusion with its frantic punk-styled verses. P.O.D. concluded their set with a string of highlights, building with "Shine With Me," the epic "Southtown," and the unforgettable "Alive." Overall, it was a rocking set and a great time seeing the band live again.
Between sets, we passed by the Main Stage, shocked to see former Newsboys vocalist Peter Furler sharing the stage with the Newsboys and Michael Tait for one of the final songs of the band's first set. The audience was jam-packed and for good reason! Even with Tait, the guys put on a solid show. We took the chance to grab some food between the set times, but ended up missing the very beginning of the Newsboys' second set. We could hear "Wherever We Go" in the distance, along with what was most likely "The Way We Roll" before we arrived in time to catch some of their signature cover of Matt Redman's "Blessed Be Your Name." The pop quartet kept the worship mood alive with their own "He Reigns" from their 2002 record, Thrive. From there, Tait announced a brand new song and performed "Dance" from their most recent release (and Furler's last), In The Hands Of God. It was a track that works perfectly well with Tait at the helm, even though some of the more signature NB's songs don't seem quite right without the Aussie fronting them. On that note, Tait invited Peter Furler out on stage and with a smile from ear to ear, the former lead singer of the Newsboys aided Tait in singing the fan favorite, "Breakfast." For a portion of the song, they paused for Furler to share some of his usual live show banter, but when it came time to introduce the band, Tait insisted that Furler have the honors. It was around this time that they made it known for this to be Peter's final appearance with the Newsboys. It seemed odd for Furler - the former face of the Newsboys - to be a guest at a show that is typically his, and it was a bittersweet moment indeed to see the Aussie perform with them for the last time. The past and present collided and in many ways, Furler's presence reminded fans what they were missing with the Australian singer's absence. Although a great front man, Tait is a completely different flavor for the band, and it was only more obvious having the two side by side (which was fantastic to watch!). Once Peter exited, Tait launched into their cover of "I Am Free," before closing their set. And after a very brief moment off the stage, they returned for one last song, the Newsboys' rendition of Tait's former band's own staple, "Jesus Freak." It was a great set - and an eventful one! With the conclusion of their set also came the conclusion of the evening's festivities as the first installment of Night Of Joy 2009 had come to an end.
Below is some video from Peter's final appearance. (Sorry the audio's crummy! Comes with being right in front of the monitors I suppose)
SATURDAY
Saturday began with the misfortune of the skies opening up for a good portion of the morning. Thankfully, many of the parks' attractions are indoors, so our time at Magic Kingdom for the first half of the day wasn't lost. Once inside the park's gates, we were able to duck into Stitch's Great Escape!™ and then run across the street to Monsters, Inc. Laugh Floor and then grab lunch until the rain stopped. Once the skies cleared up, we were able to hit the park streets and enjoy the rest of the day with only moments of drizzle here and there.
When we returned to Hollywood Studios for the second night of Night Of Joy, we opted for dinner at Pizza Planet (fantastic little personal pizzas, by the way!), and tried out the much-talked-about Toy Story Mania ride (which was a lot of fun!) before hitting up the 8:15pm performance of Flyleaf at the Sorcerer Hat Stage (and therefore missing the 7:15 of Revive and the 7:00 of Grits). This was only my second time ever seeing Flyleaf live, and with their sophomore release just over a month away, I was looking forward to hearing some of the new stuff live. To my surprise, they opened their set on a worshipful and soft moment with a cover of "I Love You Lord," before busting out the rock with "Justice & Mercy." Lacey Mosely didn't waste any time waiting to debut new music, for "Beautiful Bride" soon followed, a track she dedicated to her NOJ audience (the Church). The track sounded great live and fit in well with the fan favorites, with "Fully Alive" following next. After a couple more tracks from their debut, Flyleaf broke into an aggressive rendition of David Crowder*Band's "You Are My Joy," and followed it with their own "All Around Me," a song that Crowder recently covered on his album Church Music. Another surprise was "I'm So Sick" was next (instead of as an encore?), much to the appeal of the fans. The first single from the new record, Memento Mori, entitled "Again" was close behind, along with "Cassie." Lacey took a break to talk to the audience about the band's story and how she had almost committed suicide as a teenager but was rescued by Christ's love. The testimony she shared was a moving one, and it added a realness and an extra down-to-Earth feel to their set. To close, Flyleaf performed the rock ballad "There For You," and mixed in the worship song "How He Loves" as the set's finale.
On our way to brave the Twilight Zone Tower Of Terror™, we popped into the Theater Of The Stars to catch a few moments of Mandisa's encore performance. While we were there, we witnessed part of her song "My Deliverer," which she followed with a testimony about how God delivered her from her insecurities and weight problems. She used her own example to encourage the women of the audience that they're beautiful just the way they are - a message that the mainstream media and Hollywood certainly don't promote.
We arrived back at the Theater Of The Stars just in time for the 10:45pm start of Family Force 5's energetic performance. The boys from Atlanta fully embraced their surroundings, too. Stage manager and owner of some killer dance moves, Xanadu, briefly sported his newly acquired Disney Goofy ears pirate hat, while vocalist Solomon donned a Mickey ears hat for most of the performance. The guys donned their Summer fest purple and gold football garb, with less than a week to go before the launch of their Fall Dance Rawr Dance 3 Tour. Their song list pretty much was what fans heard all Summer too (not that there's anything wrong with that). FF5 opened with "Dance Or Die," continuing with the fan favorite "Kountry Gentlemen," and then the dance anthem "Fever." Following "Drama Queen" (to which Solomon inserted a few Disney references), frontman Solomon "Soul Glow Activatur" Olds broke into the opening line from the Beauty & The Beast theme, "Tale as old as time..." in honor of the stage they were performing on. Soli talked a bit about the band before announcing an old fan favorite, the breakdancing-themed "Numb" (which always ends with Xanadu helping drummer Jacob "Crouton" Olds do a handstand on his drumset). "Party Foul" followed, with the highlight "Supersonic" close behind. Solomon then announced the "often misunderstood" "Put UR Hands Up" before moving into the newer "Radiator" from their sophomore album, Dance Or Die. Solomon then donned the signature Hulk movie gloves (which have been updated) for their standout hit "Love Addict," and brought the rocking energetic show to an end with "Get Your Back Off The Wall" and "Earthquake." Their raucous show was well-received by the Orlando audience, packing the amphitheater to the point where they had to turn people away. Considering their set time overlapped with Skillet's, it was an impressive turnout. Before clearing the stage, the band's bassist Joshua "Fatty" Olds took center stage and offered a prayer over the audience. It was a nice touch to end their set with.
It was then that we had to make the decision of who we were in the mood to see more -- Jars Of Clay or Skillet. Both were about to head out on Fall tours, so we knew we'd probably get to see both soon anyway. But being a longtime listener of both myself, it was more like having to try to pick a favorite child. We realized we could see some of each, but we'd lose set time for both by walking from one stage to the other in the middle of their sets. Considering how it was getting late and our energy was running out, we opted for the pop/rock flavor of Jars Of Clay over the aggressive rock of Skillet (still a tough and bittersweet call to make for us).
Upon hearing the chilling opening piano-led instrumental "The Long Fall," we felt reassured we made the right choice, as Jars Of Clay launched into their second set of the night, an event-closing performance that made for a fitting end to a great weekend of music. "The Long Fall," as it does on the band's latest recording as well, serves as a natural lead-in for "Weapons" and the band had their second set off to an upbeat start. While the guys are known for mixing pop, rock, and ballads into a set (and on any given night can lean the set list in any of those directions), they chose to keep their Night Of Joy midnight set entirely on the upbeat side, opting for exclusively rock and upbeat pop tunes. A personal favorite, the edgy lament "Work," followed with the especially poppy sounds of "Closer" preceding the band's newest single, "Heaven." "I Need You," from their album The Eleventh Hour was next, with their 2008 reworkings of "Love Song For A Savior" and "Flood" close behind. Their set was a strong selection of old and new favorites as they then moved into "Dead Man" and then the dance-y will-be hit "Don't Stop." To close, the guys inevitably pulled out their current radio hit "Two Hands," bringing Night Of Joy 2009 to an appropriate close.
I must admit I was surprised that, although playing back-to-back shows must be exhausting for these artists, the second-set shows we saw never felt like they were performed any lesser than if the band were playing just one set and giving it their all. Newsboys, Jars, and Mandisa all were giving it 100%, and because of it, the double performance format (which I admit I was concerned about how it might work before actually experiencing it) seemed to work out rather well.
Disney's Night Of Joy 2009 was a great first-time experience for us. While NOJ 2010 won't be back at Hollywood Studios, but will return to the Magic Kingdom, it was enough of a fun time for us to be eager to revisit Night Of Joy on the Walt Disney campus once again. Great music, great parks, delicious food, and great company make for a winning combination. Hopefully we'll see you guys in Orlando next September for Night Of Joy 2010!
--
John DiBiase
, 9/17/09
Night Of Joy 2009 Photo Gallery
click on an image for a bigger size
**vertical images cropped for thumbnails**
NEEDTOBREATHE: Friday, Theater Of The Stars Stage
Leeland: Friday, Theater Of The Stars Stage
P.O.D.: Friday, Lights, Motors, Action! Stage
Newsboys: Friday, Sorcerers Hat Stage
Mandisa: Saturday, Theater Of The Stars Stage
Family Force 5: Saturday, Theater Of The Stars Stage
Jars Of Clay: Saturday, Sorcerers Hat Stage
*all photos by
John DiBiase
and are the property of
Jesusfreakhideout.com