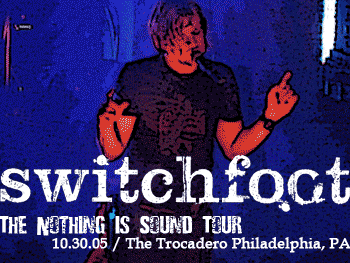 Switchfoot, Eisley, Reeve Oliver
10/30/05, at The Trocadero, Philadelphia, PA
Punctuality is crucial. So when you're aiming to attend a concert that requires at least an hour drive, it'd be ideal to give yourself plenty of time to get there, accounting for any traffic along the way, and to add a buffer as not miss a thing. Well, for our trip to center city Philadelphia, it'd have been in our best interest to hit the road on the earlier side and leave a window of time for finding parking that wouldn't cost an arm, a leg, and then some. But alas, lateness was a result indeed from a cause that can be summed up in one, small, four-letter word... "wife."
But all cheap shots an blame aside... a Sunday night drive to the city isn't really the most convenient time to attend a concert, but when we're talking about Switchfoot's Nothing Is Sound Tour, it's a given that sacrifices need to be made. Following the hassle of trying to find a parking spot on the streets of Philadelphia, and an unsuccessful attempt of getting the JfH Concert Camera™ past security (*waves proverbial fist in the air with frustration*), we found a seat in the balcony of The Trocadero theater for the show.
Not realizing right away that we'd already missed the opening act Reeve Oliver, newcomers Eisley assumed center stage for their alternative rock performance. Having a stage presence that kind of bears a slight BarlowGirl-None-The-Richer vibe, the girls' soft and sweet vocals aided their dreamy and ethereal sound that would have seemed more at home in the confines of a coffee shop rather than a theater-turned- bar. Regardless, their artistic set was a nice compliment to the pop/rock integrity of the evening's headliner and they fit the bill quite well.
I haven't seen a spot of a Switchfoot tour since their run in the Spring of 2003 just after the worldwide release of The Beautiful Letdown. However, I did have the pleasure of catching the band's performance at the past two Creation Fests, but it's still not the same as a smaller, more intimate venue. It still feels somewhat strange to see the band live since they've garnered significant mainstream attention. I can still picture the then-clean-cut, then-threesome playing a short set on the Supertones' Loud And Clear Dance Party tour in 2001. In comparison, they're two entirely different worlds.
Opening with the delectable "Lonely Nation," Switchfoot started the evening off on a rock-driven note, continuing with "Ammunition." Clad in a fitting black tee, frontman Jon Foreman interacted with the crowd often, taking moments to lean or wade into the crowd, and encouraging the fans' sing-a-long participation. In fact, it was obvious the majority of the audience were longtime diehards, as they would collectively sing along loudly to most of the band's songs. This was true especially for the following song, radio hit "Dare You To Move." After the acoustic-driven "More Than Fine," Jon announced that they would try something for the very first time for the audience, giving keyboardist Jerome Fontamallis the spotlight as he initiated a drum loop on his board. It ended abruptly, and after two or three more tries ending in failure each time, the band joked that it would be the first and last time they'd try this and abandoned the idea (never revealing exactly what it was).
Jon broke out a harmonica for a few verses of Bob Dylan's "These Times They Are A Changin'," following it with the worshipful "On Fire." "Easier Than Love," "This Is Your Life," and "Happy Is A Yuppie Word" followed. At one point in the show, Jon mentioned that since they wouldn't be playing a show on Halloween, that they'd celebrate it that night, and he tried to put on a fake mustache, without success, while the rest of the band (minus drummer Chad Butler) were able to get them to stick. Foreman prefaced their next song with a disclaimer, admitting that they hadn't played it in quite some time but wanted to play something old for longtime fans. Upon revealing that the song was "Company Car" from their 1999 release New Way To Be Human, the fans were ecstatic (myself included). The classic song was a highlight of the night, followed appropriately by "Gone," which featured a finale that saw Foreman leaping from the top of Chad's kick drum. "Politicians" followed, inspiring Jon to clarify, mid-song, that it was not an anthem for "anti-government, anti-Bush, or anything anti," declaring that "it's most about the Kingdom of Heaven if anything." Following a brief slowed-down segment that featured "24" and "The Shadow Proves The Sunshine," Switchfoot closed with their runaway hit "Meant To Live."
An encore was inevitable, and the band returned for "Stars," and closed appropriately with "We Are One Tonight." Foreman expressed to the crowd his appreciation for their support and excitement for their enthusiasm. The band really connected with the audience, and it aided their performance.
Switchfoot continues to be a rock band that is not only making great music, but is contributing something substantial to both the Christian and mainstream markets. Those who want to cry "sellout" about the band should not be so quick to cast stones. Switchfoot is merely one of the many talented Christian bands that has finally gotten attention they deserve. And I recommend fans check out this leg of The Nothing Is Sound Tour. As they aim to hit more intimate venues to return to the more personal settings of their humble beginnings, it makes for a great evening of music.
--
John DiBiase
, 11/2/05
Switchfoot Set List
01. Lonely Nation
02. Ammunition
03. Dare You To Move
04. More Than Fine
05. These Times They Are A Changin' / On Fire
06. Easier Than Love
07. This Is Your Life
08. Happy Is A Yuppie Word
09. Company Car
10. Gone
11. Politicians
12. 24
13. The Shadow Proves The Sunshine
14. Meant To Live
Encore:
15. Stars
16. We Are One Tonight

Switchfoot Photo Gallery
click on an image for a bigger size
Switchfoot
*all photos by
Amy DiBiase
and are the property of
Jesusfreakhideout.com