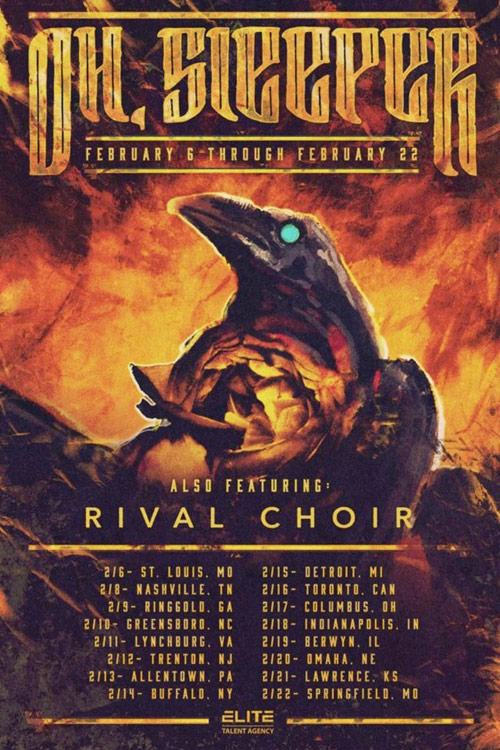 Oh, Sleeper February 2016 Tour
2/21/16, at Jackpot Saloon & Music Hall
Five months ago, I hadn't heard of Queen City Productions. It wasn't until they brought in Norma Jean's O God the Aftermath tour last year that I knew anything about them. In the last few months, Queen City has been busy bringing national talent like Fit For A King, 68, and Silent Planet into the Lawrence and Kansas City, KS area, while simultaneously giving some of the local talent opportunities to shine by opening up the shows. When I heard Oh, Sleeper was coming through town, supporting an upcoming full-length album (their first full album in five years), I knew it was a can't-miss opportunity.
Real quick: one thing about my area is that the local band scene is fairly decently-sized, but it's difficult to find anything good. As such, I really don't care for the local scene. That being said, I didn't make too big of an effort to get to the show when doors opened. But I did get there as a group called Vitalis was attempting to rouse the crowd with some generic hardcore and some light hopping while the guitarists ran the course of their chugging riffs. The factory-produced sound continued on with Her Name Whispers Murder (which sounds like the product of a screamo band name generator) and Stories Through Storms, both of which offered little outside of breakdowns and demands for crowd participation - you know, "I wanna see everybody moving around!" Just play your music. If the crowd is feeling it, they'll respond.
Up next was a band called Ardent, whom I didn't see on the bill originally. I was a little anxious, as I was waiting for the headliners to finally save the evening. The band came up with guitar, bass, and drums, but then they brought not only a keyboard, but a keytar, which raised my interest level. Ardent's lead vocalist started off differently than the previous bands by introducing themselves in a pleasant manner instead of dropping multiple f-bombs and demanding a circle pit. The music was different too; instead of fast, pounding hardcore, Ardent started with a song that blended the sounds of bands like SONS and My Epic, with a little Attalus. It was a little choppy at first, but very enjoyable. Hardcore sounds did make the way into the set here and there, with the keyboard/keytar player grabbing a microphone and relentlessly screaming into it. They were also the first Christian act of the evening, mentioning that their music was for interaction with the fans and with the Creator. They played four songs from their album The Veil, which I picked up on my way out. Not a stellar album, but it's unique and I felt it was something worth supporting.
Finally, the first of two headliners was next. Formerly known as Mouth of the South (a reference to the nickname of Jimmy Hart, a former World Wrestling Federation character), Rival Choir is out to make a name for themselves with their brand new album, I Believe, Help My Unbelief. When the band announced the name change, they also announced that they would be attempting to phase Mouth of the South songs out of the setlist entirely in an effort to move on as a somewhat new band altogether. Such was the case for this set; starting with the album's opener "Poured Out," the five-piece indeed poured out not only their aggressive blend of melodic metalcore, but their heart and soul. Vocalist Josiah Lyle held back nothing about his struggles with his faith, but was also very open about God's love and their mission as a band. They tore through songs like "Reveal, Renew," "Remission," and "Aftermath," giving the crowd an excellent performance, blowing away my already fairly high expectations. If you like the sounds of I Believe, Help My Unbelief, you will love these guys live. This tour is on its last date as of the day I'm writing this, but there will surely be more opportunities, as it's a new album and the guys haven't really given it a full support tour yet.
Since Oh, Sleeper released their final album with Solid State Records five years ago, they've done one crowdfunding campaign, one EP...and that's it. I'm not really too sure of the behind-the-scenes stuff, but the band was pretty inactive there for a while. A huge announcement on Facebook is what tipped me off to not only a brand new full-length album this summer, but also this tour. Having seen Oh, Sleeper a measly one time in 2008, I thought it was about time to give it another go. Oh, Sleeper ranks as one of the best bands to have come through Solid State's gates, so my expectations were ridiculously high for their show on this evening. They crossed the starting line with a song I did not expect - "Reveries of Flight" - but it proved to be a good starting point. And this was just the beginning, as they covered songs from all of their albums; everything from "Vices Like Vipers" to "World Without A Sun" to "Endseekers" to "Naofumi Mitsuhashi," each album was represented, and the crowd was loving it. It's been some time since I've seen a crowd as riled up for a band as this crowd was for Oh, Sleeper; their intensity matched the intensity of the band's performance and overall sound. The band also offered up a new song from their upcoming album Bloodied//Unbowed. "Oxygen" sounds like true Oh, Sleeper, but it didn't really grab me the way I expected. Perhaps hearing it on the album will give me a better appreciation for it, but in all honesty, I was a little let down by it. As an encore, we treated to a song that Micah Kinard said was a very special song to the band, and closed out the evening with Children of Fire's "Hush Yael." A terrific end to a fantastic set.
With a rather short set of dates, I'm really glad one of those dates was here. I'd recommend at least giving Ardent a listen, as I feel like they have a lot of potential to connect with a much wider audience if given the opportunity. Rival Choir and Oh, Sleeper make a great combination for a show, and I'd love to catch these two together again sometime in the future. With new material in 2016 for both artists, I'd expect some heavier touring before the year is up, so take the opportunity if you get it!
--
Scott Fryberger
, 2/22/16
Oh, Sleeper February 2016 Tour Photo Gallery
click on an image for a bigger size
**vertical images cropped for thumbnails**
Ardent
Rival Choir
Oh, Sleeper
*all photos by Scott Fryberger and are the property of the photographer and Jesusfreakhideout.com