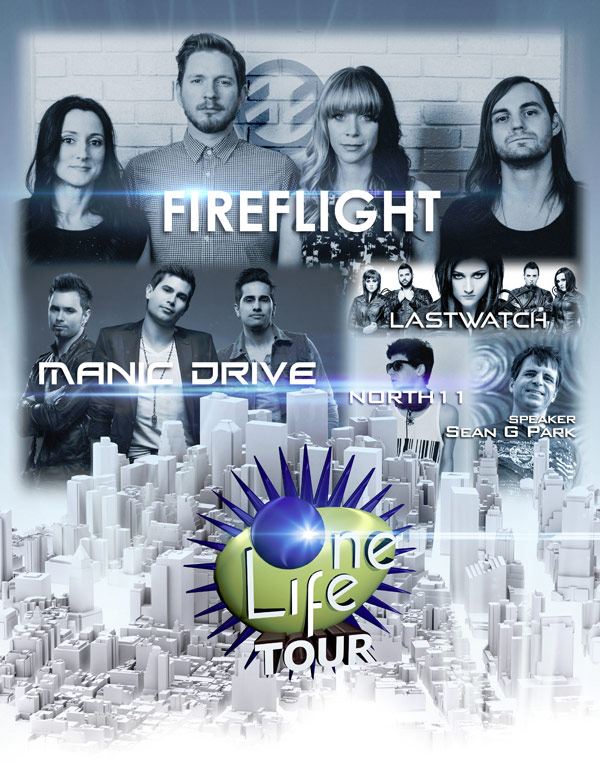 One Life Tour
Fireflight, Manic Drive, North 11, Lastwatch
11/21/14, at The Pavilion in Lewisville, TX
A pavilion is defined as a structure built for a specific purpose. When the Shepherd's House Church, a non-denominational gathering in Lewisville, TX, decided to spare their old storage facility from destruction and designate it for their youth program, it was only fitting to name the structure the Pavilion. That youth center served as the backdrop for the One Life tour, sponsored by JUCE TV and Compassion International. The national tour featured local band Divine Retribution, up-and-comers Lastwatch and North 11 opening for Manic Drive and Fireflight.
The weather the day of the event may have been to blame for the auditorium being little over half full. Texans are notorious for not being able to drive in anything less than perfect weather, and the chilly, overcast and cold night held the promise of rain all evening. All that being said, those who braved the elements were treated to a very up-close and varied show from a wide array of talents. The show opened with a local band, Divine Retribution. They are a fixture at Christian heavy rock and metal shows, bringing an impassioned voice of hope to those wanting a harder edge to their music. They are definitely a family affair, with lead singer Kitty Garces and husband/guitarist Eric Garces making up half the group. Kitty's nephew, Gunther, plays bass and a friend of the family, Alan Schulp, mans the drums. While they only were allotted enough time to play 3 songs, they hit the ground running and never let up, closing with their self-titled song, "Divine Retribution." Eric has some of the fiercest guitar playing I have ever heard, especially on display during this song, and anyone in the DFW area looking for a rock show should keep an eye out for this quartet.
Following them on stage was a group from south Florida, Lastwatch. I did not recognize the name, however, the sound of "Not Yours Anymore" blasted out of the speakers, and all doubt was swept away. Do not be fooled by the apparent youth of the group; musically, they sounded like a band that has been performing for years longer than they have been. The guitars of Jed and Matt flowed perfectly, each having various stand out moments while performing "On My Own," and following with "Guiding my Way." "Way" was a great showcase for their drummer, a very talented young lady by the name of Krislyn. Her passion behind the drum kit was on display for everyone in attendance. A new song, "Let me Sleep" was next; it is not on their current album or on their Spotify station, and it was a very cool gift to the audience who was quickly being won over by the Floridians. Next was their current radio single, "Leave Light On," and they concluded their set with "The Countdown." I realized about halfway through both songs that I was humming along with the music. I found out afterwards that their two singles have been playing on the local Christian Rock station, 89.7 Power FM. Sonically, Lastwatch is very well put together and would be an able touring partner with the likes of Skillet. Ashley is more than capable of holding her own on the microphone, and they were a perfect opener for a headliner like Fireflight. They had been through a very difficult and trying time as part of the One Life tour (a glance through their Facebook page showed a series of problems, from being stranded in the snow in Jersey thanks to a broken RV axle, to a water pump that had to be fed by hand from inside the same RV), but they hit the stage with energy and passion that belied their previous trials getting to Texas.
After a very brief intermission, North11 came up on stage. The best way I could describe this young man's music would be synth-pop. The son of lead speaker for the One Life tour, Zeph Park, is a very talented fellow. He took the stage next to his father, Sean Park, and proceeded to sing, dance, play the guitar and synthesizer through a variety of songs. The drummer from Lastwatch, Krislyn, provided back-up for Zeph and Sean during their set. With a sound reminiscent of Owl City, Zeph gave a bit of happy pep to the crowd that, while a marked contrast to the heavier music that had preceded him, was by no means a distraction. He served as an able segue into the visual and audio spectacle that the next group, Manic Drive, would put on.
During the change up of bands, several clips from JUCE TV played. JUCE is an offshoot of TBN (Trinity Broadcasting Network) and is aimed at teens and young adults, helping to give quality programming and music videos to Christians without having to peddle a lot of the questionable content out there these days. Several clips were flat-out funny, and the crowd was very responsive to finding out more about the online and satellite channel that was co-hosting the concert.
Manic Drive then hit the stage. Coming into a blacked-out auditorium, lit by the soft blue glow of the massive 3-section LED screens backing the entire stage, the Canadian group of brothers Michael and Shawn Cavallo (guitar and lead vocals, respectively) and Anthony Moreino (drums) wasted no time in blasting into some of their newest and popular hits. Anthony truly got the audience into the moment, not only allowing the audience to sing along into the mic, but actually handing it off to several very excited young girls to help sing (in other words, shriek) the chorus to "Money." He kept up the momentum with "Good Times," jumping up on various platforms around the stage and theatrically conducting the crowd in singing along. The festive atmosphere managed to get even more manic, if that could be possible, by turning on 4 "wacky waving inflatable arm-flailing tubemen" spaced in front of the stage. (If you don't know what those are, Google them or see the pics from the show below). They closed out the night with a raucous rendition of "Halo;" the last three songs of their set were helped with the music videos for the songs playing behind the band on the aforementioned LED screens.
After the finals notes of "Halo," Sean Park, the lead speaker and organizer for the One Life Tour came on stage. There was a short video highlighting Compassion International, the other co-sponsor of the tour. After explaining about the mission of the venerable organization, which pairs up needy children from around the world with sponsors, Sean gave a short but impassioned talk on what it means to look like a Christian but not live it. A brief prayer and invitation followed, during which several new commitments to Christ were declared. Following the prayer, Fireflight came out.
Fireflight have been together for over a decade and have multiple Grammy and Dove nominations and awards to back up their talent. That was clearly on display with their opening song, "Stay Close," the lead song from their latest album, Now. There were a few hiccups with not one but two different mics giving out on Dawn (Personally, I think she might have just blasted them apart with her powerful voice, but that's my opinion). However, the following of Fireflight shone through as the crowd sang along with the band during the minute or so it took to get a fresh mic to her. "Desperate" followed, one of their most popular songs, and was followed by "Fire In My Eyes" and "Stand Up." Both songs were from older albums, but judging by the amount of the crowd signing along, age has not tarnished the appeal of the honest and reassuring lyrics behind the music. Dawn read a short passage from Isaiah 43, reminding us to not dwell on the past, but overcome those trials. That verse led into a strong performance of "What I've Overcome." A variety of songs followed, including their newest single, "Resucitate," from their 2015 fan-funded album, INNOVA. A rather epic drum solo from Adam hit, with an EDM background and several drops that would have done Skrillex proud. They closed their set with "Unbreakable," and after the enthusiastic applause, they added an encore trio of songs, including "Wrapped in Your Arms," "All I Need To Be" and ending with "Now." But the evening was not done.
Dawn thanked all of the folks that had come out for the evening, the bands that had traveled with them to make up this tour, and the sponsors that had made the whole thing possible. However, she then told the crowd how much fan support meant to them, especially in light of their latest fan-funded album, and said that they would love the chance to meet and talk with everyone there after the show.
To me, this is where the night became something special. All 5 bands came down to the floor following the show and manned merch booths, shook hands, gave hugs and posed for pictures for anyone and everyone that wanted one. It was not a 5-minute brush off before retreating to their tour buses; I stayed after the last song at least 30 minutes and didn't see a single person turned away. I realize that this is not always possible, and simple logistics can keep a band from personally thanking every fan of 10,000 or more that might come out and fill an arena. However, for those that ventured into that cold Dallas evening, the final stop on this tour was truly something special.
--
Donald Skidmore
, 12/2/14
One Life 2014 Photo Gallery
click on an image for a bigger size
**vertical images cropped for thumbnails**
Divine Retribution
Lastwatch
North11
Manic Drive
Fireflight
Misc Show Photos
*all photos by and are the property of Donald Skidmore and are used by permission for Jesusfreakhideout.com