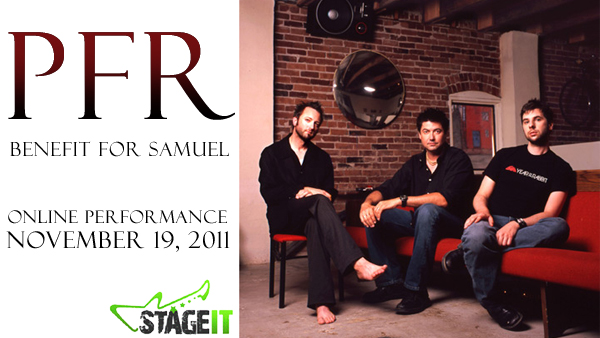 PFR
Benefit For Samuel
11/19/11, at StageIt.com on the World Wide Web
In the mid-90s, I caught my first ever PFR performance on a stormy night in Lancaster, PA. We'd braved some serious fall elements, gotten lost along the way, and with the help of a stranger in the parking lot of the Park City Mall in Lancaster, PA, we were guided to the YFC Building to catch the band's show. The following year, we saw PFR perform once again at the LMHS Fine Arts Center with a brand new band from Illinois, who didn't even have an album out at the time, named Jars of Clay. Two years later, at the height of their career, PFR decided it was time to hang up their instruments and they bowed out with an excellent collection album, entitled The Late Great PFR. In 2001, the guys reunited on Steve Taylor's Squint label and released Disappear, but they soon did just that and were out of the spotlight again. Now ten years later, the trio is starting to play some live shows again, this time with a cause behind the renewed music making, raising money for the ailing child of one of the band members via HelpSamuel.org.
While a live show has been announced and set for November 20 in Arizona, a little-known online set was held the night before by way of an online service called StageIt.com. For only $10.00, fans would be guaranteed at least a 30-minute live set with all of the proceeds going to helping little Samuel. I quickly snagged a ticket on StageIt and later sat down with some family and friends that night in eager anticipation to see these guys in action once again. Once 9pm EST rolled around, the official countdown wrapped up and we were told to wait a little longer while the setup finishes. Unfortunately, due to technical difficulties, the PFR guys couldn't get the feed to work and they scrambled to get in touch with someone at StageIt to fix the matter. Long story short: over an hour of nervous "will they play? / won't they play?" later, we were told to log into a different StageIt chat room and were soon greeted by the faces of the three Minnesotans who were more than ready to deliver some live tunes to us. I'd hooked up my laptop into my TV with an HDMI cable and fed the audio through a little stereo and was ready to hear the live show online. I can't remember ever being so jazzed about an online concert before.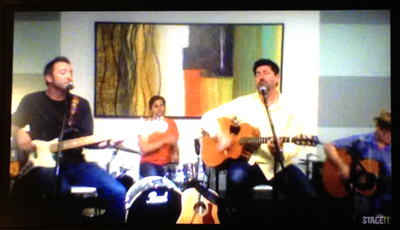 Cell phone screen capture. L to R: Patrick Andrew, Mark Nash (in back), and Joel Hanson
Unfortunately, whether it was my internet connection or the source feed, I found the feed skipping throughout most of their set, but it didn't cause pieces of the audio to go missing, just brief breaks throughout the songs. With a little banter between each song, the guys led off with "Merry Go Round" from their third record, Great Lengths, and then continued on with the title track from the same album. Vocalist Joel Hanson did most of the talking as usual, as well as the singing, and sat with an acoustic guitar, while bassist Patrick Andrew (who is the father of Samuel) used an electric bass and sat beside Hanson on a stool. In the back sat Mark Nash behind a stripped-down drum set, while an additional, unnamed and non-introduced fourth person sat off to the side strumming a second acoustic. StageIt offers a live chat feed from those attending the show, and Hanson frequently consulted someone off camera (who we also could not hear) who told them what was going on in the chat, as well as what songs were being requested. As Hanson performed "Anything" next, he only forgot just a word or two in one verse, while Patrick forgot a few more during the next song "Satisfied," which he provided lead vocals for. Their sound seemed to strengthen as the night progressed, despite the occasional missed or messed up lines, which were too minor to be too big a deal. It's obvious these guys don't play these songs every day, but while some lyrics may not escape unscathed, they performed the music quite masterfully.
After "Satisfied," they stuck to the songs from their second album, Goldie's Last Day, and offered up "That Kind of Love." Joel then checked on their remaining performance time, and assuming their feed would run out before they could choose to do an "encore," he decided to run out the last two minutes with a few on-the-spot improvisations, starting with Kermit the Frog's "Rainbow Connection," and then a very quick leap into the chorus of "Fight" from their 1996 album, Them. It was impressive how quickly after Hanson acknowledged the request for "Fight" that all three just clicked into playing the song as if it were mere second nature. After that little tease of such a fantastic song, they revisited their debut album with the title track "Pray For Rain" before jumping ahead to 1997 for the bonus song that was exclusive to The Late Great PFR, "Forever" (which I had hoped they'd play and was very thrilled they did!). Hanson then noticed they only had just enough time for two more songs before StageIt would pull the plug on their feed and the guys performed "Wonder Why" from Great Lengths before not skipping a beat and jumping right into "Last Breath" to get the song in before running out of time. Just as the guys decided to get up and walk to the camera so fans could get a closer look at them, the feed cut off and that was it. The guys then took a moment to say farewell over the chat program, announced that another StageIt show was coming in January, along with a performance in Minnesota, and said goodnight.
PFR is one of the all-time highlights of Christian pop rock music history. Members from BarlowGirl and Silverline, as well as a gathering on Sanctus Real's bus, all tuned in to this special show. I have a feeling there would have been an even greater response had this show been promoted more heavily. This is a group still worth listening to almost twenty years since their first record release and one worth paying tribute to. If you hear of any live shows from these guys sometime next year, definitely don't miss it. And stay tuned for that January StageIt.com performance. It's well worth logging on to enjoy some quality, raw live pop music. These guys have truly been missed!
--
John DiBiase
, 11/20/11
PFR StageIt.com Set List

01. Merry Go Round
02. Great Lengths
03. Anything
04. Satisfied
05. That Kind of Love
06. Rainbow Connection / Fight (Chorus)
07. Pray For Rain
08. Forever
09. Wonder Why
10. Last Breath

*live photo by John DiBiase and are the property of Jesusfreakhideout.com