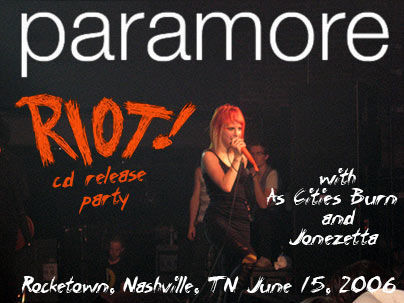 Paramore Riot! CD Release Party
6/15/07, at Rocketown, Nashville, TN
Nashville is the music capital of the nation. So, many popular bands have come out of the town, and for me, this was my first time venturing down. I was able to meet up with fellow JFH staff member Josh Taylor for Paramore's Riot! CD release party at Rocketown, near downtown Nashville. We'll be splitting the review for the most part, getting different views of the entire show. Josh and I watched Jonezetta together, and enjoyed their set for the most part.
Justin: Jonezetta started the show, with their rocking intro to their debut, "Welcome Home," and led right into "The Love That Carries Me." The band played a good mix of songs from their debut, Popularity, including the anthemic "Backstabber" and the album's closer, "Imagination." Lead singer Robert Chisolm barely stopped long enough to take a breath between songs, flowing their 7 song set into a quick half hour.
Josh: Jonezetta had just played in Nashville at the beginning of April, but it was a great set, so it was nice to see them again. A lot of times they seem right on, and other times, their live show seems to lack the excitement of the CD. Still, it's always a high energy experience, and I'd be foolish to forget that it was their show at Cornerstone '06 that got me into them.
Justin: After Jonezetta quickly left the stage, the set was being changed to get ready for some mayhem with As Cities Burn. As Josh is a much bigger fan than I am, I will allow him to rant and rave about them here.
Josh: This sounded like heresy to Justin, but a lot of us were at the Paramore CD release show for one reason: As Cities Burn. I hadn't seen them live in just under a year, at Cornerstone '06. Since then, their line up has changed a bit, most noticeably with the departure of T.J. Bonette on lead vocals. We were all very curious to see how things held up with the loss of such a crucial member. They started their set with "Love Jealous One, Love," containing their signature intro line, "This is me at my darkest," which we all screamed with much fervor. With complete respect for T.J., it really only took moments after their set had begun to realize that his brother Cody had made the transition between vocalists seamless. Next, they moved into "Terrible! How Terrible for the Great City!" It was just like old times. T.J.'s absence is felt, but the band lives on. They then announced that they'd be playing a couple of new ones, which ended up being the two tracks they have posted on MySpace from the new record, Come Now Sleep. "The Hoard" and "This Is It, This Is It" both sounded excellent, and the level of dedication from the audience was apparent. I was most definitely not the only one who had visited their MySpace every day and listened to the new tracks, learning every word. They then moved back into Son, I Loved You at Your Darkest material, playing "Bloodsucker Pt. II," much to the audience's approval. We all screamed "Are you the man now?" like we meant it, and all gathered for the band were having an absolutely amazing time, when… They finished the track, and announced the next song would be there last. We all kind of looked around at each other in disbelief. Six songs? Jonezetta had gotten seven! None of us were very thrilled, prompting some of us to chant "One more song" after their set abruptly ended, but to no avail. Still, they finished with "Of Want and Misery: The Nothing That Kills" which they played to perfection. I cannot stress enough how seamless the transition seems to have been since T.J. left the band, and it glowed on their final song of the night. It was good to see As Cities Burn again, and the promise that they would return again in August made the night even better. A six song set was kind of ridiculous for a band with the fan base of As Cities Burn. Of course, this was Paramore's night. Still, without sounding like a crazed fan, let's show a little respect!
Justin: After As Cities Burn's set quickly ended, much to the dismay of fans in the crowd, there was a rather long half-hour set change as Paramore got ready to take the stage. As the lights went all the way down, signaling the band to come, some Mexican music began to play, an obvious joke the band likes to mess around with every show. Then the crowd went crazy for the band they had been waiting for. Paramore came out, plowing right into the intro of Riot!, "For A Pessimist, I'm Pretty Optimistic." The last tour that the band headlined with The Almost and labelmates This Providence saw the introduction of this song and two others from the new album, and Paramore asked each crowd to videotape the song and put it on YouTube so that by the end of the tour everyone would know it. Well, they got their wish, and the entire crowd sang every word. Only stopping long enough to address the crowd and let them know they were in for a great show, lead singer Hayley Williams started one of their biggest hits, "Emergency." After hearing everyone still singing every word, she slowed things down, enough to say that it was time to dance, and the crowd should join in. "Here We Go Again" followed, and without missing a beat, led right into their smash hit from Riot!, "Misery Business." After the single finished, the band continued the momentum through a slew of new and old songs, and it pleased the fans present. It was great to see the band keep many of the songs on the set from their debut, including the worshipful "Brighter," and the new hit "Hallelujah." As the band began to wind down to the last few songs, they never slowed, continuously asking the crowd to give more and more, during "Whoa" and the fan-favorite, "Born For This." After that, Hayley stopped the show to say that they had some bad news. This bad news was that they only had one more song. A few of the new songs played were ones they hadn't ever played live before tonight's show, and she said she expected everyone in the crowd to sing with her to help out. The guitar riff started the beginning of "Let The Flames Begin," and with that, the band simply left the stage, convincing everyone that there would definitely be an encore.
Sure enough, the band returned quickly, first just Hayley and Josh, a simple one guitar set. The song choice, of course, was a song about their fans, and being home. "Franklin," from All We Know Is Falling, followed a short thank you to the fans for sticking by them. Something broke in Hayley's earpiece, so she asked the crowd to help her sing the song, which they definitely excelled at doing. She was amazed at how well everyone knew it, and after the intimate song, the band offered through their final and biggest hit, "Pressure." "God Bless you Nashville" was addressed to the crowd, and Paramore left the stage.
Overall, this was a great CD release show, particularly for the fans in Nashville, where both Paramore and As Cities Burn began their musical careers. Paramore is definitely a band that needs to be seen live to get the full experience, because they sure put on a rocking show.
--
Justin Mabee
and
Josh Taylor
, 6/19/07
Paramore Riot! CD Release Photo Gallery
click on an image for a bigger size
Jonezetta
As Cities Burn
Paramore
*all photos by
Justin Mabee
and are the property of
Jesusfreakhideout.com