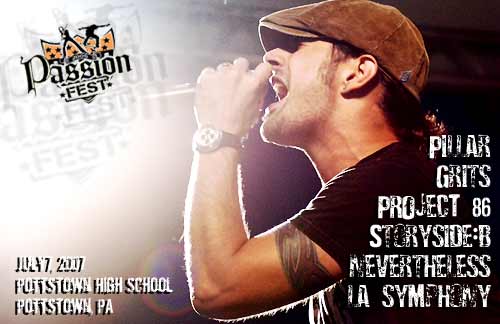 Passion Fest 2007
7/7/07, at Pottstown High School in Pottstown, PA
Passion Fest was a real treat for me last year. With the cancellation (sorry, "postponement") of Creation East, Passion Fest became a nice little day event for the summer. Given that it's only a one day fling, you don't have to worry about hotel accomodations if you're local, you can sleep in your own bed that night (and the night before!), and you're not in the middle of nowhere -- stores and restaurants are just a minute or two away. Passion Fest 2007 was held in the same location as last year, on the field outside of Pottstown High School. The big difference with the 2007 Passion Fest, however, is the setup outside the school had been drastically changed. Last year, all of the games and vendors were off to the side of the stage and the school, away from view of the stage's events. However, the stage then was able to utilize more of the space on the field, and allowed for more space for the audience to spread out in. Also, the sound tower was further back, making it easier for the sound techs to adjust the setup better. But last year's setup may have proved to be too spread out for a smaller establishment, and placing the stage on the other side of the school where the fest's games and vendors could be in plain view of the on-stage happenings pulled the events of the stage closer together.
Passion Fest is a free event targeted at families, believers, and non alike. The free admission is intended to bring more people who wouldn't necessarily attend a Christian event, in hopes to serve as an outreach. But if you go to the event, without interest in any of the bands, there's still plenty to do for a few hours. An entire section is devoted to games for children and families, while vendors provide fresh foods and Christian merchandise for anyone interested in a nibble, or to learn more about a local radio station or upcoming festival (like NJ's Revelation Generation). In addition still, is a skate park where kids can bring their skateboards and bikes, or watch Stephen Baldwin's Livin' It team perform on the ramps.
Of course, our greatest interest is in the live music. Serving as emcee once again was Lindz West, formerly of the UK's World Wide Message Tribe, who does an average job as show announcer and time filler, but in all honesty, another choice may work better. In fact, maybe even having an artist who's playing that day to serve as the emcee would work nicely (John Reuben comes to mind as someone who has done this before successfully). Lindz even played some of his own music during a break after the speaker around 6pm, and as he sang and danced to a backup accompaniment CD, it constantly ran into technical problems that sent the artist looking for ways to ease the tension and embarrassment caused by the mishaps.
Emcee misadventures aside, Los Angeles rap group LA Symphony kicked off the festivities on the music stage at 3pm. LAS performed their set with passion and professionalism, but I've never followed the band, so rap connoisseur Justin Mabee will now present his thoughts on the hip hop outfit...
Arriving as soon as LA Symphony began their set, I missed the first song they did, but it seemed that most of the crowd did as well. There were barely 40 people at the front of the stage for this rap group, and the guys were doing everything they could to get the crowd pumped for the day. They did a mix of songs from both of their full-length albums, including ones that made Gotee's Hip Hope compliations. Songs like "Here To Party" and a slower version of "Gonna Be Alright" were highlights of the group's short act, yet it seemed many people in the crowd were there for the rest of the bands coming later.
Tennessee rock band Nevertheless was next. With their brand of indie rock, these guys know how to put on a good set. Surviving some technical issues, they played right through any scrapes to not let it hinder their performance. I'll let Mr. Mabee share a bit on their set as well...
Shortly after LA Symphony finished their short-lived hip-hop set, rock group Nevertheless opened with the title track from their debut, Live Like We're Alive. After quickly addressing the crowd, and mentioning that they would be at their merch table right after the show to meet everyone, lead singer Josh Pearson announced the song, "Patience and Devotion." The rock band proceeded to keep the entire crowd in check for most of their set, which included songs like "Losing Innocence," the soft and worshipful "Lover," the infectious "Time," and their album single, "The Real." The band then announced one last song, a brand new one. Afterwards, the band quickly left the stage with their short set feeling like it had been cut off. The crowd obviously wanted more, but due to the day's schedule of events, it just wasn't possible.
StorySide:B followed, performing a solid pop/rock show. I'd seen them live only once before during GMA Week in Nashville, and I wasn't all that captivated. I had also found their debut record a bit underwhelming, but their sophomore release seemed to be a lot more on track, and it's beginning to look like this band is finding a place in music for themselves. This was also evident with their live show. And although they may dress a little more aggressively than their music reveals them to be, they put on a great show. Unfortunately, it was at this point in the day that I noticed the sound at the stage was considerably off. At one point during SSB's set, I walked around at the back of the audience, near the games in the back, and could hear that Lu Rubino's lead vocals were mixed drastically higher than the rest of the music. It wasn't as noticeable from the front of the stage, but the music didn't carry so far too well.
At around 5:45pm, Andrew Palau stepped up to deliver a salvation message for the people of Passion Fest. Most of the audience seemed to dissipate once the music stopped. Palau's message was on target, but he didn't have the stage presence to effectively sieze (or attract) the audience. Following Palau, there was a short break as Project 86 had arrived and begun soundcheck. Lindz West soon returned to the stage for his own time-killing slot, with the aforementioned technical hazards included. At shortly before 7pm, Orange County hard rock act Project 86 came out to perform their vicious set. I have to admit, as much as I love the band and their live show (definitely a favorite of mine), they seemed out of place on a stage at an event like Passion Fest. With a pop band like StorySide:B before them, and a rap group like Grits after them, the day's music choices were certainly diverse enough, but it just made Project's presence all that more jarring for those unfamiliar with their music or live performances. Regardless, the guys delivered, opening with "The Spy Hunter" and proceeding to relentlessly rock their audience. One thing I always appreciate about a Project 86 concert is the band never adheres to a specific setlist. Despite being one of my favorite bands of all time, Audio Adrenaline is the perfect example of a band that would find a certain list of songs that works and never stray from it. So if you saw them live a few times in one year, you're likely to hear the same songs each time. Not so with Project. They performed "The Hand, The Furnace, The Straight Face" next, along with one of my new favorites, the ferocious yet catchy "The Forces Of Radio Have Dropped A Viper Into The Rhythm Section," along with another highlight, "Put Your Lips To The TV." As part of their impromptu encore at Creation East a week earlier, the guys performed "Hollow Again" from their third album, Truthless Heroes. Surprisingly, that song made it into the planned setlist this time next, with their latest single "Evil (A Chorus Of Resistance)" following. "My Will Be A Dead Man" preceded a new track I'd yet to hear live this year, "Illuminate," which was followed by "Another Boredom Movement." To close their intense rock set, the band resurrected the standout, lead-off track from their career-defining album Drawing Black Lines, "Stein's Theme," and left the stage.
As mentioned earlier, popular rap group Grits followed the California rock band, and here's Justin Mabee one last time for his commentary on the hip hop duo...
After an amazing performance from Project 86, Grits began with an older song, "Tennessee Bwoys" from their little known remix album, The Art of Transformation. Most of the songs the group does from The Art of Translation don't sound like the originals anymore, but more so the remixes. The new take on the tunes, like "Make Room" and "Ooh Ahh" all work live, but sometimes they lose much of their original appeal. "Ooh Ahh" has been turned into a complete party song when done live by Bonafide and Coffee, yet when it first came out, it was proved to be a turning point for the group. The song seems to have lost its original appeal and luster. While songs like "Bobbin' Bouncin," the hook-driven "High," and the new hit "Open Bar" all fit in with their stage presence, it would be nice to see the duo bring back some of the older tracks from their first couple albums, as a dedication to fans who have been with them since the beginning. After a little prodding, DJ Manuel, who has toured with John Reuben and KJ-52, got his chance to shine and prove some of his skills, before the two rappers dove into their last few songs, "Tight Wit These," from their newest album and rap/rock hybrid "We Don't Play." After a short 'Who wants a free t-shirt' crowd pleaser, the duo ended with their mainstream hit, "Here We Go." It was odd to see Project 86 play and then Grits, and have Pillar end out the day. The structure of the sets seemed a bit skewed, but made for an enjoyable time for all.
Pillar was the final act for the night. With the sun finally down completely, the majority of the festival attendees were now gathered at the stage for the finale. The band opened with "Underneath It All," and soon broke into "Bring Me Down," and the equally catchy "Hypnotized." Pillar definitely has more of a commercial appeal as a rock band than an edgier act like Project 86, and delivered a set that seemed to be well-received by the Passion Fest crowd. "Awake" and "Simply" followed, along with "Yesterday," the more melodic "Wherever The Wind Blows," and the aggressive "Tragedy." Following the anthemic "Aftershock," they revealed one of their more recent hits "Everything," from their latest album, The Reckoning, and closed their set with "Frontline" and "Fireproof." Once the band's set had concluded, the fest seemed to be abruptly finished. And a second annual fun, music-filled day had come to an end.
Passion Fest may be a young festival, but it offers a lot to anyone who wants to get outside for a day of fellowship with fellow believers, diverse selection of live music, and even games with their family. If you're a little intimidated by the massive ordeal that something like Creation Festival entails, Passion Fest is a wonderful alternative (or addition) to the bigger events. Hopefully we can expect Passion Fest to continue, as I hope for it to become a regular part of my own summers for years to come.
-- written by
John DiBiase
, 7/17/07; portions by
Justin Mabee
where noted.
Passion Fest 2007 Photo Gallery
click on an image for a bigger size
Passion Fest 2007 [Random Photos]
LA Symphony - 3:00pm
Nevertheless - 4:00pm
StorySide:B - 5:00pm
Andrew Palau - 5:45pm
LZ7
Project 86 - 7:00pm
Grits - 8:00pm
Pillar - 9:00pm
*all photos by
John DiBiase
and are the property of
Jesusfreakhideout.com