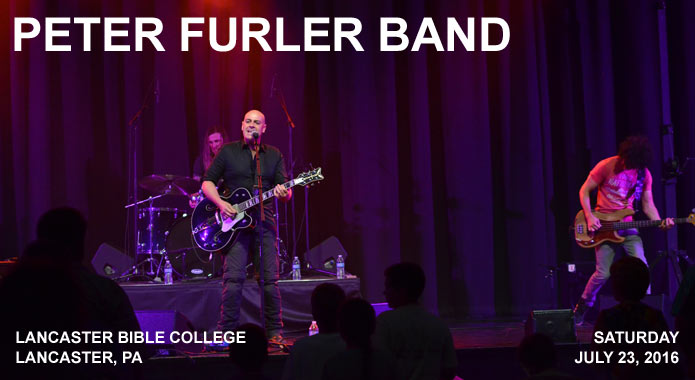 Peter Furler Band
7/23/16, at Lancaster Bible College in Lancaster, PA
It's hard to believe that it's been over seven years since Peter Furler stepped down from the microphone as the front man for Newsboys, handing the reins over to DC Talk's Michael Tait. So, while many current day CCM music fans may only know Tait as the lead vocalist for Newsboys, longtime listeners know Furler as the foremost Newsboy. After his departure from the band, Peter took some time off, before longtime collaborator Steve Taylor encouraged him to record some new songs he'd written as a solo artist.
For some time now, Furler has been making festival appearances, and doing some one-off dates, as Peter Furler Band. While his bandmates have rotated a bit, the current lineup includes Superchick guitarist Dave Ghazarian (also known as solo artist David Ian) and former Bleach/Audio Adrenaline drummer, Jared Byers. Old school Newsboys fans might be used to the big live show production of Furler's former band, but Peter's solo venture is far more down-to-earth and intimate.
On a warm July evening, the trio performed a set at Lancaster Bible College for an auditorium of fans. They gathered in the college's chapel, which allowed for the littler kids to even sit (or dance) down in front of the band. Peter was candid as he often talked between songs--either about the songs themselves or just chatting with a few fans in the front. He shared a few stories about being on the road or writing popular Newsboys songs, keeping it way more personal than any Newsboys show I'd ever seen over the past twenty-one years.
Peter's set was a generous mix of beloved Newsboys classics and his newer solo material. He opened with Newsboys' "Something Beautiful," from their album Go, before continuing with "Million Pieces (Kissin' Your Cares Goodbye)," from Thrive. It's definitely different to hear these songs without a full band and synths/keys driving them, but it's great to hear them in a different form. Following "Million Pieces," Pete talked a little about old school Newsboys songs and then performed one of their breakout hits, "Not Ashamed." Then his first solo song followed, "Sun and Shield," the title track from his second solo album. Peter then paused to candidly talk about writing the next song, and offered up a reggae reimagining of "Shine" (to compensate for the lack of keyboards), before playing another solo song in "So High," and then a cover of The Police's "Spirits In The Material World." "All In Your Head," from his first solo album, On Fire, was next, followed by "Dare I Say." Furler then took a moment to reflect on the Biblical story of Lazarus before performing the ballad "It's Alright." Furler then spoke a bit about Jesus' sacrifice for us and offered up a cover of "Everybody Hurts" which then blended into Leonard Cohen's "Hallelujah." Peter's first single as a solo artist, "Reach," then preceded what he dubbed his favorite song he's written (and my personal favorite Newsboys song), "Lost The Plot." A string of worship songs--covers from Newsboys records as well as Newsboys originals--flowed next, including "You Are My King (Amazing Love)," "It Is You," "Blessed Be Your Name" and "He Reigns" (and he threw in a chorus of "Breakfast" into the mix to appease the fans asking for it). The Peter Furler Band wrapped their extensive set (after reminiscing about Creation '89) with "I Am Free" on an energetic, worshipful note.
Any Newsboys fan who misses the days of the Aussie-fronted vocals can get a taste of it again when seeing Peter Furler Band perform live. It's more of an indie band presentation than the glitz and glam of a Newsboys show, but Furler has still got it as a vocalist and performer, and a Peter Furler Band show should not be passed up. Visit PeterFurler.com for the latest on their tour dates and performances.
--
John DiBiase
, 8/10/16
Peter Furler Band Set List
Something Beautiful
Million Pieces (Kissin' Your Cares Goodbye)
Not ashamed
Sun and Shield
Shine
So High
Spirits In The Material World (Cover)
All in Your Head
Dare I Say
It's Alright
Everybody Hurts / Hallelujah (Covers)
Reach
Lost the Plot
You Are My King (Amazing Love)
It Is You
Blessed Be Your Name
Breakfast (Chorus)
He Reigns
I Am Free
Peter Furler Band Live 2016 Photo Gallery
click on an image for a bigger size
**vertical images cropped for thumbnails**
Peter Furler Band
*all photos by John DiBiase and are the property of the photographer and Jesusfreakhideout.com