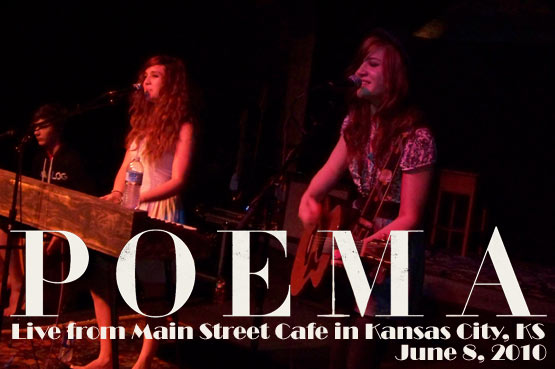 Poema
6/8/10, at Main Street Cafe in Kansas City, KS
Though Kansas City's Main Street Cafe mostly sees independent artists come through their doors and play on their stage, every once in a while you can catch a bigger name band taking the spotlight. On June 8, 2010, amongst a slew of unsigned bands, Tooth & Nail newcomers Poema played the venue for their first time to a moderately-sized crowd. Though they were the only label band playing that evening, they weren't the headliners. The night's line up was slightly odd, but there was a bit of talent throughout the night, regardless.
Five bands played that evening, and of those five, Poema was billed second. First up was a group of young musicians (if I had to make an estimate on the average age, I'd say eighteen) called The Author & the Illustrator (formery known as Exit the Author, and when I say formerly, I mean they changed it like the day before). They experimented with their sound a little, sounding a little like Paulson here and there but also changing it up with a little straight rock too, though they never got real heavy. The band that played after Poema was one called Windsor Drive, who was actually the band listed on the concert flyer as the main band "with special guests Poema." I found out that, despite their independent status, Windsor Drive had actually gone through Tooth & Nail to set up the tour. They were a piano/pop rock quartet whose music would be appreciated by fans of Remedy Drive or U2. They played a short set, and were followed by an indie-style band called Holy Mountain and the night was concluded with a worship group known as The Renewal, who was giving out free CD-R copies of an EP they created. They were mostly just standard, but they had good hearts and the worship was pretty good.
While Poema was not the headlining act - contrary to what I had thought - they were the group I was there to see that particular evening. I'm usually a little hesitant about seeing new bands, not knowing much about them and only hearing a short selection of songs, but I got a small taste of who Poema was as people before their set even officially began. Little did I know, my girlfriend talked to the sisters of the band beforehand and got them to sing "Happy Birthday" to me from the stage. It was embarrassing, but it was great to see that they were real people, not just singers in a band. Their setup was of a more acoustic nature than what you get on their debut EP Sing It Now. They had a box instead of drums, a keyboard, an acoustic guitar and an acoustic bass. They played five songs from Sing It Now, starting with "Feel The Same Way." "Echo Off The Sky" and "City Boy" came next, with some friendly chatter and joking between songs. The sound was clean and they proved to be a good live band. They announced that they have a new music video for their current single "2 AM," which they then played. Keyboardist Shealeen told a joke about a nervous Na'vi before playing "Blue Sweater" (think about it, movie fans), and finished their set with a song called "Love of My Life," which guitarist Elle said was one of the first songs they wrote. Poema's set was rather short, but it was the definite highlight of the night.
Poema is a good band to see live if you enjoy having your heart smile. "Blue Sweater" (do you get the joke yet?) can be a little emotional, but overall, their upbeat, catchy melodies and lyrics full of love and innocence make any in the audience leave with a smile on their face. Keep an eye out for them to come to your town, and pick up their EP as you leave.
--
Scott Fryberger
, 6/12/10
Poema Set List
01. Feel The Same Way
02. Echo Off The Sky
03. City Boy
04. 2 AM
05. Blue Sweater
06. Love of My Life
Poema - Live June 8, 2010 Photo Gallery
click on an image for a bigger size
**vertical images cropped for thumbnails**
Poema:
*all photos by
Scott Fryberger
and are the property of
Jesusfreakhideout.com