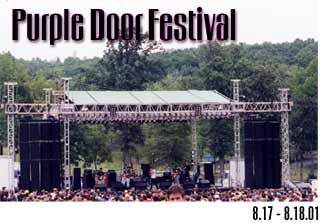 P.O.D., Five Iron Frenzy, Relient K, Poor Old Lu, Project 86, & more
8/18/01, Purple Door 2001 at Ski Roundtop, PA
I must admit I didn't enjoy myself last year at Purple Door Festival 2000. It had been the first time being at a different location other than Lancaster, PA's Lancaster Menonite High School location. It was located on a farm (I think) in Lebanon, PA, with bascially nothing to do if you weren't watching a show. We found ourselves bored quite often. And what is in Lebanon to do?
2001 fixed the problem as best possible (without returning to LMHS) by relocating to the boonies of Ski Rountop Resort in Lewisberry, PA. Now, I had never been to Purple Door when it was at the high school, but I had been to the high school on many a concert trip in the mid-90's. Great place for concerts. I had heard that PD was at it's best there. Ski Roundtop was infinitely better than Lebanon, though.
Starting last year, PD Fest extended its Saturday all-day performances to include a Friday evening set as well. This continued on this year featuring Pax 217, Justin McRoberts, Joy Electric, John poor, and former Supertones drummer Jason Carson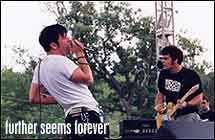 as the evening speaker. Project 86 was scheduled to headline the evening but due to bus trouble couldn't make it till the following day. Pax filled their time slot. Since we had to travel 2 plus hours to Ski Roundtop, we ruled out going Friday night and planned to head up Saturday to spend some time at the festival.
When we arrived, at around 1:30pm, Further Seems Forever had just begun their set. As we walked in to register with press, they were performing the title track from their debut album, The Moon is Down. The band featured their new lead singer who replaced former singer Chris Carrabba, who left to join Dashboard Confessional. The replacement singer did such a good job filling Chris' shoes that we were later told by witnesses of the show that fans had been chanting Chris' name during the show, thinking he was still doing lead vocals.
We walked around after checking in and passed by the performances of Squad 5-0 and the bizarre sounds of Brother Danielson. In checking out the festival, it was pretty cool to see the wide variety of food vendors and sports for anyone to participate in. There was a skateboarding area (complete with accident-prone ramps), volleyball nets, etc. Also, it was quite enlightening to be introduced to my very first... "fried Oreo" cookie. Quite interesting. For $.50 you get an Oreo cookie coated in funnel cake-like batter fried to [bizarre] perfection.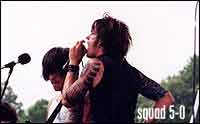 At 2:35pm, the recently reunited Poor Old Lu graced main stage. They opened with "Bliss Is" to a sadly small crowd. Each member had moved on in their lives and done other things and now have rejoined for a new album and some live performances. Several members looked like they definitely have been out of the game for some time. Lead singer Scott Hunter had become a youth pastor following Poor Old Lu's break up in 1996. Today he appeared as a clean cut adult being given the rock star status again. He didn't seem to fit, but who cares?! Poor Old Lu is back! Although they claim they're not officially reunited, it was a real treat to finally get to see them live. Their show was filled with witty quips, jokes, and light-hearted humor that kept the crowd's attention and presented the guys as down to earth everyday great guys. Scott shared some things on his heart here and there during the set, and made it clear what the band's message was. God was evident here. Other songs featured in their set were "Receive," "All Pretty for the TV," "For the Love of this Country," "Ring True" (which featured guitarist Aaron Sprinkle on vocals), "Sickly," "World Falls Down," and my personal favorite, "Chance for Chancers."
Following Poor Old Lu's set, we wandered around the festival. We didn't particularly desire to see any other artists until Project 86's set at the HM Stage at 5pm. During the waiting time before their set, we caught a song of Aaron Sprinkle's solo set at the Gallery Stage. But at 5, we secured ourselves a standing spot on the outter rim of the mosh pit (think "expensive camera") for Project's set. Although it must have been a pain and disappointment for a lot of people for Project's show to be delayed from Friday night to Saturday, we were loving it. Couldn't have made the day any better (for Purple Door) than to have Project and P.O.D. in the same day. P86 opened with "Me Against Me," an aggressive tune, like most all of theirs, about the war we wage with ourselves -- our spirit vs. our flesh. The band followed with "One Armed Man (Play On)"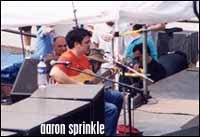 (featuring lead singer Andrew Schwab's emotion-filled voice screaming "They need something real," sending chills down my spine), "Chapter 2," and "Sad Machines." The band had the crowd pumped with the pit action being high with sweat-flinging. The band featured two new songs, one untitled, another called "Spy Hunter" which were good but nothing really extraordinary (like tracks from Drawing Black Lines). At one point, security pulled what appeared to be a fainted girl from the crowd and placed her on a small car to take her to first aid. The appalling thing was that happened not before a cameraman and soundman came over and literally got in her face. I couldn't believe the gall of the pair as this girl is trying to recover, having a boom mic right in her face. Is this news? Is this necessary? Is this not a Christian festival? It made me wonder. Although it put a damper on my enjoyment of P86's show, that didn't discount how excellent their performance indeed was.
After their set, we headed to main stage where we hung out awaiting Relient K's fun-filled set to begin. Even if it's not necessarily your style (like a lot of their earlier songs aren't for me), you have to appreciate their showmanship and ability to entertain musically and comically (which is often deliveread musically). They opened with "Charles In Charge," their ode to the 80s television show, followed bye "When You're Around," "Wake Up Call," and the new hit "Pressing On." Relient has an uncanny way of being able to rile up the crowd seemingly just because they're there. They sang their tribute to their friends and fans who bless them with gifts of Skittles and Combos, appropriately titled "Skittles and Combos." Hit song "My Girlfriend" was followed by secular cover song "Straight Up," which lead singer Matt Thiessen dedicated to all the girls, urging them not to mess with guys heads and hearts so much. The covers continued with "We Built this City on Rock and Roll" before resuming their originals with "Staples," new song "Down in Flames," new hit-to-be "Sadie's Hawkin's Dance," and closing with "Hello McFly" and a few lines of Mc Hammer's "Can't Touch This."
Speaker TJ Foltz seized main stage at around 7:30pm, delivering a pretty good message specifically aimed at the nonChristians in the audience. He invited those who were unsaved to accept Christ and he gave an altar call with Justin McRoberts and his acoustic aiding musically singing "Forgive Me" as people approached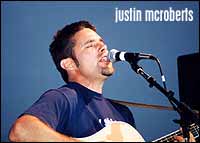 the front. Once TJ left the stage, Justin (sporting his "My shirt says 'Abercrombie.' Will you go out with me now?" custom-made tee) lead the crowd in a short worship session singing such songs as "I'll Honor You" and "Open the Eyes of My Heart."
At approximately 8:40pm, Five Iron Frenzy brought a whole lotta fun to the evening with their hyper set. The ska band danced about the stage and played such favorites as "Blue Comb 78," "Phantom Mullet," the 'oldy but moldy' (according to lead singer Reese Roper) "A Flowery Song," and Dandelions. Reese announced a new song to the crowd from their new forthcoming fall album, as being a slow song for the moms, sarcastically adding, "I hope you hate it!" The fast-paced rock tune "You Can't Handle This" was more along the lines, musically, as their latest stuff on last year's All the Hype That Money Can Buy. Following the song, Reese felt the need to explain why he was sporting a jersey for the Green Bay Packers. He announced that he lost a bet over a football video game match and had to wear it. He said that in the game, the Packers beat the Broncos, which he insisted could never happen. "451," "A New Hope," and the worship-centered songs "World Without End" and "Every New Day" rounded out the set.
Finally, the show (aside from Poor Old Lu) I had been anticipating the most, P.O.D. At 9:35pm, the four-piece boys from Southtown, California took on the challenge to rock the festival with one of the most energetic and electrifying shows I've seen. They opened with the screamer "Lie Down," followed by "Hollywood." Lead singer Sonny made it all look so easy, as he thrashed around the stage. They played the newer tune "School of Hard Knocks" from Adam Sandler's Little Nicky film's soundtrack. They then played "Outkast" and what I was told was called... "Ketchup?" "Southtown" was a highlight, but the sound was a little off at the show. It didn't seem as loud and aggressive as it should have been, and I don't think it was P.O.D.'s doing either. The band then began playing songs off their brand new record, Satellite, selecting the seemingly best tracks on there, including the new single "Alive," "Ridiculous," "Boom," and "Set It Off." The foursome closed out the set with "Tribal Warrior" and their hit single "Rock the Party (Off the Hook)." We all wanted more, and they answered the call will coming back and playing a new song, "The Messenjah," and ending with their U2 cover, "Bullet the Blue Sky."
I left Purple Door Festival 2001 pleased with the experiences I had and pumped from a great day of excellent shows, occasionally plagued by overtly dusty paths from being frequently trodden. But the shows rocked, the crowds were good. I can easily say I'm looking forward to Purple Door Festival 2002... (For more information on Purple Door Festival and for a list of all the bands that played this year, please visit Purpledoor.com)
Purple Door 2001: Saturay Photo Gallery
click on an image for a bigger size
Poor Old Lu -- 2:35pm Main Stage
Project 86 -- 5:00pm HM Stage
Relient K -- 6:40pm Main Stage
Five Iron Frenzy -- 8:40pm Main Stage
P.O.D. -- 9:35pm Main Stage
*all photos by
John
, and are the property of
Jesusfreakhideout.com