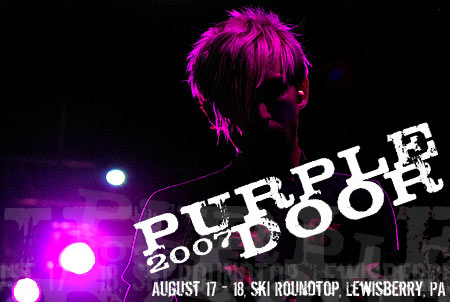 Purple Door Festival
8/17 - 8/18/07, Purple Door 2007 at Ski Roundtop, PA
If the bevy of Summer fests doesn't appeal to you (with maybe too much mercy or crowns and not enough hasting or cities burning), there are still a couple festivals to appease the hardest of rock fans. Purple Door Festival is a long running fest that takes place on the über-dusty snow-free hills of Ski Roundtop resort in Lewisberry, Pennsylvania. While run by the same folks that handle the Creation festivals, Purple Door is sort of its younger, hardcore music loving little brother, offering many of the same artists you'd find at the Creation Fringe stage as well as many you would never dream of seeing anywhere at Creation.
In recent years, the festival has added a second day to its event, starting it Friday evening instead of just being an all-day Saturday fling. To attend the full weekend event, there are some local campgrounds you can pay for, or hotels to stay at. Unfortunately, there is nowhere on-site at Purple Door for festival goers to stay overnight for Friday into Saturday. And since, for us, Ski Roundtop isn't just around the corner, we opted for attending the Saturday portion of Purple Door 2007 only. Sadly, this meant we had to miss Friday night headliners like Anberlin and Relient K, as well as other standout acts like House Of Heroes.
We left early on Saturday, arriving around 11:00AM for media check-in before John Reuben's 11:30AM Main Stage set. As we arrived at the Main Stage area, Spoken was wrapping up their rock spot. Performing fan favorites as well as some offerings from their upcoming self-titled effort, Spoken was an appropriate way to help wake up the Purple Door crowd for the party-friendly John Reuben set that would follow. Reuben's selection of songs naturally leaned toward his most recent release, Word Of Mouth, opening with "Trying Too Hard" and "Universal." While John has travelled with a live band for a couple years now, it was noticeable that a guitarist was absent this time around. Still, John had bass and drums to accompany him, as well as the occasional synth (provided by bassist Brad Binion) and some backup tracks. Reuben is a pro at working an audience. He understands his unique placement at a festival of mostly hardcore and rock acts, and while the crowd may have appeared a bit slim for this Ohio rapper, most of the rock kids were checking out August Burns Red playing at 11:20 over on the HM Stage. But a John Reuben show is a reliable performance of innovative pop kissed hip-hop and humor. The classic "Do Not" followed the new tracks, with an extended version of the infectious "Make Money Money" soon after. Mid-song, John paused to read a portion of a story from The ÆSOP for Children about an ant who wanted to dance. It's this kind of random humor that fans can expect from John. "Divine Inspiration" from his debut was next, followed by the title track from his latest record Word Of Mouth, which led right into "Thank You" and finally the nonsensical but catchy "Doin'." Reuben closed the song by leading the audience in a chant of "We want more!" which he proceeded to thank them for and perform the dance-friendly "Good Evening" to cap off his fun set.
After John Reuben, the Main Stage shut down til after 2PM, so we took this opportunity to check out the merchandise area inside the ski lodge. Festivals are a great place to reconnect with old friends while making new ones as well, and this can become part of your schedule as it might cut into what would otherwise be a chance to browse the sets of bands you otherwise might not see in a non-festival setting. Around 1:30 we grabbed lunch at vendors stationed at the top of the hill (which connects the stage areas), and caught the end of The Devil Wears Prada - a vicious and tightly presented hardcore set. Through the passionate screaming and occasional harmonic vocals, the band paused to express their devotion to Christ despite how the world has persecuted them for it. It was a powerful moment.
At 2:20PM, back at Main Stage, metal/rock act Disciple was poised for their intense show. To open, the band ripped into the war-themed "Game On," with vocalist Kevin Young running across the stage, engaging the crowd and proudly sharing their support for the U.S. military. Their song choices were frequently anthemic, with "Rise Up," "Back Again," "Regime Change," and "Scars Remain." Although Young would often belt out throat-shredding screams, he balanced them with just as effective melodic singing. After "Someone," Young even paused a moment to share the message of God's love before performing the drastically more mellow "After The World," and resumed their more aggressive style on "Shine Down," "Fight For Love," and "Into Black." At one point, Young daringly climbed part of the stage's framework, dangling off the side, screaming out the vocals. When they closed their set with "The Wait Is Over," bassist Joey Fife climbed it as well, setting his guitar up there and climbed back down to exit the stage. Before Young left the stage as well, he closed in prayer, read a portion of scripture, and encouraged those listening to seek a life with Christ before the day's end. His delivery was so honest and open, it felt more genuine and more impactful than any one speaker could do that day.
After Disciple, the Main Stage shut down once again til later that evening, and the HM and Gallery stages became the center of musical attention. At 3:00PM, acoustic solo artist Denison Witmer performed the Gallery Stage, a tiny, intimate setting outside the ski lodge/merchandise area. Unfortunately, the Gallery Stage's location isn't entirely practical, making it difficult to enjoy a show with constant traffic going in, out, and around the stage area. Also, if you want to get to the merch area, it takes longer to wade through the masses to get inside. Nitpicks in convenience aside, Witmer's tame and almost lulling performance was a soothing diversion from being screamed at all day. The Gallery Stage consistently had a packed audience for the more toned-down sets that played there. Following Denison, Tooth & Nail's latest act The Glorious Unseen put on an ear-catching worshipful set while Colour Revolt seemed considerably less polished in stark contrast. By the time Derek Webb arrested the mic with just himself and his acoustic, it was clear a more seasoned musician was performing. Webb's strong and deliberately tired style of singing is perfect for delivering his more honest and controversial approach to songwriting. When Webb performed "Wedding Dress," a guilt-inspiring ballad, almost all listeners were stopped in their tracks. Webb closed with the upbeat "A Savior On Capitol Hill," followed by a stern word encouraging everyone to simply love God above all else and their neighbors second. Webb's uncompromising approach to his songwriting and representation of faith is a breath of fresh air in a climate where many are trying to hide their faith, but it's times like when Webb uses a profanity to drive home a point about the priorities of Christians (saying more are offended that he used the "s" word than that people are dying in Africa... which is true) that it may seem like he's trying too hard to shock.
While Derek Webb's set was wrapping up, As Cities Burn had begun on the Main Stage, performing cuts from both of their releases, including their brand new record Come Now Sleep, which had just released days earlier. Although their songs were long, their set seemed rather short, and it was seemingly over almost as soon as it began. I wished I had an opportunity to catch more of them. Soon after, Essential Records rock act Red was up, performing cuts from their popular debut End Of Silence. Although more pop-flavored hard rock, Red puts on a pretty aggressive show - to the point where bald-scalped vocalist Mike Barnes was struck in the head by a flailing guitar (most likely from Anthony Armstrong), and displayed a few streaks of blood down the side of his face. But that's the kind of energy fans can expect from a Red show. And following the close of their set with their runaway hit "Breathe Into Me," a representative for Compassion International used some spotlight time to share about sponsoring a child in need. And before the main acts of the night continued, speaker Eric Simmons delivered a standard salvation messsage ahead of Leeland's 7:55PM worship set.
Leeland might seem to some like an odd band to find on the Main Stage at Purple Door Festival, but they were the perfect choice to provide modern worship with integrity to more alternative music fans. Performing selections from their debut Sound Of Melodies, the band opened with "How Wonderful," and continued with "Yes You Have" and the hymn "How Great Thou Art." The emotional "Tears Of The Saints" was the highlight of their brief set, with frontman Leeland Mooring pausing afterwards to share with the audience about Christ. Leeland balanced more upbeat pop/worship anthems with the more melodic and prayerful, with the title track from their debut preceding a pair of crowd-participaters - "Hey" and a brand new song, "Count Me In."
An inevitable set change followed, and one of the best live shows anyone can witness was up next. Atlanta, Georgia crunk rock band Family Force 5 exploded onto the stage with "I Love You To Death." These guys are about as frantic on stage as legally possible, delivering an altogether entertaining and fun show of diverse styles - from rap to rock to pop and all of the above. The rocker "Replace Me" preceded a pair of especially fun songs, "Ex-Girlfriend" and "Drama Queen," with their first hit "Kountry Gentleman" following. At this point, with silver-painted Incredible Hulk gloves in place, vocalist and ringleader Solomon "Soul Glow Activatur" Olds addressed the audience, encouraging them that partying for Jesus is expected here on Earth to prepare for our eternity in Heaven. The band was as blatant about their faith as ever, and the anthem for Christ's love, "Love Addict" inevitably followed. Dancers donning motorcycle helmets, a cow outfit, and a large bunny outfit came jumping out on stage in what was a complete frenzy. During the dance-themed, "Numb," Solomon donned a Transformers' Optimus Prime helmet as he encouraged the audience to go crazy dancing. They soon closed with the all-out "Earthquake," and returned for one encore with the raucous and ultra infectious "Supersonic." When they left the stage, bassist Josh "Phatty" Olds came back to offer a prayer over the Purple Door Festival bands and festival attenders.
When Family Force 5 had finished, it was close to 10PM, and Tooth & Nail alternative indie rock act mewithoutYou was prepping to go on for the final show of the night. The media congestion (not to mention, the incovenient press handlings) along with a long day and a long drive home ahead was encouragement enough to let FF5 mark the end of our Purple Door 2007. A hardcore fan's dream and an alt rock fan's haven, Purple Door Festival is still a great place to find the latest and greatest in live Christian / faith-based rock music. If you're a fan of any of the acts that were on the roster this year - from As Cities Burn, The Chariot, and Norma Jean to Anberlin and Relient K, it's an event to consider for your 2008 festival attendance plans!
--
John DiBiase
, 8/21/07
Purple Door 2007 Saturday Photo Gallery
click on an image for a bigger size
Spoken: Saturday, Main Stage
John Reuben: Saturday, Main Stage
The Devil Wears Prada: Saturday, HM Stage
Disciple: Saturday, Main Stage
Denison Witmer: Saturday, Gallery Stage
The Glorious Unseen: Saturday, Gallery Stage
Colour Revolt: Saturday, Gallery Stage
Derek Webb: Saturday, Gallery Stage
As Cities Burn: Saturday, Main Stage
Red: Saturday, Main Stage
Leeland: Saturday, Main Stage
Family Force 5: Saturday, Main Stage
*all photos by
John DiBiase
and are the property of
Jesusfreakhideout.com