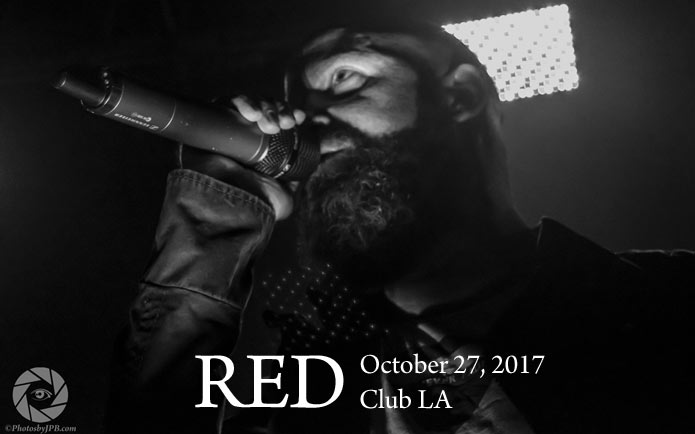 RED
10/27/17, at Club LA in Destin, FL
Rock music has always resonated with me more than other genres of Christian music. Ever since I heard Red's music that was recommended to me by a friend over 6 years ago, I have been a big fan of theirs. Having seen them live before, I knew I was in for a treat. With their new album Gone being released, I was even more excited to hear some new tunes live.
Thankfully, I didn't have to wait long to hear new music, as they opened their set with "Step Inside, The Violence." Even though I like when bands change up their set lists, this song just didn't seem to have the same powerful way to start off a show as previous openers, such as the banging "If We Only." From there, they played "Faceless" and then went to "Lost in You." It was apparent from the start they wouldn't neglect their older songs in favor of playing just new tracks, as they weaved through songs from their entire catalogue of music.
The energy that lead singer Michael Barnes brought to the stage was infectious, getting the entire crowd in a frenzy. Of course, he wasn't alone in doing so, as he and bass guitarist Randy Armstrong went back and forth on the mic singing "I won't forget, I'll never forget this" during the song "Death of Me," while the amazing Anthony Armstrong did his signature guitar spin. Rounding out the band was touring drummer Dan Johnson laying a beat down all night. Watching him play, especially during his solo after the song "Let Go," it was clear to see why he has the established nickname of "Danimal."
Having listened to the new album on the way to the show, I was curious as to how they would play some of the songs live, especially with a few of the tracks having more of a techno-type sound to them. Much to my surprise, Anthony played a keyboard while Mike sang all of the pitch changes to the song "Gone." As reserved as I was upon hearing the new songs for the first time, it was nice to see that a lot of the music was still performed by Red and not just played through a track. The new album was still winning me over, but hearing songs such as "Release the Panic" and my all-time favorite "Feed the Machine" just got my hyped more. They ended the night with a little bit of a surprise, playing "Breathe into Me" as their second to last song, and ending it on another new one, "Losing Control." Whether or not this is a permanent change to the set list has yet to be seen, but it was definitely surprising to see that for the first time.
I was nervous that they might not do their entire 15-song set due to the fact that they weren't headlining this stop on the tour, but thankfully that wasn't the case. Seeing them sandwiched between 3 secular bands, it was clear that that even though they have the label as a "Christian" rock band, they still could rock just as hard and give the crowd a great show. Unfortunately, with a less heavy song to start the night, along with some sound issues that made Michael's voice high pitched at times, the show wasn't perfect, but I still had a great time and am already looking forward to seeing them live again.
--
John Breuer
, 11/12/17
RED Set List

01. Step Inside, The Violence
02. Faceless
03. Lost in You
04. Fracture
05. Falling Sky
06. Death of Me
07. Release the Panic
08. Take Me Over
09. Already Over
10. Feed the Machine
11. Still Alive
12. Let Go
13. Gone
14. Breathe Into Me
15. Losing Control
RED 2017 Photo Gallery
click on an image for a bigger size
**vertical images cropped for thumbnails**