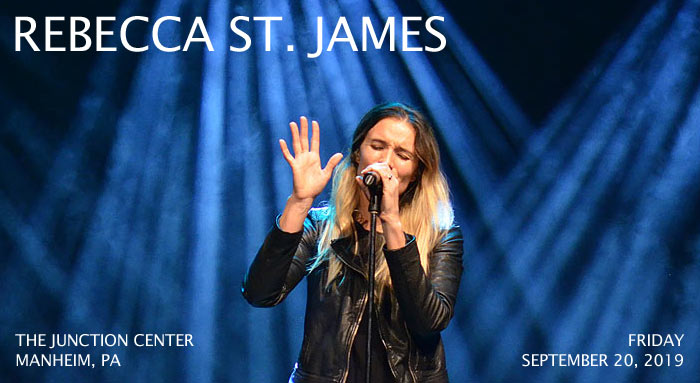 Rebecca St. James
9/20/19, at Landis Hall / The Junction Center in Manheim, PA
Earlier this decade, renowned Christian pop/worship artist Rebecca St. James traded the spotlight and stage for married life and starting a family. At the same time she thought she might have completely closed the book on her music career, her brothers--Joel and Luke Smallbone--were rising to fame as for KING & COUNTRY. And it would be a performance with her siblings a few years later that would inspire the Aussie artist to reignite her passion for music. As she walked off stage from performing a song with them just two years ago, Rebecca felt a strong word from the Lord that it was time to make music and perform again. And, in the middle of writing and preparing for a new studio worship album, Rebecca St. James is beginning to tour again, reconnecting with fans and introducing her music to a whole new fanbase.
It was a brisk night on one of the last days of summer when Rebecca brought her family and band to The Junction Center in Manheim, PA. Landis Hall at The Junction Center has quickly become one of my favorite venues around, with its cozy atmosphere and intimate setup. VIP guests were treated to photos and a brief chat with the singer two hours before the show, and then Rebecca kicked off her set promptly around 7:00PM. Her band--which included her husband, "Cubby"--took the stage first, before the familiar sounds of her 1996 hit song, "God," drifted from the stage. As someone who's been listening to Rebecca's music for as long as that song has been around, it was a truly surreal experience. I first saw the young singer live, I believe, at Kingdom Bound festival around '96 or '97, so her music has had a significant presence in my life through the years. To hear "God" being performed again twenty three years later is nothing less than a real treat.
If "God" wasn't the sweet spot for fans in attendance, "Wait for Me" just might have been. It's a song Rebecca had penned in 2000 for her future husband--someone she no doubt never realized she'd have to wait another decade to find. But it was certainly something special to see Rebecca not only living life on the other side of the waiting, but performing on stage with her husband (and father of her two daughters). After the song, she took some time to talk about the season in her life when she moved to California and met her husband (who was in the mainstream band, Foster the People). She followed the story with "Forever," and then "Breathe" from her 2002 Worship GOD album. She paused again to pray with the Manheim audience, and then grabbed a stool to sit and share her testimony with her listeners. She talked about her family moving from Australia to the States, and how greatly God provided for them during some of their most desperate times of need.
After sharing, she set the stool aside and performed one of my favorites of hers, "OK" from her 1998 album, Pray. It's a simple and catchy pop song that has a chorus the is as straightforward as "It's all going to be OK," but the worshipful heart of the song was one that I always connected with as a teenager (and still do even today). She then took fans to her 2005 album, If I Had One Chance To Tell You Something (which is possibly my favorite collection of songs from her to this day), and performed the title track, "You Are Loved." Following the song, the band left the stage, leaving Rebecca alone to share about her heart for Compassion International and encourage the Manheim crowd to consider sponsoring a child. She then left the stage for a 10-minute intermission before coming back to resume her set.
"Be Thou My Vision" was the first song she played when she returned, and then she sat again to share about a recent season of "winter" in her life that ended soon after she felt called back to music. During this darker time for her and her family, she experienced two miscarriages as she and her husband tried to have their second child, and she urged the audience to hold on to the promise of God that there will always be a spring after the desolate seasons in our lives. She then performed "You Make Everything Beautiful," the closing song on her last studio album, 2011's I Will Praise You. It was the perfect song to follow up that moment and guide the audience's gaze to be set on Jesus. The band mostly dropped out, then, for her to sing "Here I Am To Worship" a cappella, and then she performed a wonderful cover of "How He Loves." To close the night, she and the band played the opening cut from Worship GOD--another great song, "Let My Words Be Few." The guys then joined Rebecca at the front of the stage to say goodnight to the audience, which inspired the worship leader to encourage everyone to join in a couple more choruses of "Here I Am To Worship" before they walked off the stage together, leaving the audience singing in unison to the Lord.
It's a blessing to have Rebecca St. James performing and making music again. The entire show was laid back and heartfelt, and while her performance of classic worship favorites from years gone by may have felt a little old school, it brought some much needed diversity and intimacy to today's often same-sounding and bombastic (and sometimes flashy) worship concerts. I'm excited to see what we'll hear and see next from Rebecca St. James! For the latest events from The Junction Center and at Landis Hall, visit www.thejunctioncenter.com.
--
John DiBiase
, 9/22/19
Rebecca St. James Set List
01. God
02. Wait for Me
03. Forever
04. Breathe
05. OK
06. You Are Loved
(Intermission)
07. Be Thou My Vision
08. You Make Everything Beautiful
09. Here I Am To Worship
10. How He Loves
11. Let My Words Be Few
12. Here I Am To Worship (Brief Reprise)

Rebecca St. James Photo Gallery
click on an image for a bigger size
**vertical images cropped for thumbnails**
Rebecca St. James
*all photos by John DiBiase and are the property of the photographer and Jesusfreakhideout.com