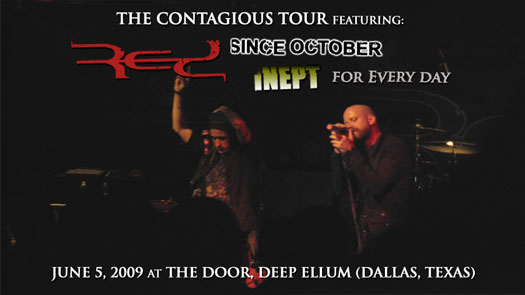 The Contagious Tour
RED, Since October, Inept, For Every Day
6/5/09, at The Door in Dallas, Texas
I arrived at The Door in Dallas at 5 pm on Friday night with the hope to be one of the first people in line. Ever since The Door moved into a new building on Main Street, this place is usually packed with a minimum attendance of 500 to 600 people a night and this concert was no different.
The first band came on at 7:35 called For Every Day, a local band from the Dallas area that I was completely unfamiliar with. From a musical perspective, they were not bad at all. Their songs were primarily a mix of hard rock, metal, and a small amount of emocore-style screaming. The band members were all dressed in their casual clothes: button-up t-shirts, blue jeans, long hair, wristbands, etc. Despite their appearance and their hard rock music style, it came across like For Every Day was attempting to appeal to a hardcore metal audience, which was completely unnecessary. It's a little difficult to remember their song titles, but they were not bad at all. Hey, you have to start somewhere right?
While the band members of For Every Day were taking their equipment off the stage, the DJ started playing music in the background from Demon Hunter's The Triptych album, which was a good choice for this show. At 8:15 pm, Inept, an independent hardcore metal band from Chicago, hit the stage. Their music was an interesting mix of hard rock (more along the lines of Spoken and Disciple) with a brief amount of screamo (similar to the screaming vocals of All That Remains and ZAO). Without offending the other band, I must say that these guys had a lot more experience and more energy going into their set. My only complaint was that the lead singer moved around so much that I couldn't even take a snap shot without seeing a large blur in my photos. All I remember was hearing Inept perform the songs "It's All In Our Head," "Everything I Love," and "So Much Between Us." Christian band or not, they ended the show positively with a simple "God bless."
It was now 9:10 pm and up next was one of Tooth & Nail Records' latest incarnations called Since October. They opened up their set with "Guilty," a great hard rock tune with a good mix of singing and screaming, which is also their first #1 single to hit Christian and Hard Rock radio stations. At first, everyone in the crowd stood still and very quiet during "Guilty," perhaps due to the fact that they were unfamiliar with Since October's music. Then about midway through the song, people began to respond and move around a little. Next the band performed "Beautiful," another hard rock track filled with heavy guitar work by Luke Graham, a small amount of screaming supplied by drummer Audie Grantham, and a friendly sing-along chorus supplied by lead vocalist Ben Graham.
It's no surprise that Since October's music is very similar to other groups such as Sevendust, P.O.D. (even Ben Graham reminds me of Sonny from P.O.D.), very early Pillar, and Seventh Day Slumber, but it's hard not to enjoy their live performance. For the most part, they knew how to get the crowd fired up and put on a great show. Before playing their next song, Ben invites the crowd to participate in what he called "the wall of death," which is where half the crowd moved to the left side of the club while the other half moved to the right wall and both sides attempt to push through each other to get to the opposite walls. Before the crowd started, Ben wanted to make sure no one intentionally hurts someone else or he would get in big trouble with the owner of the club. Since October started playing "Follow Me Down" and the "wall of death" began with what looked like a very large circle pit taking place in the middle of the club. By the grace of God, no one got hurt during the performance.
Next, they performed "Part of Me," the final track from their debut album, This Is My Heart. Not a bad song, but definitely not the main highlight of the show. Ben finally took a timeout to speak about their affiliation with Tooth & Nail Records and how much the label helped them put out the new album. He also stated they were in negotiations with signing to Capital Records, which would help them achieve more mainstream success in their future material. They finally kicked things into high gear with "My Heart," which the crowd seemed to respond even more to than the rest of their set.
Ben took one final timeout to speak about the release of their latest music video for "Guilty," which just hit YouTube.com the day before the show. Ben mentioned that, supposedly, we are the first to know about the new video and that everyone needed to check it out when we all went home. To wrap things up, Ben announced they would play one more song and then hang out at the merchandise table to take pictures and autographs. They ended their set wonderfully with the rock ballad "Disaster" and with a simple "God bless you all."
It was over 30 minutes when Since October left the stage and now 10:15 pm, and we were all waiting for RED to come out. Finally at 10:20, the lights went out and the crowd was screaming as RED's introduction started playing. "Fight Inside" was a great way to start the show. RED slowed things down a little with "Lost," a single from their first album that blends well with the performance. Vocalist Mike Barnes was very quick to talk about the release of their newest album Innocence & Instinct and that they would be performing several new songs before the night is over.
The band picks things up with "Mystery of You," which up until that point is when I realized that guitarist Anthony Armstrong was not present on stage. Later on during a break in-between songs, bass player Anthony Armstrong announced that Randy's wife had given birth to their first child two days ago and that he could not perform with them that night. However, Anthony wanted the crowd to rest assured that Randy is still in the band and will come back on the next tour. "Let Go" is a classic RED song that is awesome to see live and they slowed things down again with another classic called "Already Over." Jason Rauch stated their next song goes out to all of the lovers out there in the crowd, called "Never Be The Same," which Anthony stated is the first love ballad the band has ever written.
The later part of the show is what most fans came to see. RED finally began to play more songs from the new album like "Shadows," "Overtake You," and their cover of the song "Ordinary World." I'd have to say that most of the crowd was probably too young to remember the European rock group Duran Duran, but they seemed to respond very well to "Ordinary World." The weirdest part about RED's performance was hearing Mike ask all of us to get down on our knees and attempt to jump up and touch the ceiling as soon as they began to play "Confession (What's Inside My Head)." It came across as a little odd at first, but the metaphor of us getting on our hands and knees was stuck in my head throughout the rest of the night.
By this time, RED had been on stage for almost a solid hour, the night was still young, and a majority of us were not ready to go home just yet. Suddenly, Mike announces that they have time to play one last song and then they would be doing autographs in the back corner of the club. The final song of the night was their first single off the new album called "Death of Me." The song was great and would have added a nice touch if they ended the show right then and there, but they came back out one last time to perform one more encore called "Breathe Into Me." Mike wraps things up nice and simple with "Thank you all for coming out tonight. God bless you."
Overall, this was a fun show that was worth paying $15.00 to come and see. It might not have been the most openly "Christian" show on planet Earth, but there is very little to complain about due to the fact that all of the bands put on a great performance. When it comes to a hard rock or heavy metal show, sometimes a simple "God bless you" is really all you need and a percentage of the fans around me knew what the bands stood for. Do yourself a favor and keep an eye out for RED and Since October because both have a bright future in the realm of Christian music.
--
Fred Keel
, 6/16/09
RED's The Contagious Tour 2009 Photo Gallery
click on an image for a bigger size
**vertical images cropped for thumbnails**
Since October
RED
*all photos by
Fred Keel
and are the property of
Jesusfreakhideout.com
and the photographer.