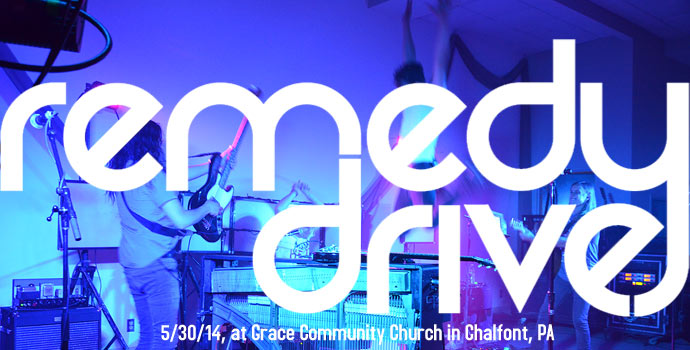 Remedy Drive
5/30/14, at Grace Community Church in Chalfont, PA // 6/1/14, at Valley Church in Catasaqua, PA
Every artist in music has a story, however, some stories are more interesting, heartbreaking, or exciting than others. For the Lincoln, Nebraska all-brothers band Remedy Drive, their story has certainly been one full of ups and downs. First traveling the indie circuit for several years, the Zach brothers eventually signed to Word Records and released their national debut, Daylight is Coming, before label personnel changes saw the band parting ways with their Word home. Then, internally within the band, things really shook up when three of the four Zach's decided to exit the band, leaving front man David Zach on his own and unsure of the fate of the band. But before too long, David rallied a new trio of guys for support and Remedy Drive was reborn. An indie EP released before they signed with Centricity Music and released a new studio album in 2012 with Resuscitate. But the label didn't see eye-to-eye with Zach's vision. It was too "risky." So the band eventually venured out on their own again. They launched a Kickstarter campaign to help fund an ambitious new album project that was near and dear to the heart of Zach and Remedy Drive: a concept album to help combat and raise awareness of sex trafficking, titled Commodity. As the band prepares for its independent release this fall, they continue to tour, introducing some of the new songs and speaking out about the atrocities of trafficking.
On Friday, May 30, Grace Community Church in Chalfont, Pennsylvania hosted Remedy Drive as part of a fund raiser for a missions trip the church was sponsoring. A local band opened the night to a modest and intimate crowd at the church. Their sanctuary is a nice setup for a show and it proved to be a great place for a Remedy Drive concert. The band opened with the title track from their 2008 album, Daylight is Coming, "Daylight." Throughout a given Remedy Drive set, concert-goers will find Zach sitting at his piano (or throwing his body onto/across/off of it) or manning the mic while dancing. For "Daylight," Zach opened the show at his piano, before taking to the mic for the rousing finish and balancing on drummer Tim Buell's bass drum. Resuscitate's album opener, "Better Than Life" was next, and then the guys played their first new song of the night, "Dear Life." While it bore that classic Remedy Drive sound, I have to admit the studio version has a bit more of a punch that didn't quite come across live (yet!). But for this one, as the band jammed out the song's finish, Zach threw himself over the top of his piano (No doubt shocking audience member who've never seen these guys live before). Rocker "Make It Bright," from Resuscitate, was next, and then David took a moment to talk to the Chalfont crowd. He then prefaced the next song by saying, "Here's a song I wrote 5 years ago and I'm still trying to learn how to live what it says" before sitting back down at his piano for the ballad "All Along." Commodity came back around, however, and the infectious anti-trafficking anthem "Under the Starlight" (that boldly asks the question, "Jesus, where are you? They're far too young. Jesus, how long now? Your kingdom come.") followed. Zach used this as a bridge into sharing about his experiences with learning about sex trafficking and wanting to make a difference -- and wanting to be able to tell his daughter someday that he joined the fight if she ever asked what he did about the problem. This lead into the rousing anthem "Commodity" before revisiting their debut album, appropriately, with "Hope." David then talked about hope and our hope in Christ and used that to lead into another new one, a worship song--Remedy Drive style--called "Throne." Buell then broke into a drum solo while David programmed a loop on their electronic Kaos pad before leading into "Heartbeat" (where Zach stood on is piano and leapt from it). Before wrapping things up, David talked about the band's Kickstarter campaign and how it had just made its goal earlier that day, and then mentioned the anti-trafficking ministry The Exodus Road before closing with "Resuscitate."
On Sunday, the band made their way back through Pennsylvania on their way home to Nashville, and they performed and spoke at a morning service at Valley Church in Catasaqua, PA. If the concert Friday night was intimate, this was considerably even more so, as the church was even held in a Christian school's library. With just acoustic instruments (and bassist Corey Horn only providing background vocals), they performed several of their songs, including "Under the Starlight," "Daylight," and another new one that they didn't play Friday night, "King of Kings" (among a couple others). Zach took some time to share from his own experiences of joining The Exodus Road and visiting places like Bangkok under cover to witness what's going on over there first-hand. It was chilling but inspiring. The four guys did a short Q&A and shared their own thoughts and feelings on the topic before closing with an acoustic version of "Commodity." It was an excellent event that I'd highly recommend to churches to schedule to help raise awareness on the subject and help organizations like The Exodus Road fight the fight.
It's been exciting to witness the path Remedy Drive has travelled in recent years, and it's especially thrilling to see where they're headed. Definitely check these guys out live on the road and their new album Commodity when it drops soon. And visit them on the web at: www.remedydrive.com
--
John DiBiase
, 6/9/14
Remedy Drive Set List

01. Daylight
02. Better Than Life
03. Dear Life
04. Make It Bright
05. All Along
06. Under the Starlight
07. Commodity
08. Hope
09. Throne
10. Drum Solo / Heartbeat
11. Resuscitate
Remedy Drive Live Photo Gallery
click on an image for a bigger size
**vertical images cropped for thumbnails**
Remedy Drive
*all photos by John DiBiase and are the property of Jesusfreakhideout.com