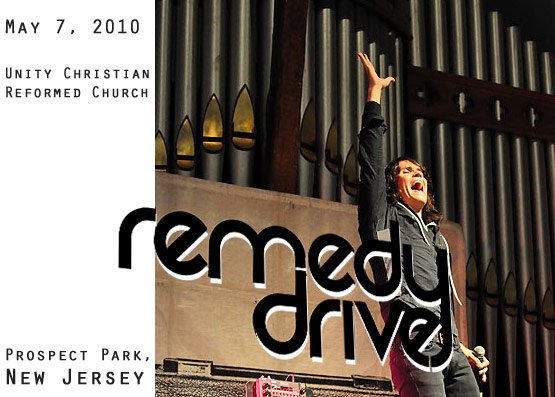 Remedy Drive
5/7/10, at Unity Christian Reformed Church in Prospect Park, NJ
When major tours don't even land on the same coast of the U.S. in which you reside, it's pretty certain you're not going to see the tour unless you make a road trip. So the next best thing to when you miss your favorite bands on tour is to catch them on the "one-off" -- a show that isn't part of any tour but instead is merely an independently scheduled and orchestrated event outside the tour packaging. On May 7th, I trekked out to a small church in Prospect Park, NJ, for a youth event that brought in speaker Jarrod Jones from New York and the Lincoln, Nebraska all-brother rock band Remedy Drive.
"Intimate" is the perfect way to describe a show like this. The Unity Christian Reformed Church, although small, was a very friendly and inviting place to host an event like this. The focus was on the night's guests and it ended up being a great place to take the youth to. After Jones gave a motivational talk to those in attendance, the Zach brothers took their spots on stage for a full-length performance. Lately, the band has appeared on several tours that have limited their playing time to nothing more than about four or five songs. In a setting like this, the boys get the opportunity to stretch their wings a bit, even playing old songs from their independent days as well as new tracks from their 2011 national sophomore album.
Remedy Drive got the ball rolling in a somewhat expected - but appropriate - fashion, opening with "Stand Up," which also serves as the opener for their first release on Word Records, Daylight Is Coming. Although the church sanctuary is on the smaller side, it was a relatively packed house, and much of the youth packed in right in front of the stage to try to draw closer to the action. The guys performed their set as if they were at any festival or in front of any large audience -- they gave it their all. Front man David Zach, who provides vocals and keys, always throws caution to the wind, often hurling his body across the stage, deliberately using it to pound the keyboard or dive into the drum kit. This night's show was no different. "Heartbeat" from their debut followed, with the first of several new songs coming next, titled "Don't Wait Too Long." Then the audience seemed to really connect with the set when the Zachs broke out their radio hit piano ballad "All Along." "Statues" from their indie album Rip Open The Skies fulfilled a fan request and was a nice addition to the evening's song selection.
At this point, the brothers moved into a moment in the set that they just recently started developing. Bassist Phil Zach got up on the drum riser to program their electronic Kaos pad with a sample beat from Daniel's drums. Phil played it back and then added in recorded vocal parts from David and guitarist Paul, mixing in the different sounds and providing a unique loop. Daniel even tossed one of the standing toms from his kit to Paul who pounded out a beat and added it to the loop, then tossed it back to Daniel. It was like watching a group of mad scientists mix together their latest experiment. It became a fun moment of their set. It's the kind of stuff you wouldn't get to see from the band when they're opening up for other bands on a tour, or playing an afternoon festival spot.
Afterwards, David addressed the crowd about their experience in New Jersey that day and thanked the church for their hospitality. He then introduced the next string of songs as being new for them and now available on iTunes. They proceeded to play all three new tracks from The Daylight EP in a row - for the first time live. "Rescue" was first, which they just released a music video for, followed by the prayerful ballad "Speak To Me" (which they have seldom played live), and concluded the new selections with "Guide You Home." Each one sounded great in a live setting. Next, David began speaking about hope and our hope in someday getting to witness Christ's return and the hope of that moment helping us get through the tough times of this day in age. "Something Made To Last" then followed, and David paused one last time afterwards to thank the audience and people of New Jersey, before they launched into an extensive jam intro that would then break into their song "Daylight." They offered quite the rousing finish, too, as David would balance on top of Daniel's bass drum, before leaping off and later diving into the kit. The flurry of energy that buzzes across the stage is always a sight to behold (and how David often comes away unscathed is miraculous).
After "Daylight," the guys left the stage, only for the audience to continue to chant for one more song. When they returned, they performed a brand new song entitled "Cover Me" (which I later discovered they had written with TobyMac). It's a great new track that hopefully will make their next record. Finally, they concluded the night in an appropriately worshipful mode (especially considering the church setting), performing their version of "How Great Thou Art" from their indie album, Rip Open The Skies.
Remedy Drive is one of those bands that you need to experience live to really truly appreciate. The guys are heading out on their first headlining tour this Fall, so if you don't get to catch them at a festival this Summer, be sure to catch one of the Fall dates!
--
John DiBiase
, 5/13/10
Remedy Drive Set List
01. Stand Up
02. Heartbeat
03. Don't Wait Too Long
04. All Along
05. Statues
06. *Jam*
07. Rescue
08. Speak To Me
09. Guide You Home
10. Something Made To Last
11. Daylight

Encore:
12. Cover Me
13. How Great Thou Art
Remedy Drive - Live May 7, 2010 Photo Gallery
click on an image for a bigger size
**vertical images cropped for thumbnails**
Remedy Drive:
*all photos by
John DiBiase
and are the property of
Jesusfreakhideout.com