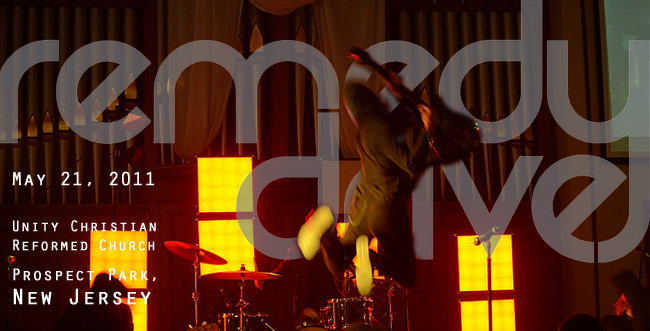 Remedy Drive
5/21/11, at Unity Christian Reformed Church in Prospect Park, NJ
It's usually a big deal when a band undergoes significant member changes. For the all-brother band Remedy Drive, the recent exit of all of them, save for vocalist/pianist and chief songwriter, David Zach, was rather surprising. David has since recruited a new cast of musicians to fill in the three voids that his siblings left when they departed last fall, and the end result introduces Tim Jones on drums, Corey Horn on bass and Dave Mohr on guitar. Their recent independent Light Makes A Way EP release proved that with the changes they can still sound like "Remedy Drive," but it still poses the question... how has their live show been affected?
Last May, Unity Christian Reformed Church brought the Zachs to Prospect Park, NJ. Now a year later, Unity invited the guys back for an encore. But May 21st, 2011 just wasn't their day. On their drive into the state early that morning, the band unknowingly traveled a road that didn't allow for any vehicles with a trailer... which is exactly what Remedy Drive had attached to their RV. Long story short, the band's trailer was impounded and they didn't get to the venue until later that evening and their trailer wasn't out of the impound and at the venue until after 6pm (which, just as they began to unload their equipment from it, the skies opened up with torrential rain). The show ended up getting significantly delayed, but thanks to the fine folks at Unity, the band was able to set up and soundcheck rather quickly.
So with only a few hours of sleep each, Remedy Drive was still ready to rock at around 7:45 or so. With a series of illuminated lightboxes serving as a backdrop, they opened with "Stand Up" from their national debut Daylight Is Coming. Just by listening to the band's sound, you would never guess anything has changed. Even the most familiar Remedy songs still sounded the same, and David's unmistakable front man presence certainly doesn't hurt that fact. "Something Made To Last," also from their Word Records debut, was next before the foursome launched into the title track from their brand new indie EP, Light Makes A Way. Afterwards, Zach greeted his New Jersey audience before performing a currently unreleased new song titled "Resuscitate Me," an infectious and more rock-based tune. "Rescue" from last year's extended version of Daylight Is Coming was next, and then a moving rendition of another new one, "Hold On," followed, while Zach took a seat behind his piano for the duration of the song. It was a set highlight, and David then took the chilled-out moment to share about the trials they'd experienced early that morning with the trailer. He then remained seated behind the piano for the closing track of their new EP, "Disappear," before ending the string of piano-based songs with their radio hit "All Along." Zach then got back on his feet to lead the audience in some clapping as they picked up the pace for "Don't Wait Too Long," a new song off their EP that bears a distinct classic Remedy Drive sound. When the song finished, drummer Timmy Jones burst into an impressive drum solo and then offered a beat for Zach to record into a loop that served as a base for their next song, "Heartbeat." Zach looked like a mad scientist, mixing and tweaking the recorded loop during the performance. It was a neat effect I've seen them do before and it was a nice touch this time again.
May 21st was also the date that some kook claiming to be a believer had predicted would be the end of the world as we know it (apparently the scripture about us not knowing the day or the hour didn't apply to him?), so David brought up the topic candidly and also expressed his gratitude to those who helped them set up for the show. He then began to share on the topic of hope, which appropriately lead into the song "Hope." Following it, the lights stayed dim, with only subtle lighting behind the band remaining on to set the mood as Zach elaborated more about hope, change, and the insignificance of material wealth. To bring the show to a rousing finish, the band closed with "Daylight," complete with Zach's signature kamikaze stage acrobatics, such as throwing his body into his piano and doing a sort of hand stand on top of it. They then exited the stage, leaving an enthusiastic audience hungry for more. The rock quartet obliged and returned for a unique instrumental version of "Chariots of Fire" that the group blended into "Guide You Home."
As weird as it is to not have the Zach brothers together as Remedy Drive, the trio of new talent that replaced them is a promising and worthy team to keep the band going and making new music. Jones, Horn and Mohr are solid musicians and after seeing the band's new lineup live, I'm excited for their future. Daniel, Phil and Paul are certainly missed (especially off stage), but I'm thankful that David is keeping the Remedy Drive engine running and doesn't seem to be taking his foot off the gas anytime soon.
--
John DiBiase
, 5/26/11
Remedy Drive Set List
01. Stand Up
02. Something Made To Last
03. Light Makes A Way
04. Resuscitate Me
05. Rescue
06. Hold On
07. Disappear
08. All Along
09. Don't Wait Too Long
10. Heartbeat
11. Hope
12. Daylightt
Encore
13. Chariots of Fire / Guide You Home

Remedy Drive
click on an image for a bigger size
**vertical images cropped for thumbnails**
Remedy Drive:
*all photos by John DiBiase and are the property of Jesusfreakhideout.com