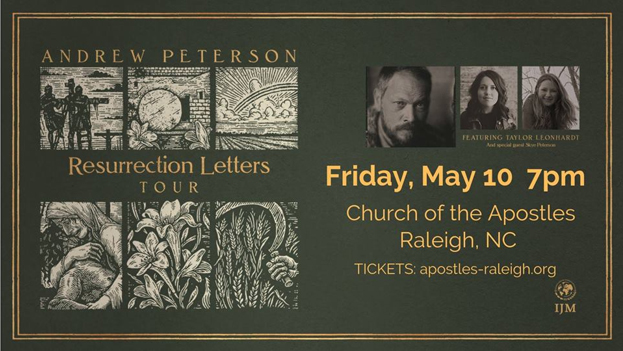 Resurrection Letters Tour
Andrew Peterson, Taylor Leonhardt, Skye Peterson
5/10/19, at Church of the Apostles in Raleigh, NC
Andrew Peterson is a name all Christian music fans should know. Recording music and performing for over 20 years, Andrew is a well-respected veteran of the Christian music industry. His annual Behold the Lamb of God Tour, which focuses on the birth of Christ, is now complemented by his new Resurrection Letters Tour, which focuses on our Lord's resurrection.
Church of the Apostles worship pastor Jonathan Noel greeted the audience and welcomed Andrew and his band to the stage. They opened with "The Dark Before the Dawn," followed by the Paul Simon-esque "Remember and Proclaim" featuring Andrew's daughter, Skye Peterson, on backing vocals. Andrew then turned the evening over to her. Skye opened on piano with "He Is Right Here," a song about her mission trip to Peru. She then switched to guitar and sang "You Love Me as I Am," which was written for a friend struggling with guilt. I really enjoyed both songs and look forward to hearing more from her in the future.
Taylor Leonhardt was up next, and she opened with her song "Diamonds" from her River House album. This concert was a kind of homecoming for the Raleigh singer/songwriter as she was the worship leader here a few years ago; the hometown crowd welcomed her back with enthusiastic applause. Next was "When You Open Your Mouth," a song about God putting people in our lives during our times of loneliness, followed by a personal favorite, "Lights Gone Out," which is Taylor's recent single. While I enjoy the studio version of this song, her live performance was exceptional and one of my favorites of the night. She then played "Would You Be Well" and closed with her Easter-themed song "Behold"; the lyrics were displayed on the screen, so the audience could sing along. This would continue throughout the night for certain songs, and I found it contributed to the community worship feel of the evening. Andrew then returned to the stage to close out the first half of the evening by talking about the work done by International Justice Mission.
After a brief intermission, Andrew and band came back to start the second half of the night with "Hosanna" from his Resurrection Letters Vol. 2 album. A liturgical celebration of Tenebrae (Latin for "darkness") followed. Tenebrae is characterized by extinguishing candles one at a time (in this case, after each of the five songs from Andrew's Resurrection Letters: Prologue EP) until the room is in darkness. At the end of "God Rested," the last candle was blown out and the only light was from the words on the screen: "Silence is kept," which represented the three days and nights the Lord was in the grave. The moment of silence was broken as the band played "His Heart Beats," and as the lights were slowly brought up, the audience roared with applause.
They continued the resurrection theme with "Risen Indeed" and "Remember Me" from Vol. 1. Andrew followed with one of his best songs and one of my favorites, the 10-minute epic "Don't You Want to Thank Someone." He switched from guitar to piano for what he said is the most difficult song he's ever composed: "I've Seen Too Much," from Vol. 1. "Invisible God" and "The Good Confession" from Vol. 2 came next.
As the evening was coming to a close, Andrew played what has become his most popular song through Chris Tomlin's version, "Is He Worthy," which, as always, was a beautiful moment of worship. Jonathan Noel returned to the stage and read a passage from Colossians 1, which segued into the songs that bridge both Resurrection albums, "All Things Together" and "All Things New," before singing a reprise of Taylor's song "Behold" and closing with an acapella version of "The Doxology."
Andrew Peterson has done it again; he successfully wrote another soundtrack for an evening of worship. As essential as his "Behold the Lamb Tour" has become to my Christmas season, I hope his "Resurrection Letters Tour" becomes an annual tradition as well.
For more information, go to https://www.taylorleonhardt.com or https://www.andrew-peterson.com
--
Jack Glasheen
, 6/14/19
Resurrection Letters Tour Set List

01. Dark Before the Dawn
02. Remember & Proclaim
03. Guessing Games
04. You Love Me As I am (Hallelujah)
05. Diamonds
06. When You Open Your Mouth
07. Lights Go Out
08. Would You Be Well
09. Behold
[Intermission]
10. Hosanna
11. Last Words
12. Well Done, Good and Faithful
13. Always Good
14. Oh Sacred Head (Solo Piano)
15. God Rested
16. His Heart Beats
17. Risen Indeed
18. Remember Me
19. Rejoice
20. Don't You Want to Thank Someone
21. Maybe Next Year
22. I've Seen Too Much
23. Invisible God
24. The Good Confession
25. Is He Worthy?
26. All Things Together/All Things New
27. Behold (Reprise)


The Resurrection Letters Tour 2019 Photo Gallery
click on an image for a bigger size
**vertical images cropped for thumbnails**
The Resurrection Letters Tour
*all photos by Jack Glasheen and are the property of the photographer and Jesusfreakhideout.com