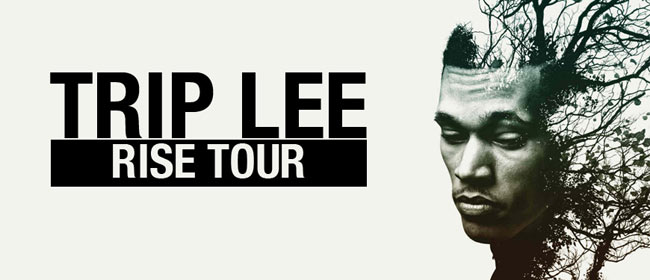 Rise Tour
Trip Lee, KB
3/5/15, at University Baptist Church in Waco, TX
Much had been made about Trip Lee's retirement from music. To be clear, Trip never mentioned the word "retire." He felt a calling to full-time ministry and wanted to see what that would entail for him. For fans of hip-hop, it was literally music to our ears when Trip announced Rise, his fourth studio album. I was able to catch his tour kick-off in Waco, TX. He would be accompanied on this tour by KB, an up-and-comer in the hip hop world.
The concert had been planned to take place at Common Grounds coffeehouse. However, due to a late-season ice storm, the decision was made to move to University Baptists Church (UBC). If that name sounds familiar, this is the church David Crowder (of Dave Crowder*Band fame) helped to found. The church is basic, a huge open area with hallways and classrooms going around the perimeter. It made for a lovely alternative to a night in the frigid Waco wind.
KB opened by coming out to a remix of Journey's "Don't Stop Believing," which morphed into a hip hop chant of "I Believe That We Will Win." The crowd enthusiastically responded. He then performed "Zone-out," followed by "Going-Off" and "Church Clap," all from Weight and Glory. "Going-Off" was preceded with a perfectly timed air-punch, to the sound of a shotgun action pumping. The rate at which KB is able to spit his lyrics borders on mind-boggling. Anyone familiar with Busta Rymes or Twista would be impressed with this talented artist.
His first song from his recent release 100 was "Give My All;" he had a short break where he talked about being at the end of your life, and not having invested in anything worthwhile. He talked about how wonderful it must be to get to the end of your life and stand in the presence of God, knowing you have lived a life in service to him. That led into the song "100." After a couple of freestyle choruses to the Fresh Prince of Bel-Air theme song, both led by and echoed by the crowd, KB wrapped up his set with a story from communist Europe. He told the story of a pastor standing up against the godless regime and going to prison for years for his faith. His point was that, many times, God finds us and impacts us right when we are the most broken. This lead into his closer, "Undefeated."
Following KB, there was a short break for a video and presentation for Food for the Hungry. FH is designed to be a support group and start-up, not just a Christian charity. Their goal is not to simply be giving out food and aid, but rather to be there to help villages become self-sufficient. Trip had asked them along as co-sponsors to the Rise tour, and it is easy to see why.
After a break to allow for even more speakers to be set-up, the lights dimmed and the music began. There was a soft build-up with the chorus to "Rise," followed by "Lights Off" and "Schweet," following the order of the first three songs from his latest album. At the conclusion of "Schweet," Trip spent some of his time on stage talking about being a new Christian and a conversation he had with an older gentleman. Trip was quite on fire for the Lord at the time, and had his spirit dampened when the advice given to him was basically "enjoy life while you are young - wait until you are old to get serious (about your faith)." There has to be more to life than this, and Trip reminded us that God does not have the same sort of low expectations we can have for ourselves, as referenced by Psalms 148:7-12.
He kicked into "The Invasion" from Between Two Worlds, followed by "Lazarus" from Rise. "Lazarus" was particularly hard-hitting as Trip's drummer went nuts during the chorus, the amped-up crowd clapping along with the acoustical assault. After that rousing song, Trip took another break to talk about Christianity in general. He mentioned how often it can seem that Christians can be okay with being Christians, as long as it doesn't involve doing any Christian stuff. He shared Luke 9:23, which then lead into "New Dreams" from The Good Life and "All Rise Up" from Rise. "Falling Down" from Lecrae's Gravity was next, as was "Nothing I Can't Do" from Tedashii's album, Below Paradise. Although technically neither song was from any of Trip's albums, it was nice to hear songs featuring Trip's lyrical talents. Then another pounding drum line announced the fan favorite "Robot."
After that, Trip spoke again, this time about Food for the Hungry. He also talked about a series of emails that he had gotten from a young women suffering from a re-emergence of cancer. Although she would eventually pass away from the disease, she was a constant source of encouragement to those that visited her. A hard-pounding synth track led into "I'm Good" from The Good Life, and a psychedelically-lit LED background emphasized a follow-up performance of "No Worries" from Between Two Worlds. "Insomniac," from Rise, came next. After that, was a surprise: during "116" from The Good Life, KB surprised the audience by sneaking out next to the drum set and rapping his line before the crowd, who managed to scream even louder at the return of the rapper.
A heartfelt rendition of "Take Me There" began winding down the night. As a closer, the stage lights all flashed white and poured into the audience, as the opening chorus of "Sweet Victory" came out of the speakers. The audience all had their hands raised towards the stage as Trip ended the night's show with a prayer. Tthe lights faded out as the last echoes of the words "sweet victory…" reverberated along the walls of UBC.
Award-winning recording artist. Pastor. Author. These are hats that many people would struggle to wear, and Trip manages to do them all, and do them all very well. His ability to relate the meaning behind his songs is inspiring, and the charisma to have that same crowd scream out of their minds moments later is no easy feat. Trip made it looks effortless, and it's only a sign of good things to come on this tour.
--
Donald Skidmore
, 3/11/15
Rise 2015 Photo Gallery
click on an image for a bigger size
**vertical images cropped for thumbnails**
KB
Trip Lee
*all photos by and are the property of Donald Skidmore and are used by permission for Jesusfreakhideout.com