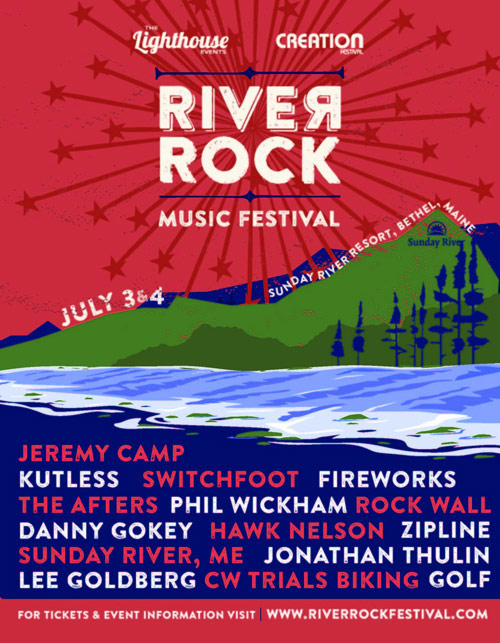 River Rock Fest 2015
7/3-7/4/15, at Sunday River Ski Resort in Bethel, Maine
When you live in New England like I do, being outside in good weather feels a tiny bit like (what I imagine) it's like to be released from prison; you're euphoric just to be outside and free. If you add good music, some fried food, and in my case, my wonderful family to the equation, you have the recipe for a great time.
The River Rock fest in the woods of Maine was in its first year this summer, and seeing a festival in its initial stages was an interesting experience. The fest, held at the beautiful Sunday River ski resort, took place over the course of the 4th of July weekend this year, and the holiday added a level of excitement and festivity to the music.
Jonathan Thulin kicked off the festival on a sunny Friday afternoon, and he took the main stage armed only with a keyboard, a cloak and a very large hat. His visual presence added an interesting element to his quirky piano-pop and honest stage banter. Thulin (who lead the crowd in an exercise on how to pronounce his Swedish last name, it's "Too-lean") was a great fest opener, and his closing number (and most well-known song to date), "Architecture," was the first memorable moment of the weekend; a song about the "great designer" being sung against the majestic backdrop of the mountains around us.
Phil Wickham followed, and his ethereal voice and epic songwriting fit the surroundings as well. With well-known anthems like "Cannons" and "This Is Amazing Grace" being sung by the audience at full volume, Wickham's set was the first of many great corporate worship gatherings of the weekend. But the best moment of the set was the deep-album cut "Heaven Song"--a spare, acoustic number that felt just right in the end of the set.
Hawk Nelson is what I like to call "family rock." That's the music that you blast in the mini-van, and Diamonds, Hawk's latest album has been on continuous play since it came out last spring. So seeing the band take the stage was a special moment for my family, and we danced away and sang along as the band played almost all the material off Diamonds. "Drops In The Ocean," the band's current hit single was a set list highlight, and I couldn't help but think of what a neat moment playing your current hit single must be for a band. The stage times for River Rock were a bit longer than the usual festival, so bands got to dig a bit deeper than the usual eight or so songs, and Hawk played a few older tunes and preached a bit. The festival also had a policy that all bands would (if at all possible) be available to meet their fans (with no "signing fees") and it was neat to talk to the Hawk guys with my daughters.
One of the real appeals of going to River Rock was to see Switchfoot in a smaller setting, and the classic San Diego band made the trek through the mountains worth every harrowing switchback and ninety-degree turn. Taking the stage on a glorious, cool evening, lead singer Jon Foreman declared "I just want to bottle this air and take it with me everywhere I go!" Kicking off with the majestic "When We Come Alive," Switchfoot played an epic set full of fan favorites and some truly crazy stage diving and crowd-wandering by Foreman. My personal favorite moment was the nearly-twelve-minute version of "Your Love Is A Song" that featured harmonica from Foreman and an inspired guitar solo from Drew Shirley. "Love Alone Is Worth The Fight" came with a heartfelt story from Foreman about the health scare his daughter Daisy went through when he was away making the surf film Fading West. The tune is destined to go down as one of the band's most beloved songs, and being in a crowd and lifting your fists and shouting "fight" is becoming a great Switchfoot concert tradition. I could have gone home for the weekend after the band's great set, but I had a whole other day to get through (and a couple of tired little girls who had rocked long and hard that day.)
Danny Gokey led off the festivities the next afternoon, and his huge voice filled up the mountains around him. I was not sure what to expect from the former American Idol finalist, but his set was peppered with good moments, sing-along tunes and a dose of good-hearted relational humor. His voice truly is a unique instrument. My only qualms are when artists use backing tracks when they have a quality band on stage with them. Gokey had a harmony vocal the entire set, but there was no one else singing on stage. I wish that performers would value authenticity over technology.
The Afters followed, and another family-rock moment was in the making. My oldest daughter India (age 9-going-on-22) has been a fan of the song "Light Up The Sky" since she was first given an iPod at age 4. She sang that song at the top of her lungs while wandering around the house, and did all sorts of (what I can only call) worshipful artwork with crayons and paper. I still have that artwork in my office, and seeing The Afters for the first time live, with the four of us all together, was a family highlight of the summer. I used to be a bit of a music snob, but the more I see my girls enjoying music, and the more we as a family enjoy it together, the more I'm losing my snobbery and enjoying all kinds of music. That's not to say that I don't still have opinions and strong feelings about artistry, I'm just learning to enjoy things that I might not have ten years ago.
The Afters played a great set of tunes, mostly made up from their last two studio albums and debut their new single, a mildly-industrial tune called "Live Forever" that found front man Joshua Havens screaming into his microphone with the use of an echo effect. "Light Up The Sky" predictably ended the set, and my family and I raised our hands and sung at the top of our lungs. Afterwards, the band was unfailingly kind to my girls, answering questions and signing everything that was offered up to them.
Kutless took advantage of the longer set times with a group of songs that included a few from their first few albums. In a live setting, even the tunes from the band's mellower last few outings rocked hard, and the sonic punch helped songs like "You Alone" and "In Jesus Name" reach a new level. Lead singer Jonah Micah Sumrall was engaging and heartfelt in his between-songs banter and in his brief sermonette. He won me over with his referencing the cult-comedy Portlandia and his home city's strange residents. My wife Julie and I might have been the only audience members to get the TV show reference. Kutless played a great show and demonstrated how to make use of every minute of a festival set.
Jeremy Camp is a performer with passion, but I've always been more of a fan of Jeremy Camp the person than Jeremy Camp the songwriter. So it's with a bit of skepticism that I watched him close out River Rock fest on the 4th of July. He and his band opened with two tracks from his latest record, I Will Follow, the title track and the lead single "He Knows." Like Kutless's songs, these tracks benefited from the heft of being played live, and the stomping "Can't Be Moved" was a set highlight.
Camp is born preacher, and the end of his set primarily focused on storytelling and challenging the audience with a direct message. This is an old-school CCM approach, but I couldn't help but smile and realize that the weekend had featured all sorts of personalities on stage, and that the Kingdom Of God includes all kinds of people. Some, like Jon Foreman and Jonathan Thulin work on a more abstract level, using metaphors and imagery to convey their passion. And some, like Sumrall and Camp work in a more direct approach. But as I listened to Camp preach and play his last few songs (with 4th of July fireworks as a finale), I felt that I had seen a great few days of music and that there was something for everyone; the punk-rock teenager wearing too much black on a hot series of days, the (approaching) middle-aged dad with his daughters, jumping up and down and trying not to hurt something and the Pentecostal grandmother down front, twirling away with her Jesus banners.
Music is the best, and sharing the experience with so many others makes for a great weekend every time. River Rock is highly recommended.
--
Alex Caldwell
, 9/1/15
River Rock Fest 2015 Photo Gallery
click on an image for a bigger size
**vertical images cropped for thumbnails**
The Afters
Hawk Nelson
Phil Wickham
*all photos by Alex Caldwell and are the property of the photographer and Jesusfreakhideout.com